The battle over the world rages between The Seven and the IO in yet another week of Resistance quests, revealing more destruction and warfare. For Week 7, you are tasked with ending Dr. Slone's propaganda over IO Loudspeakers spread around the map. You must find and hack three different Loudspeakers out of five around. Here's how to do it!
Where to hack IO Loudspeaker
You are only required to hack three different Loudspeakers, but there are five available around the map. While some are in low-risk locations, such as destroyed IO towers. Others are in more difficult places like battlegrounds. Be wary of IO troops or other enemies while searching for the speakers. Here's where you can find them:
Northeast of Command Cavern
East of Logjam Lumberyard
Northeast of Sleepy Sound
Southwest of The Joneses
Southeast of Greasy Grove
Related: How to swap IO artillery munitions with dummy shells in Fortnite
How to hack IO Loudspeakers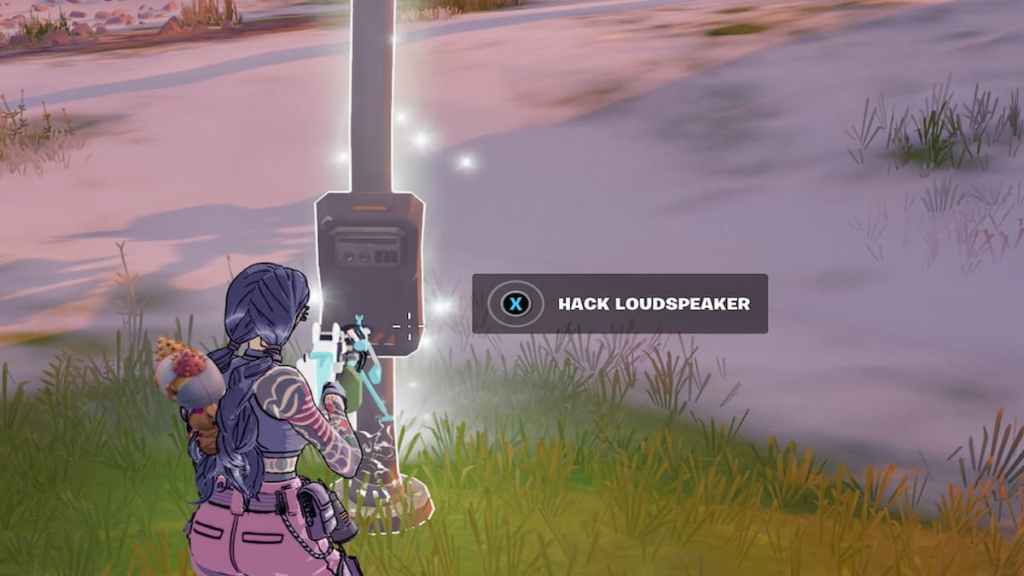 Once you are close to the Loudspeaker, you should be able to see an exclamation mark on your compass revealing the exact location. You can then approach the front control panel to begin hacking. Looking at the front of the Loudspeaker will display what controls you need to hold to complete the action.
X on Xbox
Square on Playstation
E on PC
To complete the quest, you will have to repeat this action three times in different locations. Each time you finish hacking one, you should hear audio confirming the action. Once this quest is complete, you have successfully helped The Seven grow their resistance to the IO and get one step closer to victory.
Looking for more Fortnite content? Check out our guides on How to get a Lightsaber in Fortnite Chapter 3 Season 2 or How to hack an IO Server in Command Cavern in Fortnite!