If you've just got yourself a new bundle in the Fortnite store and are looking to earn your V-Bucks, then you might be wondering how to complete a Quick Challenge! Well, we'll walk you through exactly what you need to do to finish these, as well as what they are and where to find them.
Quick Challenges Guide
Quick Challenges are easy to complete quests that you can complete for XP. The first batch of challenges you get give you 14k XP each. Once you complete one, it will be replaced by another but the amount of XP you get for completing it will be reduced. You can find your current Quick Challenges on the main menu of Fortnite.
Here's a look at how Quick Challenges appear in the game: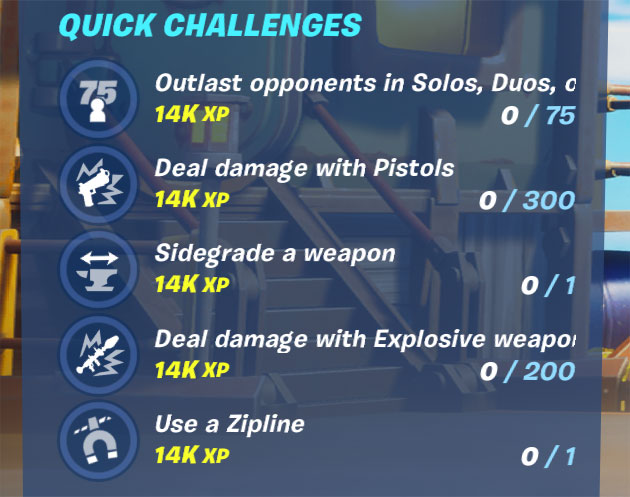 These are great for leveling up your Battle Pass, but are also required if you've gotten yourself the Derby Dynamo Challenge Pack. You will need to complete 30 Quick Challenges in total to earn the full 1,500 V-Bucks from the pack. This might take you a while, but the challenges are overall pretty easy to complete!
Quick Challenges List
Here's a list of all the Quick Challenges you might come across in the game.
Eliminate opponents
Assault Rifle Eliminations
Pistol Eliminations
Explosive Weapon Eliminations
SMG Eliminations
Sniper Rifle Eliminations
Shotgun Eliminations
Deal damage to opponents
Deal damage with Explosive weapons to opponents
Deal damage with SMGs to opponents
Deal damage with pistols to opponents
Deal damage with Sniper Rifles to opponents
Deal damage with Scoped weapons to opponents
Deal damage with Assault Rifles to opponents
Deal damage with Shotguns to opponents
Harvest building materials
Harvest Metal
Harvest Stone
Harvest Wood
Hit weak points
Place Top 10 in Solos, Duos, or Squads
Outlast opponents in Solos, Duos, or Squads
Search a Supply Drop
Search Ammo Boxes
Search Chests
Sidegrade a weapon
Upgrade a weapon
Use shield potions
Reach 100 of both Health and Shield
Gather or Consume Foraged Items
Use bandages or medkits
Catch fish
Fish at fishing holes
Visit different Named Locations
Land in a Named Location
Eliminate Henchmen
Eliminate Marauders
Ride a Loot Shark
Survive Storm phases
Use a Zipline
Use a Whirlpool