In Fortnite, players will come across various mobility options all around the map, and you will need to use them to rotate towards the zone before the storm closes in. Geysers are one of the mobility options available this season, and it allows players to glide toward the zone. One of the Weekly Quests in the game requires players to use Geysers. You will need to know the locations of these mobility options, and here's where to find Geysers in Fortnite.
All Geysers locations in Fortnite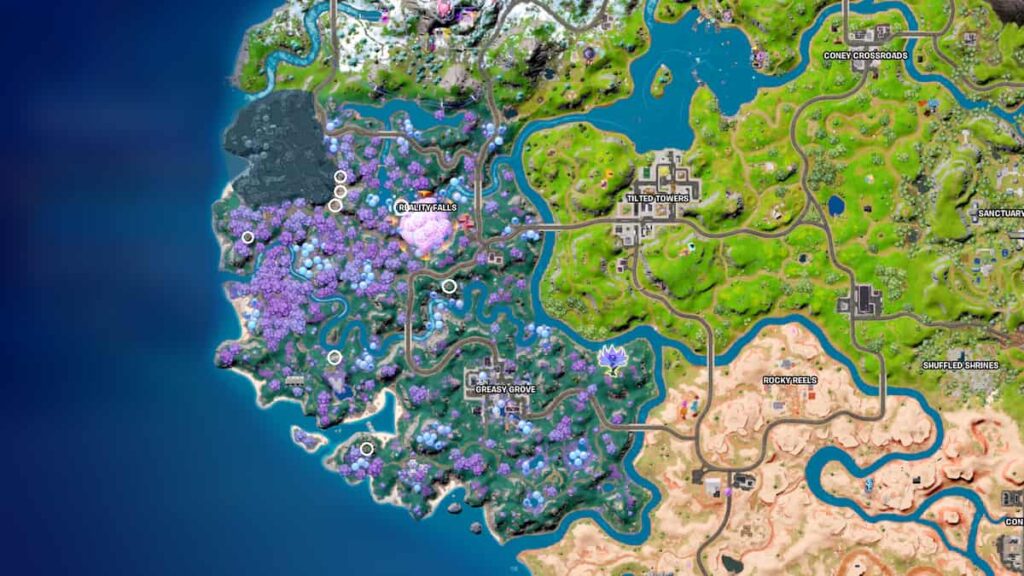 Geysers are naturally occurring hot springs that shoot streams of water allowing players to go airborne briefly. You will only find them on the western section of the map in the areas surrounding Greasy Grove, and Reality Falls. Follow the white circles on the map reference above to locate all the Geysers in Fortnite. The Peril Park landmark, west of Reality Falls, is a great location to find multiple Geysers. Similarly, Displaced Depot and Shelly Shoals landmarks, located west of Greasy Grove are ideal spots to find Geysers in Fortnite Chapter 3 Season 3.
Related: How to find the coolest player on the island in Fortnite
How to launch into the air using Geysers in Fortnite
To launch into the air using Geysers, players will need to stand on top of them and wait for the water spring to shoot up in the air. You can deploy the glider mid-air and rotate to a different location after using Geysers. We recommend landing directly at the Peril Park landmark to complete Quests related to Geysers quickly. Make sure to find weapons and shields before using the Geysers, as several other opponents tend to land at the same location.
Want to read more about Fortnite? Check out How many people play Fortnite? Full Fortnite player count or Start and End Dates for All Fortnite Seasons on Pro Game Guides.