If you aren't totally familiar with the map in Chapter 2, then you might not know where all of the landmarks can be found. It became especially confusing because all of the water that submerged the map and made certain areas hard to get to. One of these locations is a fairly good sized island that didn't show back up on the map until pretty late in the season!
Where is Camp Cod?
Camp Cod can be found on the very southwest of the map at coordinate G8. It's a large island that the camp has taken over completely, with what appears to be a junkyard, camp ground, and a dock of some sort. There's even a small farming area, and a pretty big house that is nearby that could be someone living off the grid!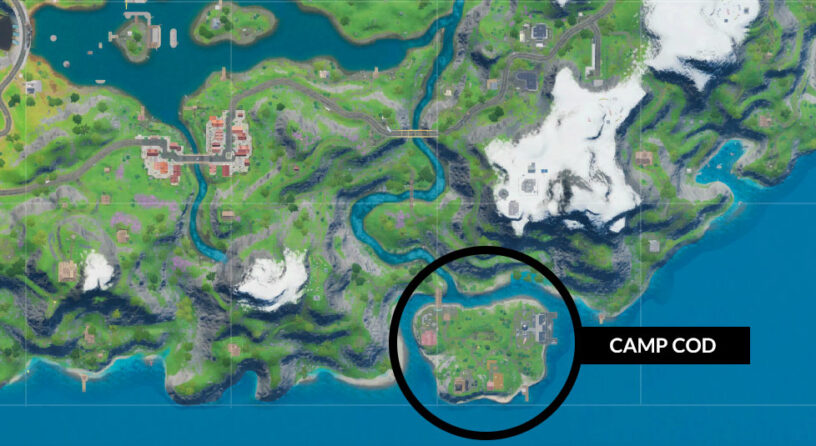 It's southwest of Misty Meadows and directly south of Catty Corner. It's a pretty out of the way place, so you won't find a whole lot of players landing there normally.
Why are people looking for Camp Cod?
Well, there's a challenge in Week 9 of Fortnite Chapter 2: Season 3 that you need to complete that requires you to stoke a fire three times. There's only a couple of campfires in the area, but you can stoke the same fire multiple times. You can start a fire the first time in a campfire for free, and stoke it each time for 30 wood. You can only stoke it twice, but you can restart the fire for 300 wood. If you don't have those kind of resources, you can head to the other campfire.