For the time being, the hunt for Alien Artifacts seems to have replaced the hunt for XP Coins dropped every week in Fortnite. In this guide, we cover where to find all Alien Artifacts placed throughout the map this week. For previous weeks, go to our hub Fortnite Chapter 2 Season 7 All Alien Artifact Locations.
Map
The map below shows you where you their exact position on the map. For more detailed directions, use the instructions below the map.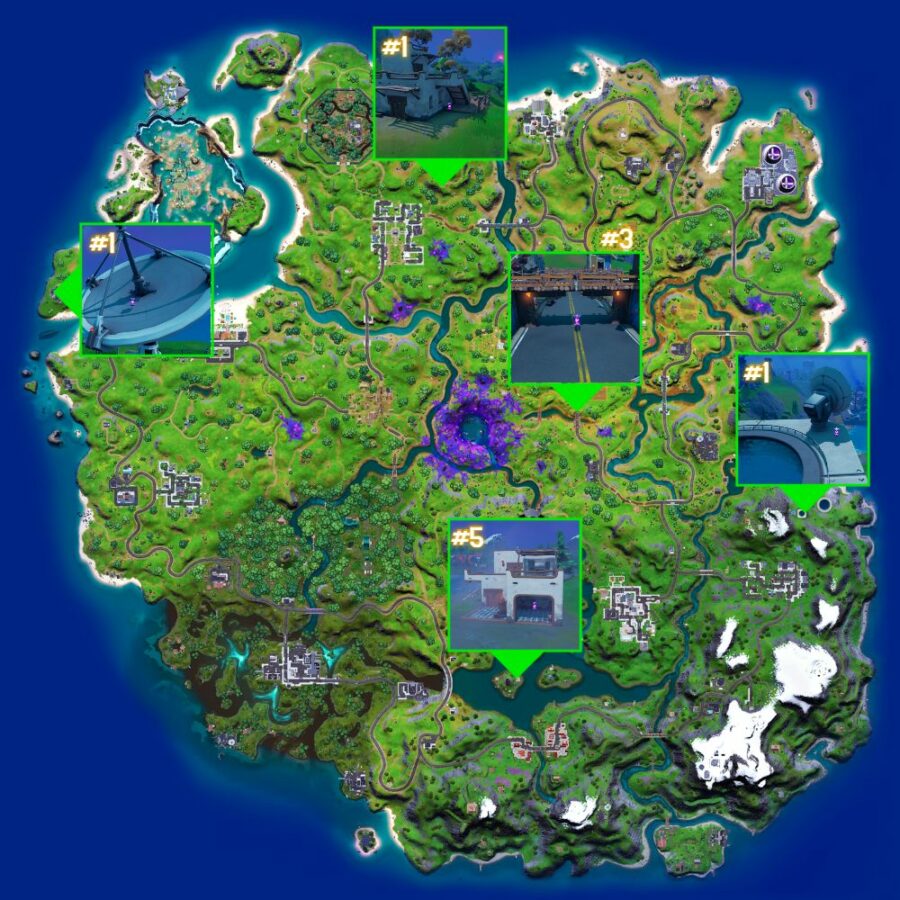 Directions
The directions below provide more precise information about where you'll find each Alien Artifact this week.
Discovery Dish: The first artifact is inside the large dish at Discovery Dish, on the edge of the map west of Believer Beach.
Pleasant Park: The second artifact is underneath the stairs of the building at the base of the Guardian Tower northeast of Pleasant Park.
Unnamed Bridge: The third artifact is on the road at the north end of the unnamed bridge south of Corny Complex and east of The Aftermath.
Brutus's Basin: The fourth artifact is on the corner of the small pool in Brutus's Basin, north of Retail Row.
Apollo Island: The fifth artifact is in the building on Apollo Island, north of Misty Meadows.
Be sure to check the Fortnite Homepage for next week's Alien Artifact locations!
Video Guide
Head on over to our Leaked Skins page and see what cosmetics might drop in the future. The complete guide for the newest season is here at our hub for Fortnite Chapter 2: Season 7 Guide – Challenges & Information!