The Chug Cannon is one of the Exotic Weapons found in Fortnite, and players can purchase it for gold bars in Chapter 3 Season 3. This weapon fires a slow projectile that automatically heals players and teammates. The Chug Cannon reminds players of the Bandage Bazooka which had a similar healing mechanic. Here's how players can find and use the Exotic Chug Cannon in Fortnite.
Where to buy the Exotic Chug Cannon in Fortnite
The Chug Cannon Exotic can be purchased from NPC Kyle or obtained from Supply Llamas. While finding it from Llamas can be difficult, it's easier to just purchase the Exotic weapon from the NPC. The Chug Cannon costs 600 Gold Bars, and it's ideal for players to take up the support role in a squad. Purchasing this weapon allows players to effectively heal their teammates during intense fights. The Chug Cannon regenerates 15 HP per second and has a reload time of 20 seconds. You can also use this to heal hirable NPCs.
Where to find Kyle NPC in Fortnite?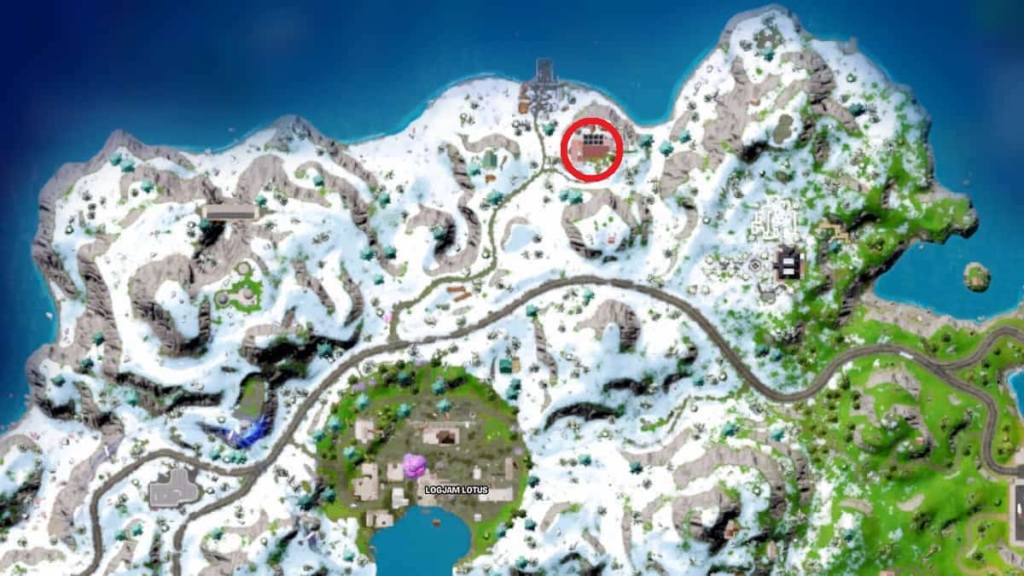 NPC Kyle sells the Chug Cannon in Fortnite Chapter 3 Season 3 and will find him in the red house at the Chop Shop landmark, north of Logjam Lotus. Players can land at the red circle marked in the image above to locate this NPC. Players will also find Ripsaw Launchers at the Chop Shop landmark, which makes it a highly contested drop spot. Make sure to equip weapons and shields before interacting with the NPC. We recommend players to land on top of the red house and loot the upper floors before eventually dropping down to engage opponents.
Wondering how to get free skins in Fortnite? Check out How to Get Free Skins in Fortnite (July 2022) on Pro Game Guides.