Gamedec is a single-player cyberpunk isometric RPG with a strong detective theme. You take on the role of a Gamedec, a virtual detective who solves crimes in the Virtualium. It is your job to get to the bottom of virtual crimes and bring the perpetrators to justice in the real world, called Realium. Being a Gamedec requires a unique set of skills that few possess, making your services indispensable.
The game draws inspiration directly from the Polish novels written by Marcin Sergiusz Przybylek. The world of Gamedec features the neon sights you expect in a cyberpunk world but offers a refreshing twist on it, mainly thanks to its in-game worlds. As a Gamedec, you travel to various areas in the Virtualium. These include an old western-themed farm world, a beach where players can find love and romance, a world filled with knights battling for honor, and even a dark and twisted world fueled by sex and murder. These numerous worlds allow you to explore ever-changing scenery.
Where the game shines is its world and unique systems. There is zero combat in the game, though death and killings do occur. Instead, you traverse the world using your reasoning and people skills as you pick up clues and make Deductions. The deduction system allows you to play like a true detective as you solve cases. The companion to the deduction system is the Codex. This system contains all the information that you come across in Gamedec and can be referenced at any time in the menu. You also don't level up your character traditionally, but rather shape your character through actions and dialogue. As you interact with NPCs your choices grant you points that allow you to select traits. These traits expand how you play the game by giving you new options. NPCs will react accordingly to the decisions you make giving each choice weight.
Where the game falls short is in the sheer amount of dialogue. There is A LOT of reading to do. Having to constantly pause your game to duck into the Codex and scour several pages for an obscure answer is frustrating. Early on you are tasked with saving someone by revitalizing them. Your character mentions the correct procedure to do so and looking through the Codex brings you to a conversation where you glean the necessary information from the paragraph.
On that note, there is a lot of confusing dialogue that is thrown at the player with zero explanation. Some of this is in the Codex, but the developers intend to launch a companion guide with the game that explains many of Gamedec's features. You are now expected to traverse the Codex and the companion guide while playing. This just breaks the immersion of Gamedec.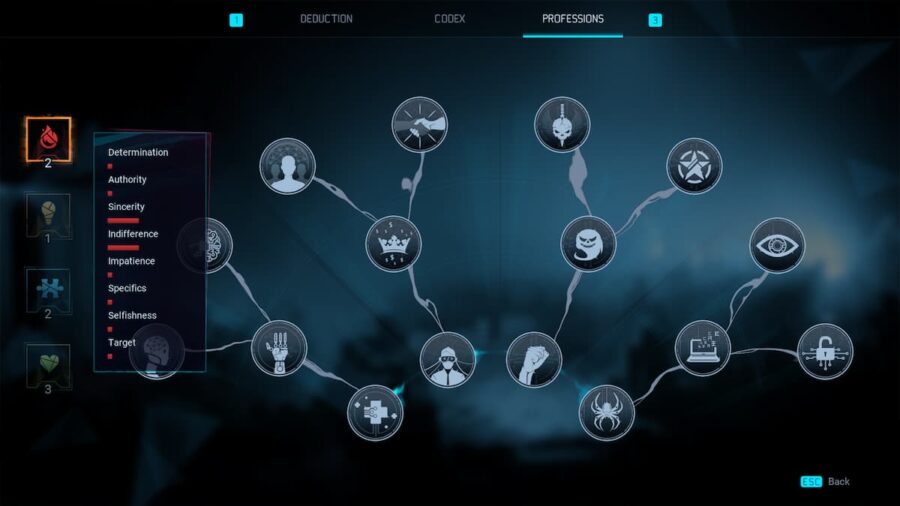 | | |
| --- | --- |
| Pros | Cons |
| Beautiful, unique world. | Clues sometimes come out of order. |
| Interesting take on the cyberpunk genre. | Some translations were wrong, confusing, or simply missing (Review build). |
| Playing detective is incredibly fun. | Dull NPCs and confusing plot. |
| | Overwhelming amount of text and vocabulary. |
Verdict - Hold off, unless you are a cyberpunk/detective fan
Unless you are a fan of cyberpunk or detective games we recommend you hold off and wait for a sale. Gamedec is incredibly unique and a fantastic effort at a detective game, but it falls just short of being a good game. While the world is beautiful, the NPCs that make up this world are lackluster and the game descends into bewilderment in the late stages. Add the excessive amount of reading the game has and its obtuse vocabulary—you spend more time in and out of menus than you do playing.