A Journey Through Pages is a Genshin Impact web event that runs from Aug. 17, 2022, to Aug. 23, 2022, and is open to all players. In this event, you and Paimon go through your exploration memories as you prepare for a new adventure in Sumeru. You can get 120 Primogems from this event, but rewards are time-gated—so don't wait until the last minute to participate!
Start by heading to the official web event page. Make sure you're logged into your HoYoverse account, which is also your Genshin Impact account. Select the correct server and character as rewards are distributed via in-game mail.
Related: Genshin Impact: Raven Statue Puzzle Solutions and Locations
How to play Genshin Impact's A Journey Through Pages web event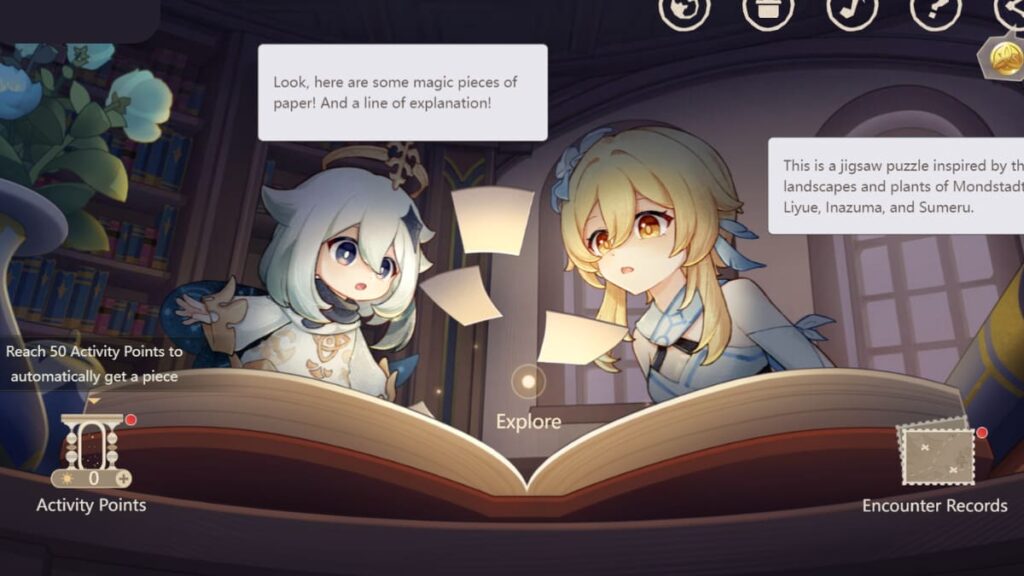 You need to collect Activity Points to unlock puzzle pieces in this web event. Click on the button on the bottom left of the screen and complete the in-game tasks to collect Activity Points. Every 50 Activity Points you earn will automatically exchange for one piece of a map, and you can only earn a maximum of 100 Points or two map pieces per day. Click Explore to place map pieces onto the board to form a coherent image. The game will inform you if you placed and rotated the pieces correctly.
When the map shows a shadow with a question mark, it means there are Encounters you have yet to discover. Click the Explore Now button on the right to enter a chibi version of Teyvat. Explore the map and interact with Encounters, which will be saved in your Encounter Records. Getting one, three, six, nine, and 13 Encounter Records will merit rewards you can claim on the bottom right of the screen.
Check out our guide on How to restore all Mechanical Painting Parts in the Genshin Impact Evermotion Mechanical Painting event to complete an in-game event running in conjunction.