Dodoco Tales is a new 4-star Catalyst weapon coming to Genshin Impact in the v.1.6 event update. Like much of the Midsummer Island Adventure content, Dodoco Tales clearly takes its inspiration from beloved Pyromaniac Klee—the book's cover is in her signature red, and it's described as a "children's book ... filled with silly short stories at which one cannot help but laugh."
This weapon's abilities are no laughing matter, however. Dodoco Tales ranks right up there with Solar Pearl, another 4-star item that's noted as one of the best Catalyst weapons in Genshin Impact. And the best part? Whereas most other 4-star and 5-star weapons can only be obtained through casting Wishes or Battle Pass—systems that encourage spending money—Dodoco Tales is free during the Genshin Impact 1.6 event.
Related: How to get Wind-Blessed Harpastum in Genshin Impact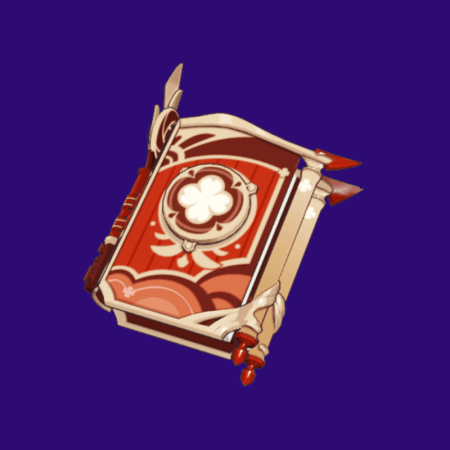 Dodoco Tales Stats
Rarity: 4-star
Base Attack: 41
Secondary Stat: ATK%
When you hit enemies with Normal Attacks using this weapon, Charged Attacks then gain a sixteen percent increase to Damage (DMG). When you unleash Charged Attacks on foes, your overall Attack (ATK) will increase by eight percent.
That's a lot of power! The effects of Dodoco Tales make this book a great weapon choice for characters like Klee, Mona, Ningguang, and Yanfei, who are capable of dealing great AoE DMG and will benefit from having their Charged Attacks amped up.
How to get Dodoco Tales
Dodoco Tales will be freely obtainable through the Event Shop during the Genshin Impact v.1.6 update event. On June 17, 2021, "Harpastum Bombs Loaded... Blow 'Em Away!" will become available to play. In this game, you'll blast monsters away using Harpastum Bombs to earn Mini "Harpastas," which you can then redeem in the Event Shop for exclusive items like Dodoco Tales.
The Shiny Flotsams and Mini "Harpastas" in your inventory will automatically disappear once the Midsummer Island Adventure event ends, so don't forget to claim your new Catalyst weapon pronto!
For more information on all upcoming events in Genshin Impact 1.6, check out the Patch Notes for Midsummer Island Adventure. Don't forget to take our What is your Genshin Impact Vision quiz to find out which Archon you've been blessed by.