It's the Year of the Phoenix in Hearthstone, with Phase 1 and 2 out of the way, which means all that is left is Phase 3 on their roadmap. Blizzard has just announced what the Madness of the Darkmoon Faire new expansion contains and information on the new game-mode plus loads more in their Hearthstone Fall reveal!
Duels' is a new game mode, and is coming with the new Hearthstone expansion Madness at the Darkmoon Faire. This is a competitive game mode that changes every season. In Duels, players can choose a Hero, a Hero Power, and a Signature Treasure, and then you have to build a 15-card deck from your no doubt, massive collection of cards! Then get ready to face off against human opponents in dungeon-run style gameplay!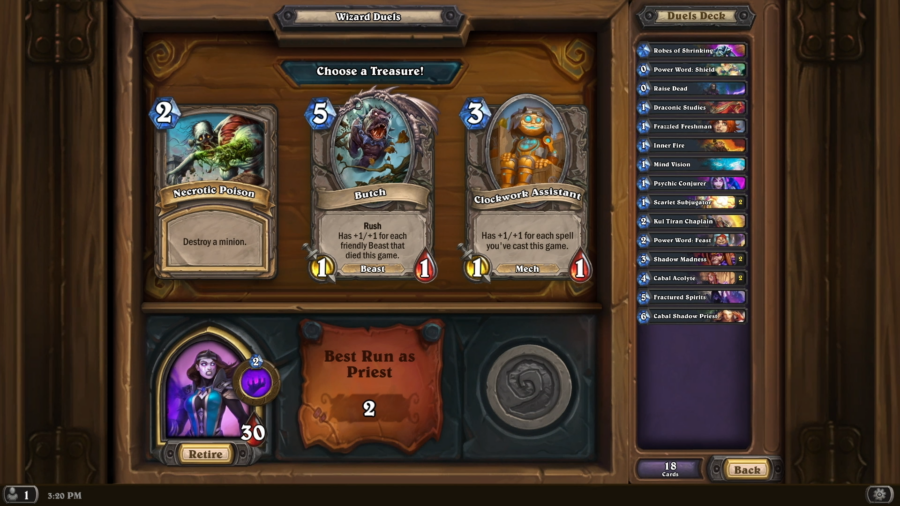 This is where things get interesting; after your first match, you gain health and also get to level up your deck by choosing one of three sets of cards, all themed based. If you're lucky, you might be able to pick up some pretty powerful treasures! Win or lose, you still gain health and level up, but the rules work like Battlegrounds, so if you lose 3 times or win 12 times, your run ends!
In Season 1, the active sets will include:
Scholomance Academy
Curse of Naxxramas
One Night in Karazhan
Classic and Basic sets.
The 10 Heroes you can choose from are:
Archwitch Willow – Warlock
Forest Warden Omu – Druid
Infiltrator Lilian – Rogue
Instructor Fireheart – Shaman
Mindrender Illucia – Priest
Mozaki, Master Duelist – Mage
Professor Slate – Hunter
Rattlegore – Warrior
Star Student Stelina – Demon Hunter
Turalyon, the Tenured – Paladin
Duels is a free game mode, which is coming to early access today, October 22nd, after the reveal has come to a close. However, this is only if you have pre-purchased the expansion! On November 12th, all Hearthstone players can try out the new game mode, with the official Season 1 starting on November 17th. Oh, there's more; if you want to try out the Heroic Mode by paying 150 Gold or by purchasing a Tavern Ticket for £1.99, you can get better rewards based on your win-loss streak, very much like Arena!