Our Hearthstone Clockwork Card Dealer - Standard Decks post features some great lists to try when heading into this week's Tavern Brawl! If you're looking for some inspiration and help with deck building, this post should take you in the right direction!
We've seen this brawl in the past, but this is the first time we'll get a shot at it with the recent Standard rotation and the implementation of the Rise of Shadows expansion! You will want to stack your deck in a way that you are getting the most optimal card each turn for that mana cost, so that you are maximizing your way to victory.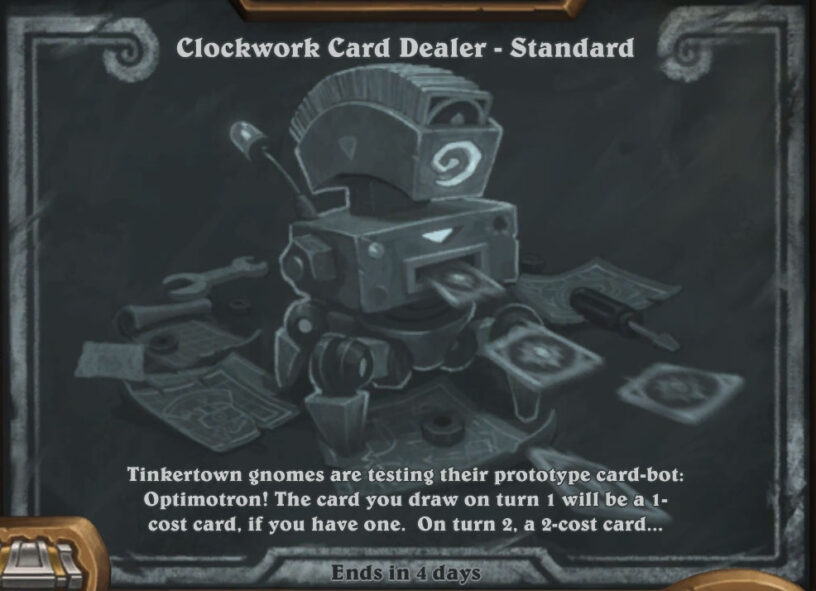 Tinkertown gnomes are testing their prototype card-bot: Optimotron! The card you draw on turn 1 will be a 1-cost card, if you have one. On turn 2, a 2-cost card...
Clockwork Card Dealer - Standard Decks
Early reports from players seem to indicate that Bomb Hunter is one of the better options, but that is always subject to change!
Bomb Hunter (Source)
Hunter
Neutral
2x -

Fireworks Tech

2x -

Mecharoo

2x -

Venomizer

2x -

Galvanizer

2x -

Spider Bomb

2x -

Upgradeable Framebot

2x -

Ursatron

2x -

Bronze Gatekeeper

1x -

Oblivitron

2x -

Explodinator

1x -

Boommaster Flark

2x -

Replicating Menace

1x -

King Krush

2x -

Wargear

1x -

Zilliax

2x -

Missile Launcher

1x -

Da Undatakah

1x -

Mecha'thun
Deck Code
AAECAR8G+Ajh9QLx+wKggAOLigPxlgMMpfUC4vUC7/UCufgCkfsCmPsCqPsC9v0C1/4CiYADzIEDtpwDAA==

Copy Code
Alternative Bomb Hunter (Source)
"Cards above 7 cost are fillers, since you will likely have won already with the perfect curve."
Hunter
Neutral
2x -

Venomizer

2x -

Mecharoo

2x -

Ursatron

2x -

Replicating Menace

1x -

Boommaster Flark

2x -

Wargear

1x -

King Krush

2x -

Missile Launcher

2x -

Deranged Doctor

1x -

Gilnean Royal Guard

2x -

Heroic Innkeeper

2x -

Mosh'Ogg Enforcer

2x -

Bull Dozer

2x -

Burly Shovelfist

1x -

Oondasta

1x -

Ysera

1x -

Deathwing

2x -

Mountain Giant
Deck Code
AAECAR8Gwgb4CKIJiewC4fUCm4oDDOEHwOwC4vUCmPsCqPsC9v0Ci4ADzIED2IkD/5kDtpwDoJ4DAA==

Copy Code
Big Warrior (Source)
Warrior
Neutral
1x -

Eternium Rover

1x -

Ironbeak Owl

2x -

Execute

1x -

Archmage Vargoth

2x -

Warpath

1x -

Spellbreaker

2x -

Kor'kron Elite

1x -

Leeroy Jenkins

1x -

Darius Crowley

2x -

Witchwood Grizzly

2x -

Sul'thraze

1x -

Zilliax

1x -

Blackhowl Gunspire

2x -

Damaged Stegotron

1x -

Dr. Boom, Mad Genius

2x -

Amani War Bear

1x -

Akali, the Rhino

1x -

Oondasta

1x -

Grommash Hellscream

1x -

The Boomship

2x -

Dimensional Ripper

1x -

The Boom Reaver
Deck Code
AAECAQcOogLSAq8E8gWB7QLN7wK49gKS+AKz/AKggAOahwObigP2lgPWmQMIHJEG8vECm/MC+/4CiIcD2IwDlpQDAA==

Copy Code
Mech Warrior (Source)
Warrior
Neutral
1x -

Town Crier

2x -

Rusty Recycler

1x -

Woodcutter's Axe

1x -

Zilliax

1x -

Rabid Worgen

2x -

Mechanical Whelp

2x -

Militia Commander

2x -

Safeguard

2x -

Omega Devastator

2x -

Batterhead

2x -

Dyn-o-matic

2x -

Deranged Doctor

1x -

Dr. Boom, Mad Genius

2x -

Gilnean Royal Guard

1x -

Grommash Hellscream

2x -

Mosh'Ogg Enforcer

1x -

Dimensional Ripper

2x -

Bull Dozer

1x -

Mecha'thun
Deck Code
AAECAQcI0gK67AKd8AKX8wKS+ALx+wKggAOWlAMLiewCwOwC0fUCkPYCtPYCnvsCi4AD2IkDwJgDkp8Dg6ADAA==

Copy Code
Chef Nomi Rogue (Source)
Rogue
Neutral
2x -

Backstab

2x -

Doomsayer

2x -

Preparation

2x -

Mind Control Tech

2x -

Shadowstep

2x -

Proud Defender

2x -

Togwaggle's Scheme

1x -

Chef Nomi

1x -

Myra's Unstable Element

2x -

Batterhead

2x -

Vanish

2x -

Deranged Doctor

2x -

Burly Shovelfist

1x -

Deathwing

1x -

Mecha'thun

2x -

Sea Giant

2x -

Mountain Giant
Deck Code
AAECAaIHBMIG5/oC8fsC0pkDDYoBtAHEAdMB7QLeBeEHhgnA7AKvkQPCmQOgngODoAMA

Copy Code
Bomb Warrior (Source)
Warrior
Neutral
2x -

Eternium Rover

2x -

Amani Berserker

2x -

Shield Slam

2x -

Augmented Elekk

2x -

Town Crier

1x -

Zilliax

2x -

Clockwork Goblin

2x -

Boulderfist Ogre

2x -

Militia Commander

1x -

Deathwing

2x -

Omega Devastator

2x -

Wrenchcalibur

2x -

Dyn-o-matic

1x -

Blastmaster Boom

1x -

Dr. Boom, Mad Genius

1x -

Akali, the Rhino

1x -

Grommash Hellscream

1x -

The Boomship

1x -

The Boom Reaver
Deck Code
AAECAQcI0gLCBrj2ApL4AqCAA5qHA5uUA/aWAwuiBJYGlg2d8ALR9QKe+wKz/AL1gAOXlAOalAOSnwMA

Copy Code
Secret Paladin (Source)
Paladin
Neutral
2x -

Autodefense Matrix

2x -

Sunreaver Spy

2x -

Redemption

1x -

King Mukla

1x -

Kangor's Endless Army

2x -

Explodinator

2x -

Silver Sword

2x -

Wargear

1x -

Tirion Fordring

1x -

Giggling Inventor

2x -

Safeguard

2x -

Burly Shovelfist

1x -

Onyxia

2x -

Big Bad Archmage

1x -

Deathwing

1x -

Hakkar, the Soulflayer

1x -

Mecha'thun

2x -

Sea Giant

2x -

Mountain Giant
Deck Code
AAECAZ8FCOsCwgb6Bp0N4vgC8fsC8f4ClooDC4wB0wHhB+HwAtj+AomAA8yBA76YA8CYA8SZA6CeAwA=

Copy Code
Budget Paladin (Source)
Paladin
Neutral
2x -

Glow-Tron

2x -

Galvanizer

2x -

Annoy-o-Module

2x -

Bronze Gatekeeper

2x -

Mechano-Egg

2x -

Harvest Golem

1x -

Silver Sword

2x -

Explodinator

2x -

Replicating Menace

2x -

Wargear

2x -

Giggling Inventor

2x -

Mechanical Whelp

1x -

Missile Launcher

2x -

Safeguard

2x -

Stormwind Champion

2x -

Bull Dozer
Deck Code
AAECAYsWAuHwAqj7Ag7xBYoGpfUCtPYC4vgCmPsC1v4C1/4C4f4CiYADi4ADkYADzIEDwJgDAA==

Copy Code