Just like any other AAA release in recent years, Hogwarts Legacy features raytracing or RTX for compatible graphics cards. PC players can take advantage of this AI tech that significantly enhances the reflections, shadows, and lighting effects in the game's environment to provide players with a more immersive gameplay experience. Although this setting improves the graphical fidelity of the game, it comes at the cost of reduced performance and is hence only suitable for mid-high end GPUs.
How to enable or disable raytracing in Hogwarts Legacy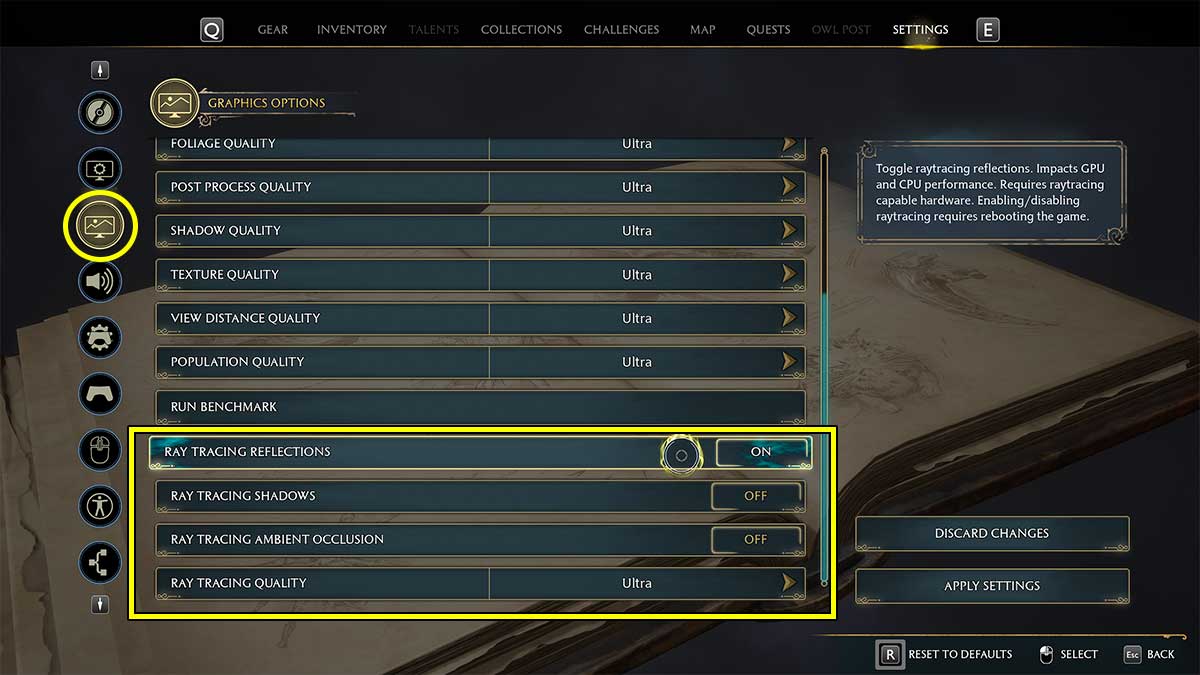 If you want to change your raytracing options for Hogwarts Legacy, you can do so in the Settings menu. While in-game, press Esc and click on the green tab in the bottom right corner of the pause screen to open the settings. From there on, go to Graphics Options, which should be the third option and is marked by the yellow circle in the image above.
Now, scroll down to the very bottom of the list, where you'll find the following raytracing-related settings:
Ray Tracing Reflection: Turn on or off
Ray Tracing Shadows: Turn on or off
Ray Tracing Ambient Occlusion: Turn on or off
Ray Tracing Quality: Choose from Low, Medium, High, and Ultra
After modifying any of these options, you must click on Apply Settings and restart the game for the changes to take effect. In our testing, we found that Ray Tracing Reflection and Ray Tracing Shadows make a huge difference in graphical improvements. However, the performance hit is also quite significant. For testing, use the Run Benchmark option right above the raytracing settings.
If you have a mid-tier GPU and really want to try out raytracing, we recommend tuning down the Global Quality Preset and other graphics settings. Furthermore, make sure to use an upscale such as NVIDIA DLSS or AMD FSR 2, depending on your GPU. This setting can be found in Display Options > Upscale Type.
Stay tuned to Pro Game Guides for more Hogwarts Legacy content. In the meantime, head over to our article on How to get a Maxima Potion in Hogwarts Legacy.