In Lost in Random, there are collectibles to find in its array of worlds. These are Storybook Pages. When you are in a world, simply scroll to the map to see how many pages are in that world. While in the world, you can spot them by their golden glow.
Onecroft has two pages, and they are both close together. You can find them in the Harbor where the red lights are, but you will need to trek high and low to collect them. Be careful to avoid the right lights or you will be sent back to a checkpoint where the path starts.
Related: Is there a map in Lost in Random
To get the page that is low, head toward the lower path. Turn right when you go in and sneak past the red lights. They move on a timer and are easy to avoid. Once past the first light, you should see the page on a box ahead. Go towards it, and behind a box will be a ladder that takes you to the page. Climb the ladder and collect the page. Make your way back to the start of the path or walk into a red light to get teleported.
To get the high page, head to the left instead of the lower path. Climb the ladder that is hidden behind the box and you will see the other page straight ahead. To get across, you will have to use your slingshot and shoot the button on your left. This will move the crane, which has a platform you can walk across. Cross the platform and shoot the button again to move the platform forward. A red light will shine on this platform. Wait for it to move away, and then cross the platform to reach the page.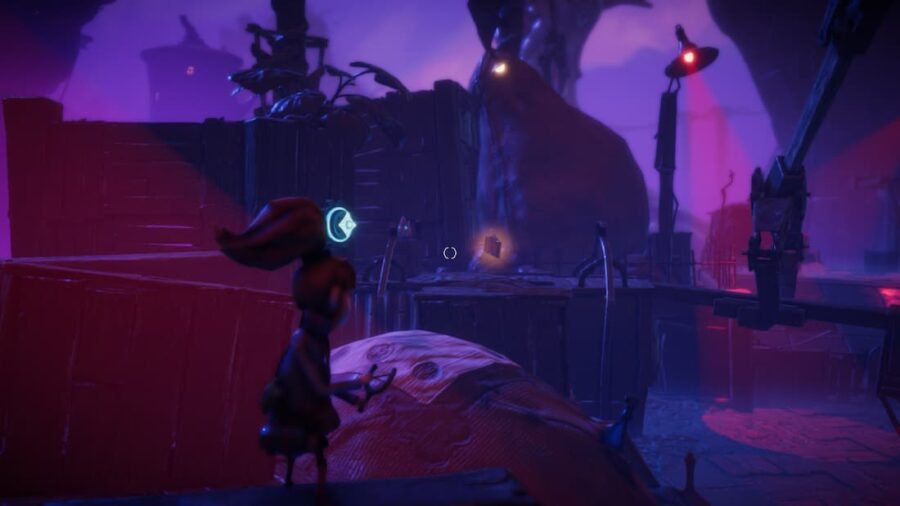 These aren't just collectibles but also Reveal Pages in your Storybook. Open your inventory and navigate to the Storybook menu. You can look at the image on the page and—if you select it—the narrator will read you a part of the story.
For more information on gaming, check out How to switch to Japanese Voices in Tales of Arise and How to cook In Tales of Arise on Pro Game Guides.