The new FieldSense system in Madden 23 allows you deeper control of players, with more cut animations, gang tackling, and passing control. Ball-carrier moves like stiff arm and juking in Madden 23 still feel very satisfying to pull off and can change the course of a play instantly. Hurdling is one of the more difficult moves to execute, but fully jumping over a defender is worth it.
Here is how to hurdle in Madden 23:
PlayStation: Press Triangle
Xbox: Press Y
PC: Press R
To execute a hurdle over a defender, you must time the hurdle with the defender's tackle attempt. Hurdles are much more effective on defenders going for a dive tackle or a low Hit Stick tackle. Hurdles can still be pulled off on high Hit Stick tackles, but with a much lower chance of success.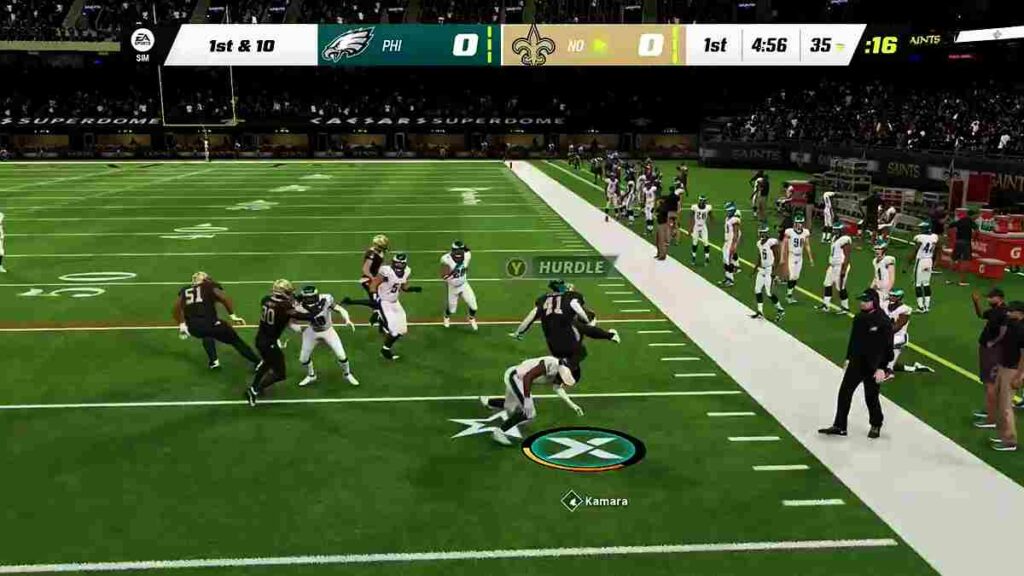 Unlike most ball-carrier moves, the hurdle does not have an individual rating for each player. Instead, the Jumping and Juke ratings are most likely used to determine how effective a player's hurdle move is. If you want to pull off a lot of hurdles, try using agile players with high Jumping ratings.
Using the hurdle can be a risky move. You may pick up more yards even if tackled, but you are more prone to fumbling and injury by being tackled during a hurdle. Try to use the hurdle to pick up first downs, avoid defenders diving at you when running down the sideline, and get into the end zone over a defender.
For more Madden 23 guides, check out How to Stiff Arm in Madden 23 – Controls and Tips on Pro Game Guides.