In Medieval Dynasty, the most dangerous of all predators that lurk in the woods are bears; because of this, it would probably be a good idea to know where you can find bear locations in the game.
Where to find bears in Medieval Dynasty
To find bears in Medieval Dynasty, you will need to look in some of the most areas of the game's world map. These locations include certain areas to the north of Jezercia and Hornica. You can also find some to the east of Hornica and northwest towards Lesnica; if you check the image below, we will have all of these spots marked for you with red circles.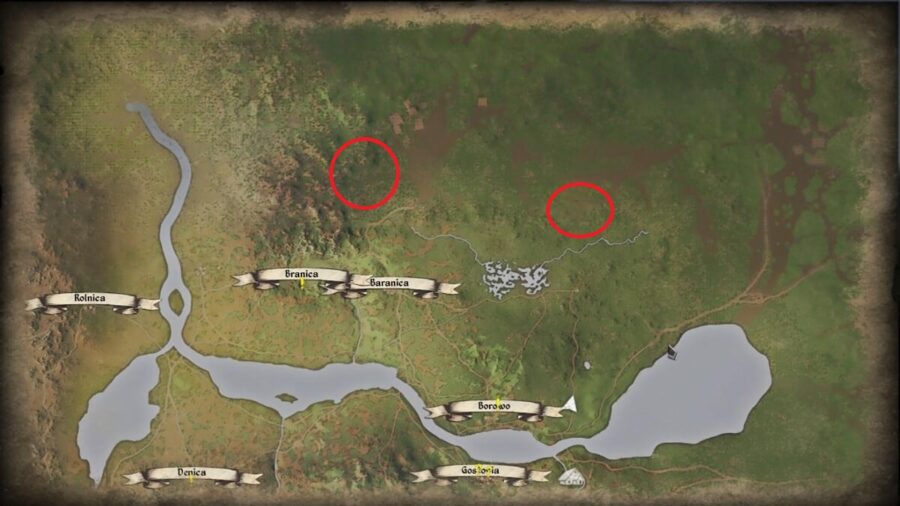 Along with areas to the north, you can also find bears spawning in the far northeast past Branica and Baranica; check our image below for where to look. That said, now you know where to look for bears, so let's now explain how to hunt them and why you might want to.
Related: How to farm in Medieval Dynasty

In the area inside the red circles is where you can find the bears.
How to hunt bears in Medieval Dynasty
In short, bears can give you furs and meat; furs are a resource that you both sell and make into other items. Then meat... well, meat is meat, and you can use it to state your hunger and feed your growing medieval family.
However, bears are tough, so a simple bow and arrow is not going to cut it; because of this, you will need to make a wooden spear, so here's how to make one below.
To make a wooden spear in Medieval Dynasty, you will need three logs; you can get logs from chopping trees down. Once a tree is chopped down, you will need to hit again to turn the tree into logs. After this, hold q and then cycle to crafting, and then find the option to craft a wooden spear on the top of a wheel.
Once you craft the wooden spear, you will be ready to hunt some bears, but be careful as you might not kill a bear all at once with a spear. Because of this, we suggest aiming for the head for an instant kill.