At some point in your Minecraft career you will want to change your skin appearance. Sorry Minecraft Steve, but there are loads of exciting skins waiting to be discovered. Luckily, it's easier than ever to change your Minecraft skin and the process should only take a couple minutes.
Note: This guide requires Minecraft Java Edition, which is available for PC, Linux, and macOS.
How to Change your Minecraft Skin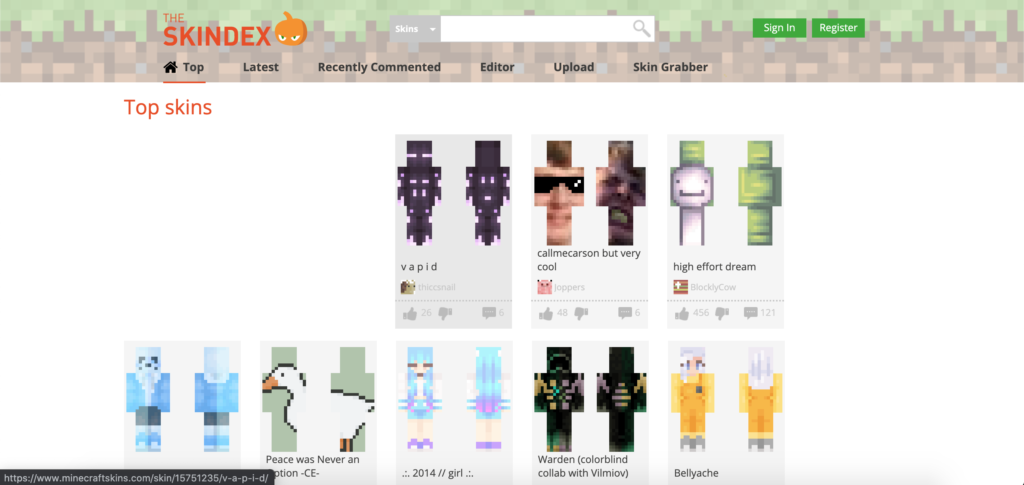 To download your new Minecraft skin, head over to The Skindex. This website hosts so many user-created skins that you might have a hard time picking just one. Luckily, this decision-making process is the hardest part of the tutorial. Click on the skin when you've found one.
Next, download the Minecraft skin to your computer as a PNG file. The download button is located to the very right of the page, between the "Upload to Minecraft.net" and "Wardrobe" buttons. Make sure to save the skin in a folder that can be easily found. I typically save it straight to my desktop.
Open the Minecraft launcher, but do not launch the game yet. Instead, within Minecraft: Java Edition, click the Skins tab. Alex and Steve should already be chillin' here. This tab is where all of your future Minecraft skins will be stored.
Click the "+ New Skin" button. In here, give your new skin a name. Then click Browse. Locate the Minecraft skin that you saved to your desktop and select it. You will also have the option to choose between the Classic or Slim model. Click Save & Use.
And that's it! Making sure that your skin is in use, launch Minecraft and enjoy your new skin. Why not customize your Minecraft experience even more with some of the best 1.16.3 mods?