To get a Silver Rathalos Egg, you must first make sure your game is updated to 1.5.1. On the title screen, look at the bottom right-hand corner, and it should say Ver. 1.5.1—once you have that, you are good to go.
Interact with any Quest Board in any village, go to Multiplayer and Online Play. Navigate to the Slay Quests tab, and look down the list for the quest (Slay) Silver Rathalos. This is a Nine Star quest, so bring with you your best monsties. You can attempt this solo and be given an AI companion to help you. But compared to a real-life person, they are highly inadequate.
Silver Rathalos is weak to Water, so make sure you have those who can inflict water damage, as well as all three attack types. Press Y, Z, or Triangle to change your party and choose your monsties after clicking Edit Party.
Related: All Attack Types Weaknesses and Counters in Monster Hunter Stories 2: Wings of Ruin
Explore the area, and locate Silver Rathalos's den. If you don't want to fight anything on your travels, bring along a Nargacuga and use its Stealth monster ability not to get aggroed by any monsters. You'll get to your destination in peace.
This is an extremely hard fight. If you had trouble with Gold Rathian, you'll have even more trouble with Silver Rathalos. With more health and massively damaging Area of Attack moves and combo single attack moves. As well as all three attack types.
Monster
Attack Type
Counter
Element
Weakness
Physiology & Parts Weakness
Silver Rathalos
Initial: Power
Flying: Speed
Ground Enraged: Power
After King's Judgment: Technical
Flying Enraged: Technical
Initial: Speed
Flying: Technical
Ground Enraged: Speed
After King's Judgment: Power
Flying Enraged: Power

Water
Head: Slash
Stomach: Slash/Blunt
Tail: Slash/Blunt
Wings: Slash/Pierce
Once the Silver Rathalos is defeated, you can loot the nest for eggs. Due to Silver Rathian being a rare form, the egg pattern has been altered slightly and is extremely hard to find. Use the picture below to know what egg you are after—the silver with purple lines.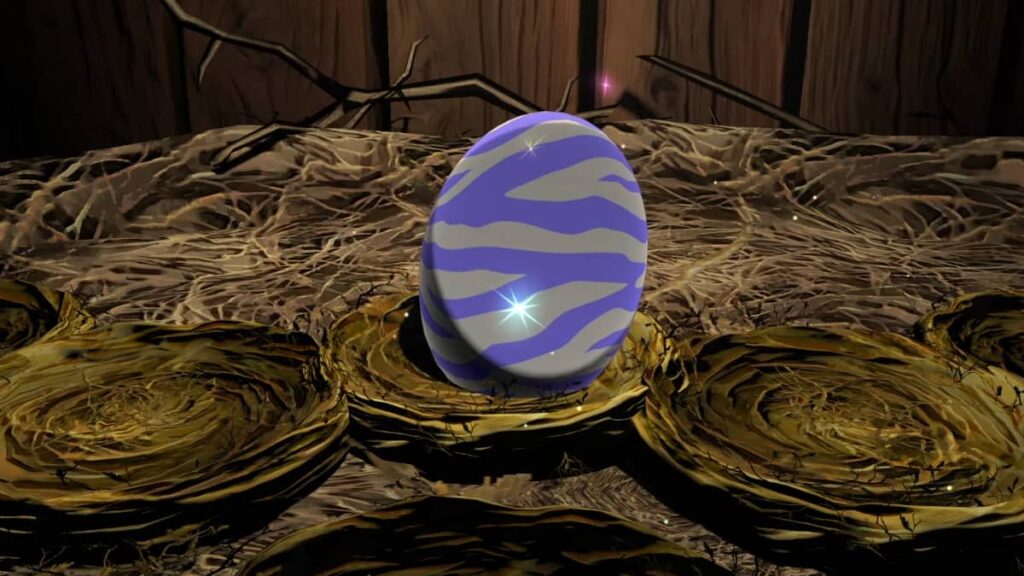 Like usual, walk towards the exit of the den with your prize and make sure the egg is stored. Then go and hatch it to see if you were lucky enough to get Silver Rathalos as a Monstie. If not, rinse and repeat.
For more Monster Hunter Stories 2 guides, PGG has you covered!