There are a total of five Shining Rhino gathering spots in Monster Hunter Rise, all located in the Flooded Forest. Players will need to collect Divine Rhinos from these locations for The Radiant Rhino Quest and can only do so in High Rank. Players can gather from four areas without much trouble. However, one area requires the use of a Barrel Bomb. Here's where to find Divine Rhinos in Monster Hunter Rise.
All Shining Rhino gather spots in MHR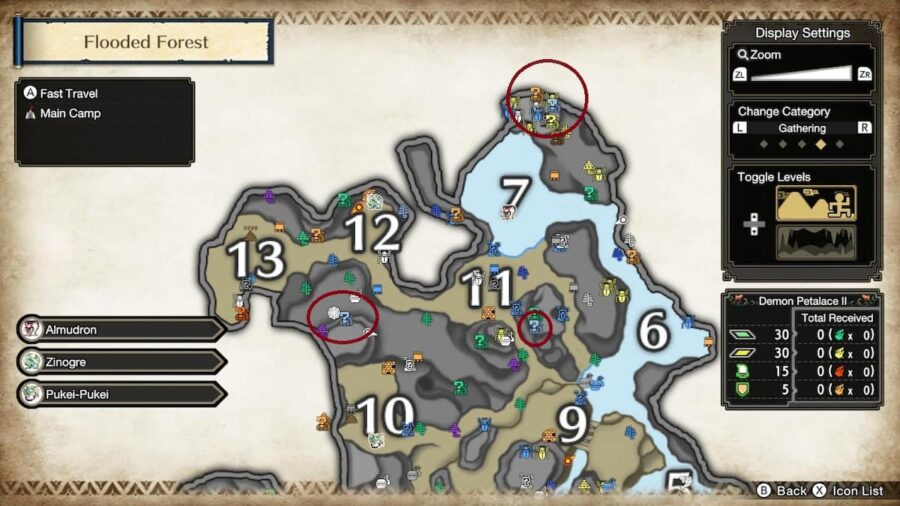 Shiny Rhino gathering spots will be marked on the map as light blue question marks and can be found on the Flooded Forest map. There are five farmable areas in total, and each respawns after about five minutes. Players will need to gather from these areas to obtain any Divine Rhinos, often found on top of mountains that players will need to use the Wirebug to reach. Players have an equal chance of obtaining Royal and King Rhinos, so knowing the location of all five gathering areas is important, as it can take a while to obtain enough Divine Rhinos for The Radiant Rhino quest.
The Shining Rhino gathering spot in between Areas Two and Three can only be reached by using a Barrel Bomb to blow through the rubble.
Related: Where to find Bismuth Prisms in Monster Hunter Rise
How to farm Divine Rhinos more efficiently
Players can use the Geologist Skill at Level Two to be able to gather from the Shining Rhino spots twice. The Brigade Beta Armor Coil already has the level-two version of the skill on it. To decrease the time it takes to respawn, players can also eat before the quest, selecting the Raisin d'etre Dango. This will cause the gathering points to respawn in about three minutes.
Can you get Divine Rhinos from quests?
Divine Rhinos are only obtainable from the gathering spots and can't be obtained as a quest reward.
What are the uses of the Divine Rhino?
Divine Rhinos are an Account Item, meaning they only increase the amount of Kamura Points the player has. A quest called The Radiant Rhino is the only other use for these items and rewards players with the ability to forge the Ladybug Cannon I.
Ladybug Cannon I
The Heavy Bowgun isn't anything special, but it can help players in need of a Rank Five weapon with a nice Defense boost. The materials needed to craft it are as follows:
Four Monster Broths
Three Monster Keenbones
Two Guild Tickets
Four Volvi Carapace
For more Monster Hunter Rise guides, check out How to farm for Zinogre Plates in Monster Hunter Rise on Pro Game Guides.