To level up Jewelcrafting, players will need to visit an outfitting station and make trinket components in large quantities. The reason why is that the trinkets and jewel necklaces you can make with the Jewelcrafting skill require multiple components, so farming them is not really a good thing or realistic.
However, with most trinket components, you only require silver bars obtained by mining silver ore nodes and melting them down in a furnace.
Related: Where to find Boars in New World? – Best Boar Farming Locations
Because of this, we are confident you won't have any problems with leveling jewel crafting, as it's one of the easiest skills to level up because of how easy it is to get silver.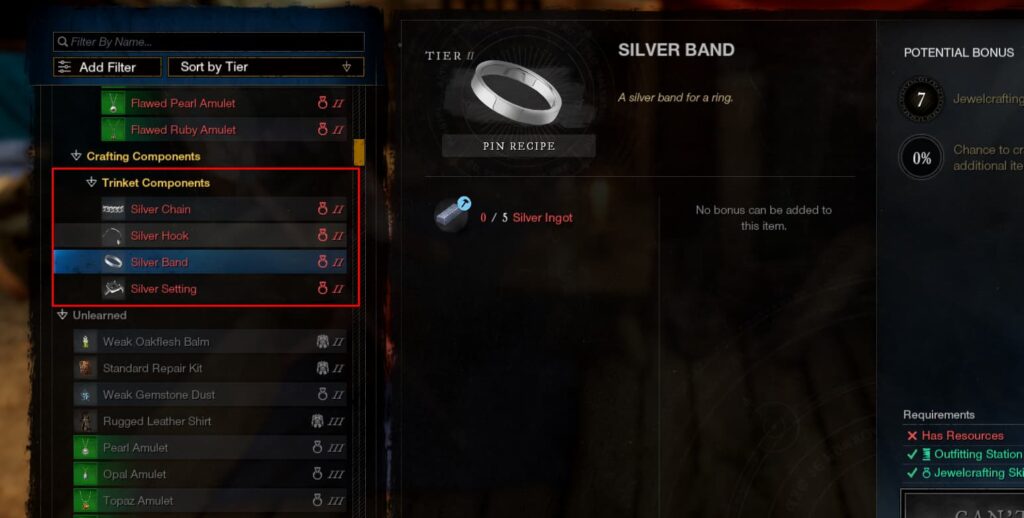 That said, If you want to level up Jewelcrafting by farming silver, you will need to turn your silver bars into the following items listed below:
Silver Chain
Silver Band
Silver Setting
Silver Hook
You can find silver spawning in areas such as Cutlass keys and in First light, but for more locations, we highly recommend using the awesome resource map at NewWorldFans.com and viewing our How to get silver in New World guide.
Mining silver for trinkets also has the bonus of helping to level up your mining, so it's two birds one stone kind of deal. You will also be able to unlock necklaces that can be made for bonuses for your character or sold to other players via the market.
For more on New World, Pro Game Guides has you covered with a massive and ever-expanding catalog of guides.