The Oculus Connect 6 convention last week brought us the announcement of Quest Firmware 9.0, and the update is packed with features that will both increase usability and expand the Quest's game library! The newly announced Oculus Link software will enable the Quest to function as a tethered PC headset, and a number of Oculus Go titles are also coming to the Quest platform. Additionally, the Oculus team teased exciting technology coming in later updates, including controller-less hand and finger tracking. Read on for all the details!
Oculus Link
The biggest announcement by far was the Oculus Link software. With the aid of a USB-C data cable, users can connect their Quest headset to a VR-ready PC and use it in a tethered mode, as if it were a standard Oculus Rift or Rift S. This brings the entire PC VR gaming ecosystem to Quest, while still allowing the user to detach and return to the same mobile experience they're used to. Of course, you'll need to already own a beefy PC and some desktop VR games to take advantage of this new feature, but it may finally provide longtime Oculus Rift users with a compelling reason to upgrade. However, don't trade in your Rift just yet, since currently frame rates, resolution, and response lag on the Quest will all suffer compared to what a traditional PC VR headset can offer.
Tethered frame rates on the Quest will cap out at 72 frames per second, compared to the original Oculus Rift's 90 fps, the Rift S' 80 fps, and the Valve Index's mind-boggling 144 fps. Lag times will be worse compared to a native PC headset, but there is no official word on how much. Games will also be rendered at a lower internal resolution and scaled up to fit the Quest's screen. Limitations aside, this will be a massive free upgrade to the Quest's capabilities when it arrives in beta in November, and the Oculus team stated that later in the year they would be releasing a "premium optical fiber cable" with enough throughput to play Rift games in full resolution.
Oculus Go Titles Coming to Quest
Also announced was the release of select Oculus Go titles onto the Quest store. Although these titles originally only offered 3DoF (head rotation, but not position) tracking, developers will be able to take advantage of Quest-specific features like higher refresh rates and full 6DoF head and controller tracking. Over 65 Oculus Go titles are currently compatible with Quest, and the Oculus team has promised that more games will be added over time. Any titles for Go that you already own will appear in your Quest library after updating your firmware.
Passthrough+ Mode

With the Firmware 9.0 update, Oculus will be rolling out Passthrough+, an existing Rift S feature, on Quest. Now Quest users will be able to see a stereo view of the real world in front of them (albeit in black and white). Fancy new computer vision techniques (shown above) will be used on the fisheye camera images to un-warp the user's view and provide a more realistic and comfortable experience. A passthrough mode helps the user navigate unexpected obstacles, interact with other people nearby, and can even be used in gameplay for a "mixed reality" effect. More importantly, it further narrows the remaining gap between the Rift S and the Quest's hardware capabilities.
Lights Out Mode
Firmware 9.0 will also allow users to switch their headset into a 3DoF mode for experiences that don't require roomscale tracking, like movies or web browsing. The tracking cameras are completely turned off in this mode, and this means the Quest will work even in pitch blackness, hence the name "Lights Out".
Manual Firmware Updates
Also coming in November is another small but highly requested feature to the Quest software; firmware updates can now be manually triggered from the home menu, allowing users more control over their experience.
Hand Tracking and Future Innovations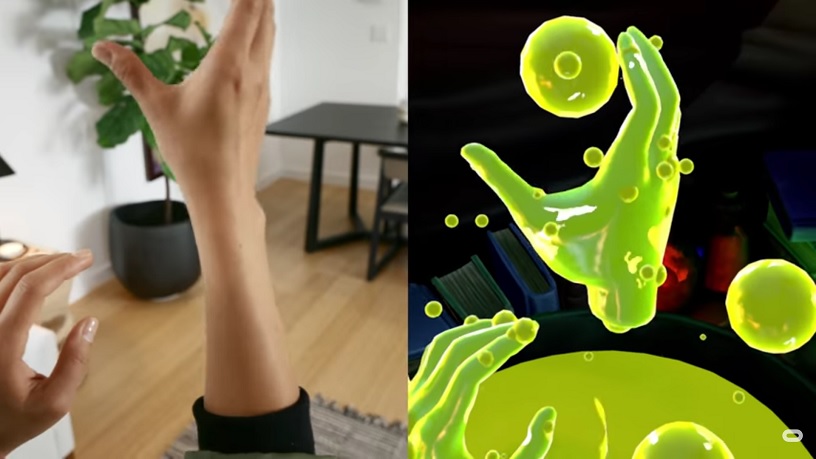 Finally, although it won't be available in Firmware 9.0, Oculus demonstrated software which allows for full hand and finger presence on Quest, no controllers required. The hand tracking appears similar in quality to the Leap Motion device, and uses the front-facing cameras on the Quest to sense the user's fingers, thumbs, and wrists. Oculus stopped short of giving an official release date, but stated that the new technology will be available to Quest owners in early 2020.
Also demonstrated at the show was a new "Half Dome" varifocal headset prototype, a social MMO called Facebook Horizon, and several features for enhancing social apps, including GPS location check-ins and full body avatar sensing. Although the hand tracking was closer to reality than many of the other demos, several of them might someday reach the hands of the public. It's clear there is a lot to look forward to, so stay tuned for additional news on the Quest, Oculus Link, and the future of VR.