The next Teamfight Tactics 9.14b update that should be released on Wednesday, July 24th, 2019 will bring some buffs, nerfs, and bug fixes to the game. It looks like Sorcerers and Wild are going to be getting a buff, while Assassins and Elementalists are going to be nerfed. Volibear, who has been in one of the dominant comps in the 9.14 patch will be nerfed as well. Locket of the Iron Solari is also listed on this patch, but has been already nerfed early via a hotfix on Friday. It is likely that the item will see another nerf soon, but it's unclear if it will be in this next coming patch.
Full patch notes can be found here.
Keep in mind that these changes aren't set in stone yet, and we were just giving a preview into what the next patch will look like!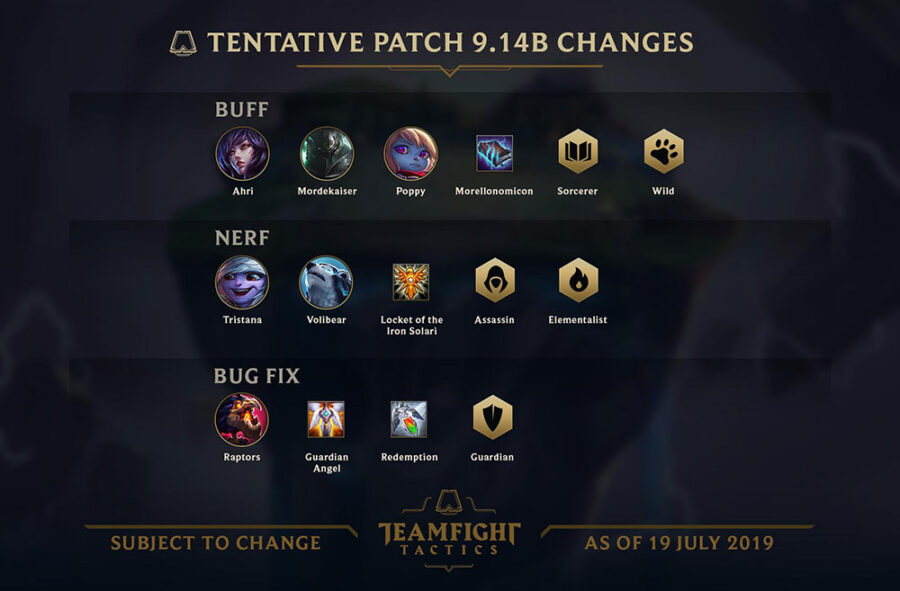 Buffs
Ahri
Mordekaiser
Poppy
Morellonomicon
Sorcerer
Wild
Nerfs
Tristana
Volibear
Locket of the Iron Solari
Assassin
Elementalist
Bugfixes
Raptors will now always drop a loot box
GA will now always properly trigger
Redemption will properly be 1000 HP, not 1000% HP
Guardian will still give the buff after the guardians die.