One Piece Odyssey is the ultimate pirate adventure inspired by the anime and manga, One Piece. Using their unique skills and abilities, you can play as some of your favorite characters in turn-based combat. Not only can you upgrade and power up their abilities, but you can also equip some essential gear to continue building their stats and buff them to their full potential. Here are what we think are some of the best Equipment builds for each character.
Best Equipment Builds in One Piece Odyssey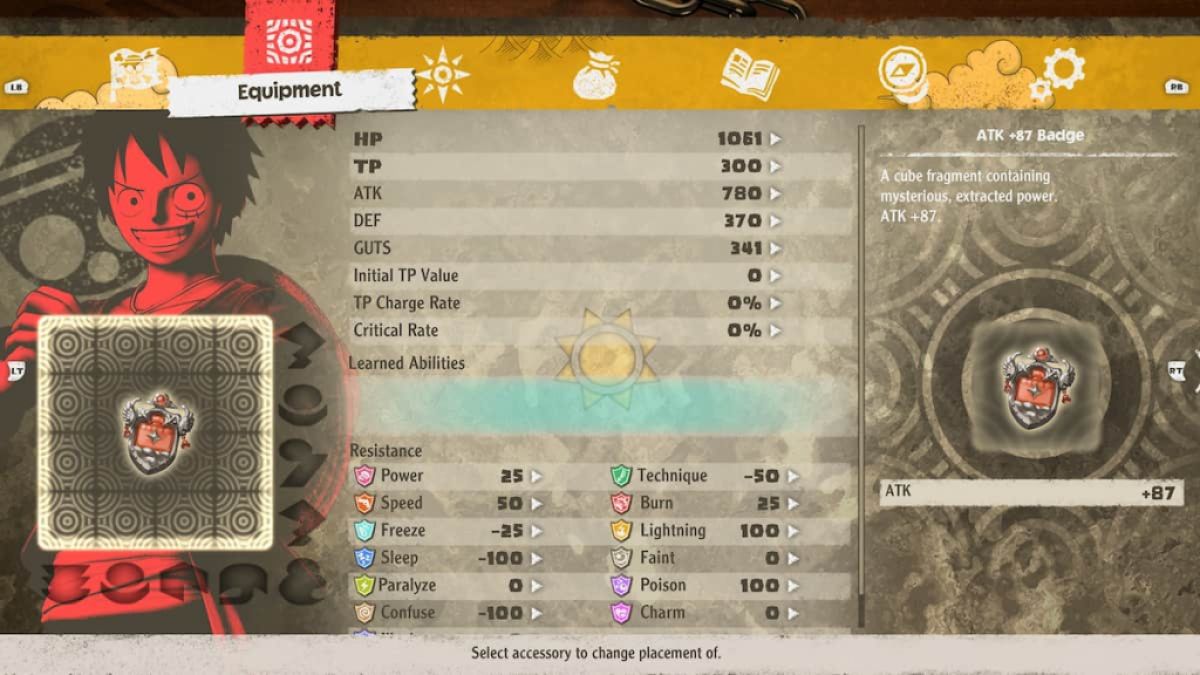 Equipment can be collected from chests or containers, as well as by defeating certain enemies. You can equip them through your menu, under the tab symbolized by the glyphic cube. Each piece of Equipment is a part of a set and is connected to specific stats or elements. The best way to figure out what you should equip each character is to take a closer look at each character's existing stats and abilities and play toward their strengths.
Luffy
Luffy is your main Power battle type and is capable of making the most heavy-hitting attacks. To play to his benefit, you'll want to accentuate that brute strength and create more damage potential as much as possible. In general, things like increased attack, critical rate, or even just buffs to his power are excellent choices.
Offense:
Power
Attack
Critical Rate
TP Charge Rate
Defense:
Technique
Confuse
Sleep
Poison
Robin
Robin is a Technique battle type and uses her Flower-Flower abilities to either debuff her opponents with fainting and paralyzing or make them vulnerable to following attacks with magical long-ranged hits. Despite being one of the lowest initial TP characters, her abilities can require higher amounts of TP, making this a good equipment choice to help balance her out.
Offense:
Initial TP Value
TP
Faint
Technique
Defense:
Speed
Freeze
Lightning
Paralyze
Sanji
Sanji is another Power-type individual with abilities allowing for attacks on close-range and long-ranged enemies. Although his attack may not reach the levels of Luffy's, he is still capable of dealing some significant damage, especially if you choose to buff his attack with the right gear.
Offense:
Power
Attack
Guts
Critical Rate
Defense:
Technique
Charm
Freeze
Confuse
Zoro
Zoro attacks with his katanas at close range, and despite having a lower attack than Luffy and Sanji, he still provides plenty of damage due to the bleed that his swords conflict. With the damage potential of his swords, increasing his attack and making sure he stays balanced. Since his defense is higher than a few other characters, he is also capable of tanking out more powerful enemies if you choose to buff his defense and HP even more.
Offense:
Attack
Technique
Balance
HP
Defense:
Speed
Freeze
Confuse
Defense
Usopp
Usopp is the sniper of the Crew, with plenty of long-ranged speedy attacks. He utilizes explosives with various elements, such as burn effects, and can paralyze and fainting opponents to set his team up for success.
Offense:
Speed
Burn
Faint
Illusion
Defense:
Power
Confuse
Paralyze
Faint
Chopper
Chopper is a Power-type character; however, he is also the Crew healer. While he can occasionally deal some damage, he is also the main support character that can keep his team healed and cleansed from debuffs. As long as Chopper is alive, he can keep his teammates strong and motivated around him.
Offense:
Initial TP Value
TP
Power
HP
Defense:
Technique
Lightning
Confuse
Defense
Nami
Nami is another speedy character best known for confusing and charming opponents from attacking, leaving them vulnerable to her team's attacks. She also utilizes lightning elements that can paralyze her enemies. The best gear types for her will accentuate her sneaky abilities and allow her to keep the enemy from attacking.
Offense:
Speed
Charm
Confuse
Lightning
Defense:
Power
Freeze
Burn
Paralyze
How to wear Equipment in One Piece Odyssey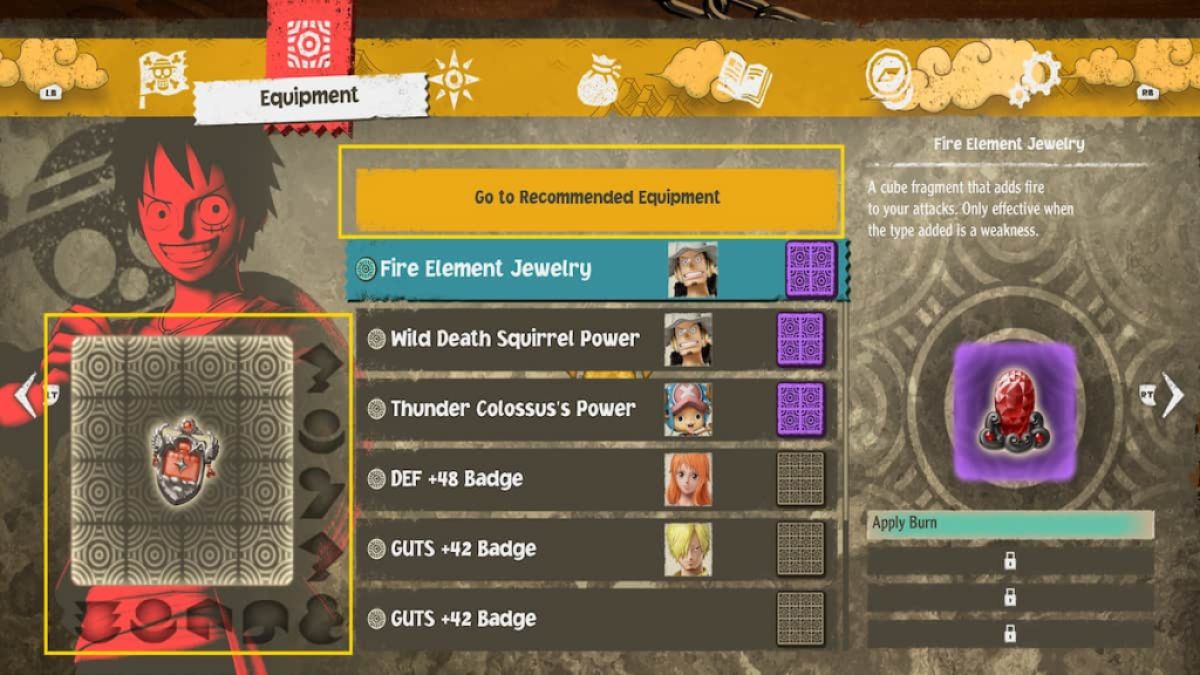 You may have a bunch of collected Equipment in your inventory, but unfortunately, you won't be able to equip all of them at one time. You can only equip the gear that fits into the square spaces on the left side of your Equipment list. Each item will be a different size or shape, allowing you to fit multiple together if they aren't too big. If you cannot fit all your wants, you'll have to prioritize the more beneficial ones. You can click the Recommended Equipment button and select each category to see your best items.
These are just a few options for Equipment builds based on the character's strengths and abilities, but there are plenty of other ways to gear them up. In the comments below, let us know what gear you're prioritizing on your characters.
Looking for more One Piece Odyssey content? Pro Game Guides has plenty of tips and tricks to get you started, such as All One Piece Exploration Abilities, explained or What are the Taxi Signs in One Piece Odyssey?