The Ouija Board is a Cursed Possession in Phasmophobia that allows a player to communicate with the ghost, ask it questions, or even trigger a hunt. As with other Cursed Possessions, using the Ouija Board comes at the cost of decreased sanity, depending on whether it is successful.
How to Use
To use the Ouija Board in Phasmophobia, you will first need to find one. They have a one-sixth chance to spawn in the area you are investigating. You don't know if it spawns unless you see one, which can make it hard to come across one. Beyond that, Ouija Boards are also usually in more difficult to find spots such as attics, basements, closets, and storage rooms.
Setup
Once you find one, pick it up and move it wherever you'd like to communicate with the ghost. Once you've placed it down, activate the Ouija Board by using the primary action button (default is left-mouse click) to make the planchette appear.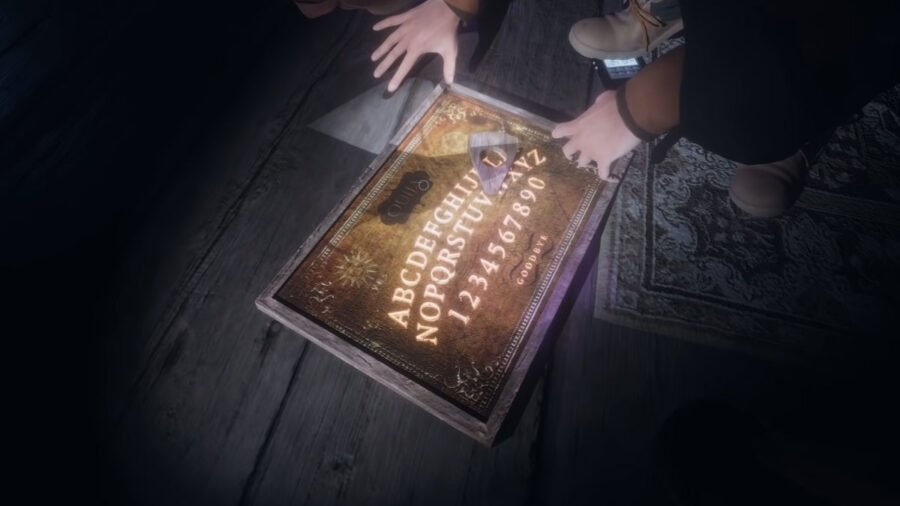 Questions
After the board is set up, you can ask it basic questions regarding a limited selection of topics. You can ask a question by pressing the push-to-talk key (default is V). Here is a list of some questions you can ask, depending on what you'd like to know.
Locations

Where are you?
What is your favorite room?
Where is your room?
Are you here?
Are you close?

Age

How old are you?
Are you old?
Are you young?
What is your age?

Death Age and Cause

How long have you been dead?
How many years ago did you die?
When did you die?
How long have you been here?
How long ago did you die?
How did you die?

Room Count

Are you alone?
How many people are here?
How many people are in this room?
How many ghosts are here?
Who is here?

Sanity

What is my Sanity?
How crazy am I?
How insane am I?
Am I insane?

Bone Location
Yes or No

Am I pretty?
Are we friends?
Do you hate me?

Hide and Seek

Do you want to play hide and seek?

Feeling

How do you feel?
Are you okay?

Purpose
Knock Knock
Sanity Loss
When you ask a question that goes unanswered, you will lose a small amount of sanity. When you ask a question that is successfully answered, you will lose a large amount of sanity, and the amount will vary depending on the type of question you asked. This lost shows how much sanity you lose with each type of question.
Ghost's Location

Non-Demon: 40 percent
Demon: 32 percent

Number of People in Room, Bone Location

Non-Demon: 20 percent
Demon: 16 percent

Hide and Seek

Demon, Non-Demon: No deduction

Others
Related: How to use Tarot Cards in Phasmophobia — What do they do?
General Info
Outside of the mechanics listed above, there is additional very important information to know while using the Ouija Board.
Hide and Seek: Asking to play Hide and Seek, if successful, will immediately trigger a Ghost Hunt.
Saying Goodbye: At the end of every session on the Ouija Board, the player must select Goodbye on the Ouija Board. Otherwise, the Ouija Board will break and it will trigger a Cursed Hunt.
Photo Reward Money: You can earn by points by taking a photo of a Ouija Board, whether it's on or off. Depending on the distance from the board, you will be awarded 30, 45, or 60 points. However, if you take a picture of the board within a few seconds after a question is answered, it will count as a different type of photo. In this case, you'll only be awarded 20, 30, or 40 points depending on the distance.
That's all there is to know about using a Ouija Board!
Want to know more about Phasmophobia? Be sure to check out our articles on how to use a Music Box and how to use a Haunted Mirror!