Decidueye is the latest Pokémon to get a 7-star Tera Raid in Pokémon Scarlet and Violet, and, like the previous ones, it can be difficult to defeat if you don't go in with the right build. Here's how to beat Decidueye in Pokémon Scarlet and Violet, including the best counters.
Best Decidueye counters in Pokémon Scarlet and Violet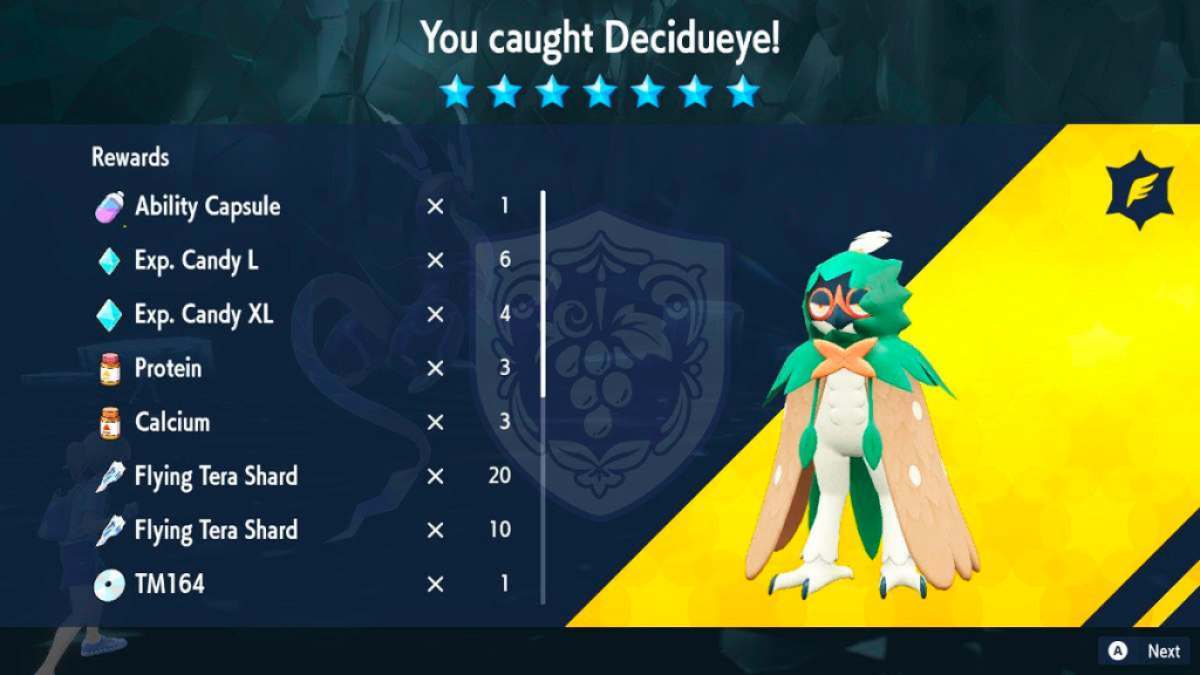 Grass/Ghost-type Pokémon Decidueye's Tera Raid is a 7-star, meaning you'll be facing it at level 100, making it no easy feat. Its Tera type is Flying, so ensure you've got some decent Electric-type firepower to face off against it successfully and that whatever you bring in is also level 100.
It is highly recommended that you battle with an Electric-type as it is the only type that is neutral against Decidueye's Grass/Ghost/Flying concoction. If you don't have one, you'll be in for a harder time.
Here are the best Decidueye counters in Pokémon Scarlet and Violet:
Miraidon (Ability: Hadron Engine, Held Item: Magnet/Shell Bell)

Metal Sound
Charge
Parabolic Charge
Electro Drift

Bellibolt (Ability: Electromorphosis, Held Item: Magnet)

Electric Terrain
Parabolic Charge
Acid Spray
Reflect

Iron Hands (Ability: Quark Drive, Held Item: Shell Bell)

Swords Dance
Thunder Punch
Electric Terrain
Rock Tomb

Magnezone (Ability: Analytic, Held Item: Electric Seed)

Metal Sound
Charge Beam
Rain Dance
Thunder

Kilowattrel (Ability: Competitive, Held Item: Shell Bell)

Electric Terrain
Charge Beam
Thunderbolt
Feather Dance
Miraidon is the best Decidueye counter as it resists Grass and Flying moves, giving you the edge in battle as you'll be able to avoid most attacks. Pair it with Parabolic Charge and Electro Drift, and you'll whittle down the enemy's HP bar in no time at all. Charge and Metal Sound are also worth having, as they raise Miraidon's attack for extra damage.
Use Metal Sound on turn one and two to lower Decidueye's Sp. Def stat. On turn three, use Charge to increase Miraidon's next Electric-type attack by 100%. Finally, use Electro Drift on turn four to one-shot Deciduye and beat the Raid.
If your Miraidon isn't Hyper-Trained, Decidueye may survive the attack but will only have a few HP left. This is okay; use Electro Drift two more times after being revived. Even if the owl manages to knock you out, it will not be able to survive the rest of the Tera Raid due to how much damage you have already inflicted on it.
For more information on Pokémon Scarlet and Violet, check out Is Iron Leaves Shiny locked in Pokémon Scarlet & Violet? here on Pro Game Guides.