The latest entry to the Pokémon franchise, Pokémon Scarlet & Violet, changes up the normal format of what everyone normally expects from one of these games. These are three different storylines that players can choose from, each with its own goals and rewards. Starfall Street follows the route of enemy Team Star and their leaders who are all different students who attend Naranja Academy. Victory Road has players defeating eight gym leaders followed by the challenging Elite Four.
Lastly, Path of Legends introduces Titan Pokémon to the mix. These are large-scale Pokémon who each guard a special herb. Once you complete all three of these storylines, you'll receive a phone call from Arven who will explain that it is time to enter Area Zero, unlocking the final story.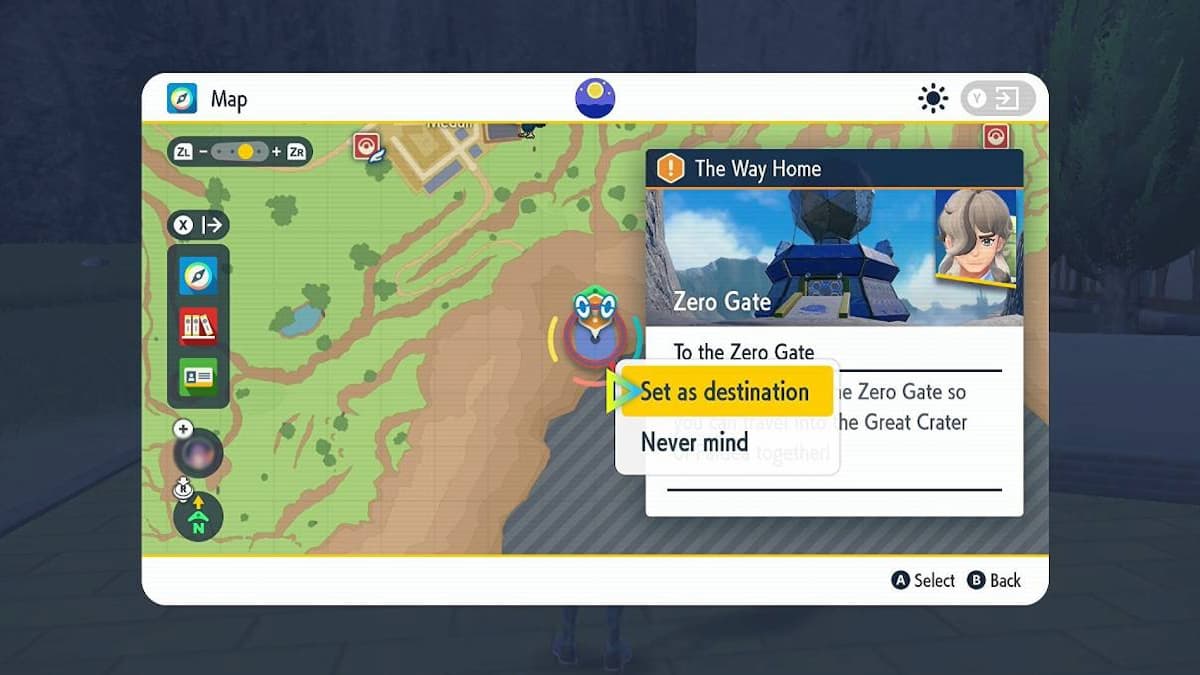 This story, titled The Way Home, leads up to the game's final battle as well as its true ending. It's important to note that if you want to have an easy time going through this, you'll want to make sure that your team is on average at least level 65. Beyond that, only read on if you're looking to get the true ending in Pokémon Scarlet & Violet. But, be warned because there are spoilers amok!
Related: How to get Scroll of Waters in Pokémon Scarlet & Violet
How to get the True Ending to the Pokémon Scarlet & Violet story
Once you reach the Zero Gate, you will be met with Penny, Arven, and Nemona. Your partner legendary, Miraodon or Koraidon, will refuse to leave their ball, making you do a lot of running during this part. Your main goal will be to unlock the four locks to the professor's lab. To do this, you will need to find four research stations and fight against Pokémon alongside your friends.
After unlocking all four locks, you will then have access to the Zero Lab. Inside, you will immediately be met with three Pokémon battles. These are different depending on which version of the game you have, so we've outlined them below:
Pokémon Scarlet

Great Tusk - Level 64
Brute Bonnet - Level 64
Flutter Mane - Level 64

Pokémon Violet

Iron Treads - Level 64
Iron Hands - Level 64
Iron Jugulis - Level 64
Once you've defeated all three of these Pokémon, you can head into the lab and rest in the bed that is inside, healing your party. You might also want to pick up the Booster Energy here as it's incredibly difficult to find one in the wild. Inside the lab, you'll meet with the professor of the specific game you are playing, either Professor Sada or Professor Turo, and follow them down the elevator where they will challenge you to a battle, revealing their true forms as AI Sada or AI Turo.
Once you defeat them, the Paradise Protection Protocol will activate. To stop it, you will need to defeat the professor's final Pokémon, either Miraidon in Pokémon Violet or Koraidon in Pokémon Scarlet. Unfortunately, all of your Poké Balls will be locked, meaning that you won't be able to send out any of your Pokémon to battle. To bypass this, you will need to scroll down to the bottom of your party and Swap in your legendary partner Pokémon.
At the end of the battle, the credits will begin rolling and you'll be returned to your dorm room. You'll be able to continue playing the game to complete a variety of different endgame tasks and events.
For more Pokémon Scarlet and Violet, check out Where to catch Iron Valiant in Pokémon Scarlet & Violet only on Pro Game Guides.