Bertha is a down-to-Earth member of the Elite Four who brings the full force of Ground-type Pokémon down on the player.
Note: This guide is for your first fight with Bertha. Her team and levels change during rematches.
Her Team
Bertha's team has five sturdy Pokémon in it:
Quagsire - Level 55

Moves: Recover, Toxic, Earthquake, Surf
Ability: Water Absorb
Item: Leftovers

Sudowoodo - Level 56

Moves: Double-edge, Head Smash, Sucker Punch, Low Kick
Ability: Rock Head
Item: Sitrus Berry

Golem - Level 56

Moves: Rock Polish, Heavy Slame, Earthquake, Stone Edge
Ability: Sturdy
Item: Soft Sand

Whishcash - Level 55

Moves: Bulldoze, Ice Beam, Belch, Hydro Pump
Ability: Hydration
Item: Rindo Berry

Hippowdon - Level 59

Moves: Ice Fang, Earthquake, Crunch, Rest
Ability: Sand Stream
Item: Chesto Berry
Related: How to beat Aaron in Pokémon Brilliant Diamond and Shining Pearl
Strategy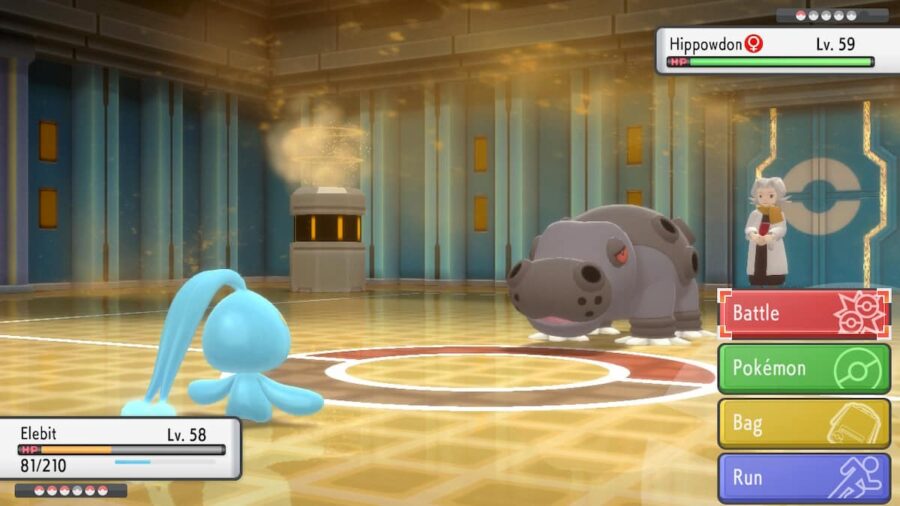 Quagsire is Bertha's counter to Water-type Pokémon. It has Water Absorb, which will completely negate any Water move used. Other than that, its role is divided. It has a mix of stalling moves and powerful moves, letting it tank or deal damage as needed. A Grass-type move will wipe Quagsire out, though.
Sudowoodo doesn't do much. It has decent type coverage and can do some alright damage, but it's just a rock type with a Sitrus Berry. Smack it around with Water, Fighting, Ground, or Grass-type moves and move on.
Golem isn't much better than Sudowoodo. It has some dangerous moves and can survive one attack guaranteed with Sturdy, but it takes four-times damage from both Grass and Water moves. You might have some trouble if you don't have either of those types available, but you should still manage alright.
Whiscash is a menace. Its only weakness is Grass, but it comes prepared with two moves super-effective against Grass-types and a Rindo Berry, which will greatly decrease the damage of a super-effective Grass-type move. It's also quite tanky, making it difficult to deal with.
To deal with Whiscash, either trade blows with it with a tankier Pokémon, or you can try your luck with a speedy Grass-type and hope it does enough to one-shot despite the Rindo Berry.
Hippowdon is somewhat tanky, making it hard to one-shot, and it has Ice Fang to deal with Flying and Grass-type Pokémon. It also has Rest to fully heal itself and a Chesto Berry to wake itself up once after using Rest. But it's a basic Ground-type Pokémon other than that. Water, Grass, and Ice-type moves will take it out without much issue.
For more Brilliant Diamond and Shining Pearl guides, check out our Pokémon category here on Pro Game Guides!