Updated: October 16, 2023

We did our best to find more codes today!
Pokémon GO is still as massive as it has always been, with events happening throughout the year. Now Niantic has given players the option to do raids and battles in the comfort of their own homes. You can get even more out of your Pokémon GO by using these codes and get hidden and rare items that are usually unavailable to new players. In your adventures to Catch Em All, make sure to claim these game-changing codes!
A promo code often appears that allows users to get some free stuff. Sometimes it's a type of Pokéball, Berries, or even a nifty outfit. We'll be keeping track of all these codes, so you don't have to.
We have many tips and tricks for your Pokémon GO playthrough, especially if you are a new player. These are especially helpful, like How to Fix Incense Not Working in Pokémon GO, How to get the Sinnoh Stone in Pokemon Go, and How to Get a Rainy Lure Module in Pokemon Go. If you want to trade and receive gifts, go to our Pokemon GO Friend Codes and make new friends!
All Pokémon GO Codes List
Pokémon GO Codes (Working)
Currently no active codes!
Pokémon GO Codes (Expired)
4DSJTSPX4B9AH—Redeem for a Worlds Tee for your Avatar
S76334522EHWZ—Redeem for 7 Razzberries and 7 Gimighoul Coins
KUAXZBJUTP3B7—Redeem for a Galaxy A Series Outfit
GXSD5CJ556NHG—Redeem code for a North Face x Gucci Avatar Items
LRQEV2VZ59UDA—Redeem code for Verizon Jacket x2, and a Verizon Mask
TRFJVYZVVV8R4—Redeem code for Ultra Ball x30, Max Revive x10, and also Lucky Egg x1
DJTLEKBK2G5EK—Redeem code for Ultra Ball x20, Pinap Berry x10, Sticker x10, Star Piece x1
Pokémon GO FAQ, Answered
Below is everything you need to know about Pokémon GO codes.
How to Redeem Pokémon GO Codes
To redeem codes in Pokémon GO, there are a few ways to do so. Follow our guides below.
If you are using iOS, you only have one option. The easiest way for both is to go to Pokémon GO Redeem.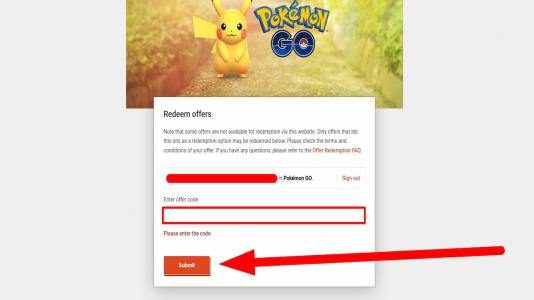 Log in with your credentials, and then copy & paste the codes above, or type them in manually.
Hit Submit and a message will appear informing you if the code has worked or not.
If it has worked, go back to Pokémon GO, and after a few minutes, a message will appear informing you that the code has worked and will show you the items you have been given.
If you are on Android, you can redeem codes through the app itself.
While on the Map View, when playing the game, hit the Pokéball at the bottom.
Hit the Shop Icon in the middle of the Menu.
Scroll down all the way to the bottom, and you will see Promos.
Underneath Promos, you will see a place where you can enter a code.
Enter the code, and then hit Redeem.
It will inform you if the code has worked, then when you exit the Shop, a message will appear about your incoming items.
How to get more Pokémon GO codes?
To get more Pokémon GO codes from the developer Niantic you will need to follow them on several social media platforms as they offer a limited supply of one-time use codes in partnerships with special events or promotions. Follow them on Twitter @PokemonGoApp, Instagram pokemongoapp, and their Facebook Pokémon GO page. We here at Pro Game Guides have the latest codes for you, so make sure to bookmark this page and claim all the new rewards as they are dropped.
Why aren't my Pokémon GO codes working?
There may be a few things that go wrong when you are trying to redeem codes from Pokémon GO. You may have a code that is too short for the redeem code text box. These codes are generally thirteen characters in length. If the code has less than that, you will not be able to redeem the code. Rather copy and paste the code from our list to make sure the code is correct before clicking on the Submit button. The code you are trying to redeem has already expired. These codes are only available for as long as the promotion is running, so make sure to claim the code as fast as possible before these great rewards disappear.
What does Incense do in Pokémon GO?
Incense is a new feature added to Pokémon GO and each trainer will get an Incense to use once a day. Activate the incense on the top right of the screen and then walk around, the incense will then attract Pokémon to your location that you can normally not see in the wild like legendary bird-type Pokémon. Make sure you use these Incense carefully as you will only have them available for fifteen minutes.
What is Pokémon GO?
Pokémon GO is a Pokémon game that uses your location to show you where Pokémon are in real-time. Travel through the real world and catch Pokémon hidden throughout the real world. Meet up and trade with other trainers, even take them on in Poké battles, and defeat gym leaders for badges. Level up and catch them all, including the dark and shiny variants of your favorite Pokémon. Become the very best that no one ever was!
Interested in Pokemon GO and want to read more? Check out How are Mega Evolutions Changing in Pokemon Go, and Pokemon GO Druddigon Raid Guide on Pro Game Guides!