Niantic announced a new event for Pokémon GO players. The Bug Out! 2022 Event runs from Wednesday, August 10, 2022, to Tuesday, August 16, 2022. The event will be held from 10am to 8pm local time. Pokémon GO has held bug-themed events in the past, with each one usually debuting a few new Pokémon for players to hunt down.
Debut Pokémon in the Bug Out! Event in Pokémon GO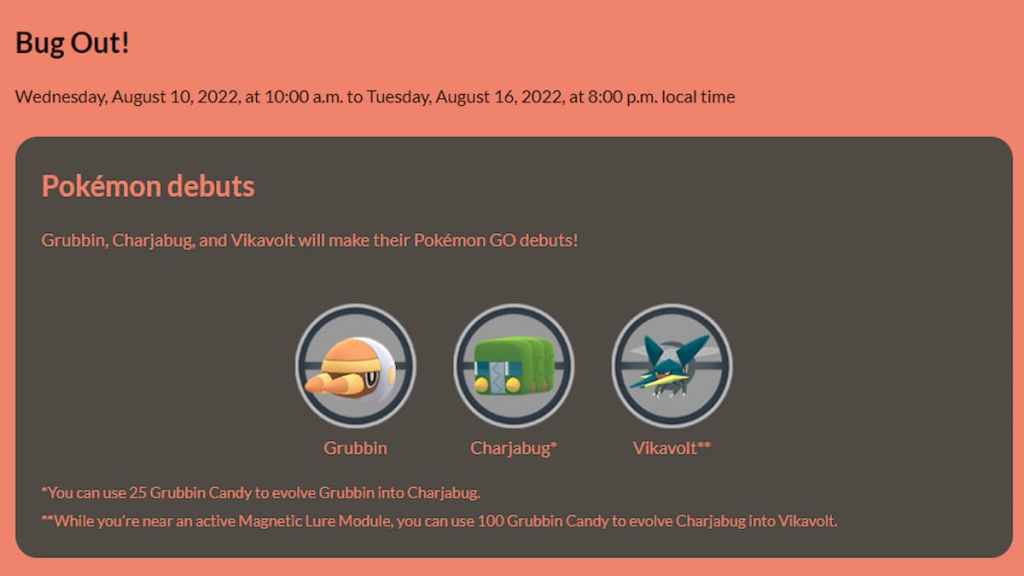 For the Bug Out! 2022 Event, players can catch three debut Pokémon. Grubbin, Charjabug, and Vikavolt. These Pokémon are all a part of the same evolutionary line. Grubbin evolves into Charjabug using 25 Grubbin Candy and then to Vikavolt using 100 Grubbin Candy. None of these Generation Seven Pokémon can be shiny, sadly, though they are still worth farming during the event due to the high Candy requirement for evolution.
Related: How to get Galarian Moltres, Zapdos, & Articuno in Pokémon GO
Raid Rotation in the Bug Out! Event in Pokémon GO
There are a few new Pokémon in the Bug Out! 2022's Raid lineup, including a new Mega evolution. Players can find, battle, and catch a Mega Scizor during the event and, if lucky, can even encounter a shiny.
*Pokémon marked with an asterisk can be shiny when encountered.
One-Star Raids
Paras*
Unown T*
Pineco*
Pansage*
Joltik
Three-Star Raids
Venomoth
Pinsir*
Forretress
Shuckle*
Five-Star Raids
Mega Raids
Wild Encounters in the Bug Out! Event in Pokémon GO
Players can encounter many Pokémon in the wild during the Bug Out! 2022 Event, including the newly introduced Grubbin. Grubbin can't be shiny at the time of writing, but players can still hunt for a 100IV Pokémon.
Caterpie*
Weedle*
Ledyba*
Spinarak*
Yanma*
Wurmple*
Surskit
Kricketot*
Pansage*
Venipede*
Karrablast*
Joltik
Shelmet*
Grubbin
Dewpider
Pineco*
Skorupi*
Dwebble*
Interested in other helpful Pokémon GO guides and want to read more? Check out How to Fix Incense Not Working in Pokémon GO on Pro Game Guides!