The monkey-like Aipom is a Normal-type Pokemon that's potentially rough to find in Pokémon Brilliant Diamond and Shining Pearl. It evolves into the much tougher Ambipom, which can certainly hold its own in a fight.
Locations
You can trigger an encounter with Aipom by slathering golden trees with honey, though he will still be an uncommon sight. Alternatively, Aipom can show up in Sand Caves in the Grand Underground, though you'll need to wait until you can use the HM Defog to search those. Even then, it's not guaranteed. Supposedly, Aipom can also be found in tall grass on Route 213, but we have not been able to confirm this.
Related: Where to find Magby in Pokémon Brilliant Diamond and Shining Pearl
Strategy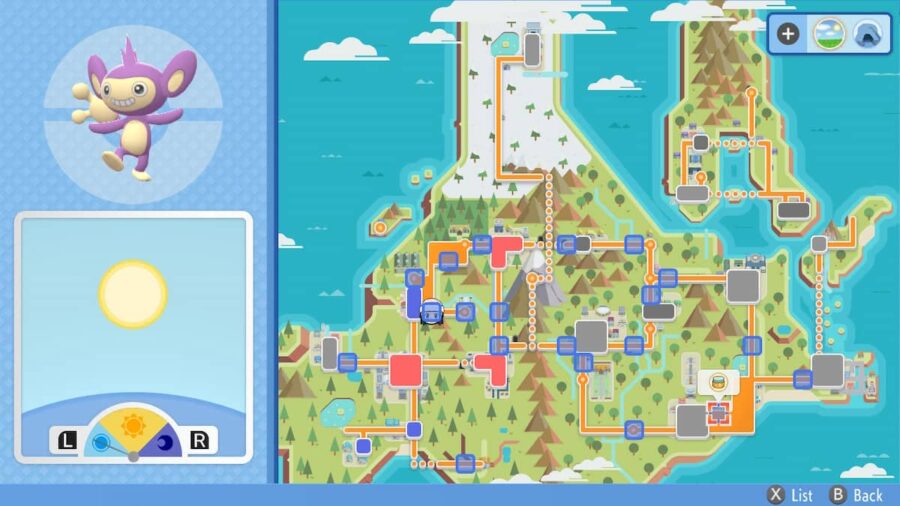 The best way to track Aipom down is to stock up on Honeys, roam around to every Honey Tree in Sinnoh, and plaster them in glorious Honey. You can see the rough location of every Honey Tree in the picture above.
After that, just go about your business for a few hours. Go see a movie, search for a different Pokémon, eat dinner, hang out with friends—whatever eats up a handful of hours. Then, go around to every tree again, encountering the attracted Pokémon and re-slathering the tree should it prove to be Aipom-less.
As for actually catching the purple creatures, the usual tricks work. Toss a Quick Ball on Turn One, and if that doesn't work or you don't have Quick Balls, weaken it and toss every other ball you've got. Remember that Sleep and Paralysis make it easier to catch Pokémon. And a select few moves, like False Swipe, will never KO a Pokemon, so they work great for weakening and catching them.
For more help locating all those Honey Trees, go check out All Honey Trees Locations in Pokémon Brilliant Diamond and Shining Pearl on Pro Game Guides!