PUBG is getting a new map called, Karakin! It looks to be a desert based map which is reminiscent of Miramar. This has been received as a mixed bag, because while some people enjoyed that map, a lot of players felt like it was too large. We'll have to wait and see how Karakin is laid out and if it improves upon the previous desert experience.
Karakin Release Date
Karakin can now be played on the test server! It will not go live on the public server until Season 6 starts, which is on January 22nd, 2020 for PC and January 30th, 2020 for Console!
Karakin Map Image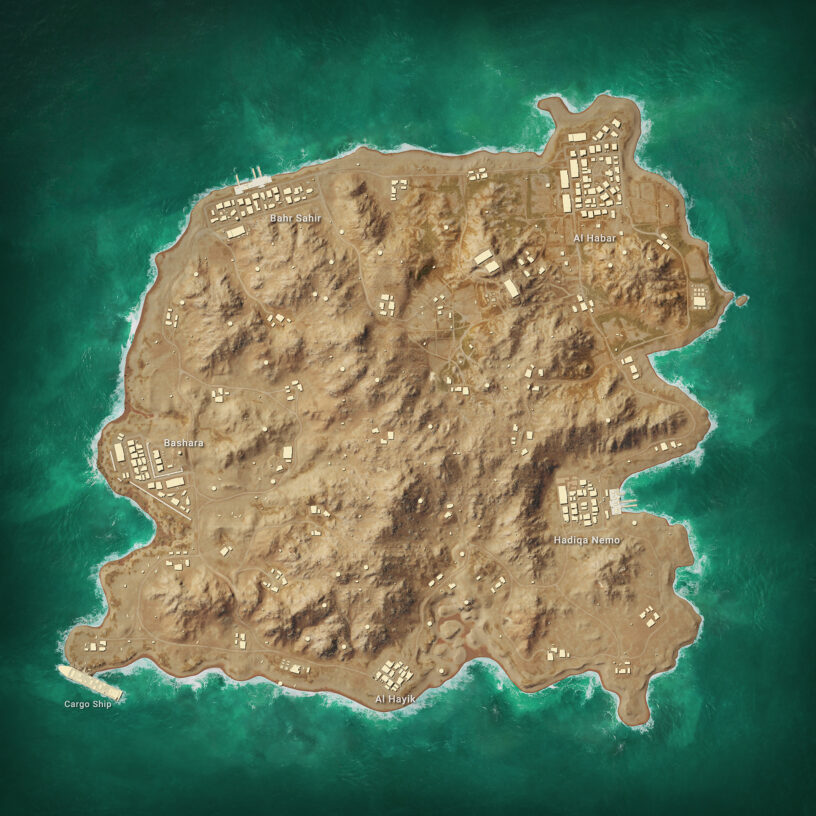 Karakin is a 2×2 km island off the coast of Northern Africa. It's an arid, rocky environment that provides wide-open terrain and challenging engagements. It's small, fast, and dangerous: Expect the tension of Miramar combined with the pace of Sanhok. Karakin is a 64 players map.
New Hazard: Black Zone (Karakin Only)
This is a new hazard that is similar to the Red Zone, but only happens on Karakin. This random zone is a lot more destructive then the Red Zone, so don't think that you are safe by just being inside a building.
The Black Zone is designed to push players out of the safety of a building.
The hazard is random: towns and compounds can be undamaged, totally flattened, and everything in between.
The mix of buildings and ruins evolves in real time throughout the match: Meaning don't always expect that building you run to for cover to be there late in the match.
Remember, if you hear the siren, and you are inside that purple circle on the minimap- evacuate!
Buildings destroyed by the Black Zone will be marked with X on the minimap.
Karakin Teaser
The map was officially announced via Twitter and the official PUBG account:
Karakin: Coming Soon. pic.twitter.com/Ergyk21Vcv

— PUBG (@PUBG) January 14, 2020
If you look closely, you might see what looks to be a RPG or Panzerfaust on the back of one of the players which would be an interesting addition to the game.
Vikendi Rotating Out in Season 6
If you're a big fan of Vikendi, you aren't going to be entirely pleased. It looks like Karakin will be replacing it for now, and Vikendi will not be available for the time being. This has been confirmed by Hawkinz, PUBG's Community Manager:
Vikendi will be rotating out when Season 6 begins, but not permanently.

You can of course still play Vikendi in custom matches.

We'll have more information soon.
Karakin Map Locations
According to leaks from PlayerIGN, it looks like there will be the following locations on the new map:
Al Habar, Al Hayik, Bahr Sahir, Bashara, Cargo Ship, & Hadiq Nemo