While we get prepared for the big release of Adopt Me's Fossil Egg, we've been treated to an event that will have us digging up some fossils and even obtaining some free Toys and Pet Wear! The game Adopt Me! is crazy popular, and skyrocketed past a million people on already as soon as the update was released. While you can't collect any pets just yet, this does give you a great way to pass the time until those eggs are available.
Here's a look at everything that has been added to the game in this new update:
Fossil Isle excavation event IS LIVE!
Join a team of paleontologists and bring extinct animals to Adoption Island!
Earn accessories for finding fossils & dig up toys!
Countdown to Fossil Egg!
Get Aussie Eggs before the countdown ends!
If you're looking to enter Fossil Isle, you can just hit the button on the side of your screen that features a helicopter and a volcano. That will take you directly to the island. Once you are there you can pick up a tool and start digging. Once you have collected your first fossil, head over to Henry the Scientist and he will examine it for you. He will then describe to you what the fossil was from and add it to the holographic pets that are featured where the Fossil Egg will be purchased!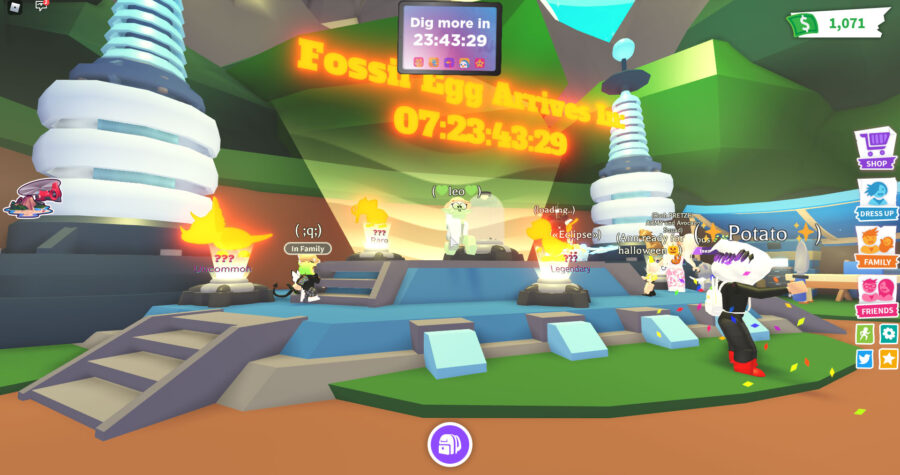 You can only dig up two fossils per day unfortunately, and you will get those pretty quickly. So, this won't occupy your time very long. It's still worth it to do it everyday, because you can get free toys and pet wear for your pet. I was able to get a Claw and T-Rex Rattle as toys, and got some Tusks that you can put on your pet to make them look fearsome! Let us know in the comments what you're able to dig up, and which pets you've found from the fossils!