It looks like there will be Dinosaurs coming to Adopt Me at some point in the future! If you're curious about these prehistoric animals, then we're going to take a look at everything known about them in this post. We are getting very close to the launch of these prehistoric creatures, so get ready to hatch some new pets!
Dinosaur Eggs were pretty much officially announced on June 19th, 2020 via a tweet. This tweet simply showed an emoji of a dinosaur and an egg together. A lot of speculation would follow, and months would go by with very little information. Thankfully, it looks like we're getting very close to the release of these new pets.
Dinosaur/Fossil Pets List
Now that the Fossil Isle event has released, here's a look at all of the pets that will be available via the Fossil Egg:
Ground Sloth (Common)
Tasmanian Tiger (Common)
Glyptodon (Uncommon)
Stegosaurus (Uncommon)
Triceratops (Uncommon)
Dilophosaurus (Rare)
Pterodactyl (Rare)
Woolly Mammoth (Rare)
Deinonychus (Ultra-Rare)
Sabretooth (Ultra-Rare)
Dodo (Legendary)
Tyrannosaurus Rex (Legendary)
This is a pretty interesting group of dinosaurs and prehistoric animals that you will be able to get. Deinonychus is much closer in size to the Velociraptors you see in the Jurassic Park movies. The actual size of the Velociraptor that existed in the past is much smaller than in the movies, and the name was only used because it sounds better. You'll also notice the feathers on it, which is much more accurate to what we know about Dinosaurs now. Dilophosaurus is another well-known from Jurassic Park, but its ability to spit and expand its neck frill is fictional, and no proof of that exists in reality.
The Tasmanian Tiger is not really a cat at all, and is much more comparable to a wolf or a dog. These did not go extinct in pre-historic days, with the last one in captivity dying in 1936 and sightings of them reportedly lasting all the way into the 1990s. You can actually see video of these in captivity via the Wikipedia page!
Egg Revealed
If you're curious what the Fossil Egg itself looks like, then the Adopt Me! team has revealed it in a recent social media post:
From the past & future at the same time, the Fossil Egg wishes you good luck on your fossil hunting!! 🥚

Fossil Egg will be released next Saturday (10/10) 🤩 pic.twitter.com/yk68kHqVFX

— Adopt Me! (@PlayAdoptMe) October 1, 2020
Fossil Egg Release Date
The Fossil Egg in Adopt Me will be released on October 10th, 2020 at 10am PST. This has been officially announced via the Adopt Me Twitter, and includes details on an event that you can take part in to help bring back the egg from the past! The Fossil Isle event starts on October 2nd, 2020 at 10am PST.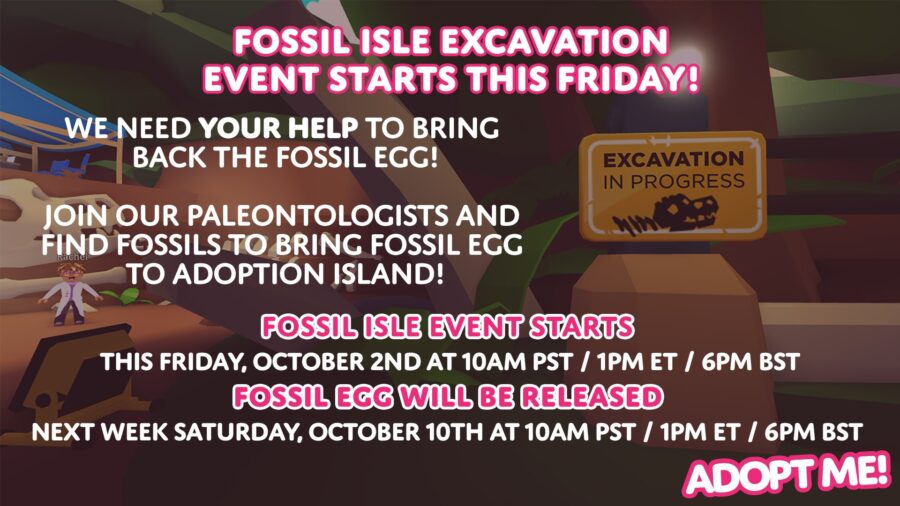 Fossil Egg Details
We got some additional information on what s going to be included in the event. It looks like it won't just be dinosaurs, but other creatures that existed in the pre-historic era. This obviously includes the Dodo bird that was revealed in the past. There will be a whole new area called Fossil Isle that you will be able to explore. The new area is one of the reasons that the update has taken so long. The Fossil Egg is going to feature the most pets of any egg that Adopt Me has ever added. You can check out additional details in the video below.
That's about all the information we have for now on dinosaur eggs in Adopt Me. Be sure to check out our Adopt Me Pets, and Adopt Me Updates posts to learn more about what's coming in the future!