In this post, we're taking a look at when Adopt Me updates will be coming to the game. While we won't always know the exact date, we're trying to compile a list of likely things that will be coming soon. So, if you're curious about what is on the horizon in the game, this is the page to learn about it!
While Adopt Me used to update every Friday, they have since decided to be a bit more flexible with their release schedule. That doesn't necessarily mean they've lowered the rate of content they are coming out with, it just means they are able to put more time into certain aspects of the game. This is overall a good thing for the game and the developers behind the game!
Adopt Me Updates
Here's a look at the upcoming updates, as well as some of the past updates that were added to the game.
This Week: Lunar New Year & Tiger Pet
This week, UpliftGames is getting down to business on their PlayAdoptMe Youtube Channel. They've announced that the Lunar New Year update will be coming to the Adopt Me game at the end of this week, on Thursday, Feb. 3, 2022. This update is a continuation of the annual celebration of the Lunar New Year within the game.
The game is also expecting a new pet during this update, the Tiger! This is due to the fact that under Lunar New Year, it is the year of the tiger.
January 30, 2022
We don't know much about the Tiger yet, including whether or not it is a premium pet. If the Tiger is a premium pet, it will cost Robux. Players can also expect many other additions to the game during the Lunar New Year update.
Check out the full update video from Jan. 31, 2022:
Previous Updates
Task Board & Return to Normal
After the exciting change of the map from the Desert update last week, UpliftGames has chosen to keep things a bit more relaxed this week with a simple, yet useful, update.
Starting Thursday Jan. 27, there will be a new daily feature in the game: the Task Board. The idea behind the Task Board is to complete tasks for cash rewards. Each day, the board will reset with new oppurtunities to get some money.
are you ready for new daily tasks? 😌

ANOTHER update coming on thursday!! 🤠 pic.twitter.com/CDeJsVn4D1

— Adopt Me! (@PlayAdoptMe) January 22, 2022
The Desert Map is gone from the game, as it launched last Thursday and only stuck around for 36 Hours. UpliftGames reassured players who may have missed the festivities, saying in their PlayAdoptMe update video that the limited time map would be a monthly occurence. Players can expect to see the map again in February.
Check out the full update video from Jan. 24, 2022:
Limited-Time Desert Map
This week's Adopt Me news coming from UpliftGames is pretty short and simple. Jesse, the announcer for all Adopt Me update and news videos on UpliftGame's YouTube channel, let's viewers know there will be a new map (and other features) in the game for just 36 hours.
The new map will be that of a desert landscape, complete with sandy dunes and cactus galore. There will also be an exclusive shop in the game for the duration of the update, though details of the items in the shop remain a mystery.
January 16, 2022
UpliftGames has reassured any players who miss this new update, as this style of update (limited-time), will be happening each month. This means anyone who misses the update this Thursday can check it out come February.
Check out the full update video from Jan. 17, 2022:
Cozy Cabin & Snowmobile Gamepass + Looking Forward
Last week, UpliftGames returned from their Winter Holiday Break to get back to work on Adopt Me. With that work came the addition of the Cozy Cabin and Snowmobile Gamepass, which is something that has been teased slightly over the past few months.
The Cozy Cabin and Gamepass bundle are part of a set that can be purchased for 849 Robux, meaning it is a premium item in the game. Purchasing this set will give you a winter house all year as well as a speedy snowmobile to ride around the map. Adopt Me's update also saw the addition of home furniture and a Zamboni vehicle.
get in the zamboni, we're going on a trip 🏃🏽‍♀️💨🧊 pic.twitter.com/LCsRLc3Os8

— Adopt Me! (@PlayAdoptMe) January 8, 2022
There are no additions to the game this week, but the UpliftGames team is using this time to come together as a team and think of the year ahead. They have invited fans to comment on their most recent YouTube video to give their suggestions for the 2022 year in Adopt Me.
Check out the full update video from Jan. 10, 2022:
Winter Sale + Last Chance
The Winter Update for 2021 is still in full swing, with many different game options for all players. Whether its the mini games, advent calendar, or new flying vehicles, there's something for everyon in Adopt Me. UpliftGames announced that they will also be adding a Winter Sale to the game later this week on Wednesday, Dec. 22.
time to deliver some presents, save your gingerbread!! 🎁

two new flying vehicles are coming to Adopt Me on THURSDAY! 🛷 pic.twitter.com/nlJgMZSo9k

— Adopt Me! (@PlayAdoptMe) December 14, 2021
The sale will not affect anythign from the Winter Update, but rather non-Winter items throughout the Adopt Me catalog. Make sure to drop in the game to get some good deals. There are also several pets and items that will be removed from the game at the end of the Winter Update season on Jan. 6, 2022, so make sure to buy all pets you want while you can!
The UpliftGames staff will also go on holiday soon, so expect some down time for Adopt Me through the rest of December. The next update video will occur on Jan. 5, 2022.
Check out the full update video from Dec. 20, 2021:
Winter Vehicles + New Trailer
At the tail end of last week, UpliftGames treated fans to a brand new Adopt Me trailer on their PlayAdoptMe YouTube page. While the trailer is not for any specific new content, it does give a refresh for how Adopt Me is represented in short trailer form. Uplift Games also released some Winter Soundtracks on their YouTube channels for fans to check out!
This week, there will be two flying vehicles that are winter themed that will be added into Adopt Me. See them in the game on Thursday, Dec. 16, 2021.
no thoughts, only gingerbread 🍪 pic.twitter.com/1DNaw4moPo

— Adopt Me! (@PlayAdoptMe) December 5, 2021
One of these majestic vehicles will be able to purchased using gingerbread currency from the Winter Event. Both flying vehicles will remain in the game into the beginning of January, when the rest of the Winter Event also ends. Buy them while you can!
Check out the full update video from Dec. 13, 2021:
Winter Update + Advent Calendar
After the whirlwind of updates like the Scary House and Sing 2 events in October and November, Adopt Me took a break from updating over the Thanksgiving week. Now, UpliftGames is back with another update video that gives a teaser on more to come for the winter season. On Nov. 29, 2021, the PlayAdoptMe Youtube Channel updated fans by letting them know that the Winter Update is set to release Wednesday, Dec. 1, 2021.
the festive village will be around all december long, who's ready to visit?🎄 pic.twitter.com/O4AnStX4VA

— Adopt Me! (@PlayAdoptMe) November 25, 2021
The Winter Update is starting at the beginning of December, rather than dropping on the typical Thursday schedule. With the Winter Update, there will be plenty of new pets, toys, and more. One confirmed item coming to the game is the Advent Calendar, which will allow players to countdown the holiday season in true festive fashion.
Check out the full update video from Nov. 29, 2021:
Scary House & Furniture Update + More Music
Last week was a bit slow for Adopt Me, as UpliftGames had to pick up the pieces after Roblox's historic three-day outage. There was an update to fix some bugs are protect player's data, as well as a release of the Shop Halloween music. But Uplift Games has picked back up to a fast pace with a new spooky House that will release in the game this week. The house will also be released with a matching furniture set that can be purchased separately.
We adjusted the Candy minigame rewards to make up for lost time in the Roblox outage last weekend. The adjustment is live in game now!

Happy brewing, friends 🖤👻 pic.twitter.com/wu1JGX0woY

— Adopt Me! (@PlayAdoptMe) November 3, 2021
For fans of the Day & Night, as well as Shop, soundtrack, they're in luck! UpliftGames has added even more music to their YouTube channel. This time, the uploads are the Chase the Headless Horseman and Potion Mixing soundtracks!
Check out the full update video from November 8, 2021:
Halloween Soundtracks + Roblox Returns
The big Halloween update from last week is still going strong, confirmed by Uplift Games in their Monday, November 1 video on YouTube. There's not much big news this week, but there are a few things to note. First, the third and final (Day, Night, and Shop) Halloween soundtrack from the Adopt Me game has been added to the PlayAdoptMe YouTube channel. UpliftGames also invites fans to come back to their YouTube channel on Wednesday to judge their build battle.
As the Roblox servers come back up, Adopt Me won't be open until we add an update to protect everyone's daily login streak.

We hope it's not long until you're all enjoying the Halloween event again!

We'll have more updates on this soon. Thanks for being patient! 🙏 pic.twitter.com/Xvxm72S6LR

— Adopt Me! (@PlayAdoptMe) October 31, 2021
While not addressed in the YouTube update video, UpliftGames did note the Roblox three-day shutdown on their Twitter. Adopt Me was not playable for awhile, even after the Roblox outage ended. This was because Adopt Me was being fine-tuned to make sure players did not lose any streaks or other important data. The game is now operational.
Check out the full update video from November 1, 2021:
Halloween Countdown + Update Pets
Halloween is coming very soon, both in real life and in Adopt Me! Uplift Games released their update video on Monday, October 25 to announce that the Halloween update to the game will be releasing on Thursday, October 28. This means players will get a few days to enjoy the event in-game before the actual date of Halloween. While not included in this Monday's video, Uplift Games spent the end of last week and this past weekend teasing some of the pets that will be in Thursday's update.
boo!! 👻

Ghost Dragon is the only premium pet in the Halloween update! who's ready? only 4 days left! 🎃 pic.twitter.com/5mJSkEmfGE

— Adopt Me! (@PlayAdoptMe) October 24, 2021
Among the confirmed pets, there is the Ghost Dragon, which will be the only premium pet within the update. This means the rest should cost cash, rather than Robux. Another expected pet is the Mummy Cat, which has been depicted in three different colors.
Uplift Games also announced the full Day & Night Halloween soundtracks have been released on their YouTube Channel.
Check out the full update video from October 25, 2021:
Mummy Cat Sneak Peek + Glamicorn Purse Confirmed
Uplift Games opens their YouTube video by wrapping up last week's update, which included the Fall map changes and the confirmed date of the Halloween Update (October 28). One of the biggest announcements this week is the sneak peek and confirmation of a new pet in the game. While Uplift Games has yet to label the pet specifically, it has a very mummy cat like appearance. It could possibly be coming during the Halloween update, though we are not sure yet.
who guessed 🧻🐈? pic.twitter.com/UedKjpMG8B

— Adopt Me! (@PlayAdoptMe) October 17, 2021
Adopt Me will also tease further updates of the Spooky Event by using the Community Tab on their YouTube channel. There is a brand collaboration on the way with Spin Master. This means that players will be able to purchase an in-game Glamicorn purse for their pets to wear, available from 10/21 to 10/28. It was also announced that after Thursday, October 21, the Speedboat will be removed from the game.
Check out the full update video from October 18, 2021:
Fall Map Changes + Spooky Teasers
There's good news this week for Autumn enthusiasts! Uplift Games will be updating Adopt Me's world this week to reflect the fall season. There should be a whole new look the city and neighborhood with red and yellow trees, scattered leaves, and more. This update will be the foundation setting for more fall events and occasions, which will be much more aesthetically pleasing with Adopt Me turning into an Autumn village.
the leaves are all starting to fall! 🍁

fall map change & Halloween countdown will be out next thursday 👻 pic.twitter.com/JmaNfQTeFl

— Adopt Me! (@PlayAdoptMe) October 6, 2021
The update video on YouTube also teased a new area on the map to check out that promises to be eerie and get you in the Halloween mood! While not many details were given on October 11, Uplift Games said they will be back later in the week to give more details on the new area. This video later in the week also will go let players know when to expect the Halloween event.
Check out the full update video from October 11, 2021:
New House + Hats
Uplift Games opens their September 27 YouTube video by telling players that while the Mid-Autumn festival has been a great celebration to have in the game, it will be leaving come Thursday, September 30. The plane and helicopter will also be removed at that time. Thankfully, this is to make way for a new update! Uplift Games also gave the update that while the Fashion Show feature that is being tweaked in Test Labs is not ready, it is getting closer.
new witch hat! ...which hat? 🧙🏽‍♀️ pic.twitter.com/SWcIAEQkFY

— Adopt Me! (@PlayAdoptMe) September 26, 2021
In the meantime, Adopt Me will add some new accessories in its September 30 update. To entice fans with the Fashion Show that will eventually come to the game, Uplift Games has decided to put some new hats in the game. For fans of Adopt Me who do not care much for fashion, they may be pleased to learn that a new Premium House will be placed in the game soon. More details on this will be revealed on September 29.
Check out the full update video from September 27, 2021:
Flying Vehicles & Boat Temporarily Leaving
In the September 13 YouTube video, Uplift Games confirmed the closing of the Summer Sale and also teased a soon to be revealed Halloween pet that will drop in October. They also recapped the Mythic Egg hatch party that happened on their YouTube Channel last week. Starting next week, the speedboat will be temporarily removed from its place on the stand for a limited item.
The Boat will be replaced on the stand for two weeks, starting next week! Can you guess what vehicles are coming? 👀 pic.twitter.com/SbqAgpV755

— Adopt Me! (@PlayAdoptMe) September 11, 2021
The biggest announcement in the video is that there will be a vehicle update coming later this week. The update had been teased recently in the Test Lab, but it has now been confirmed. Flying vehicles (one of them possibly being helicopters) will be added to the game this week! More details will be released in the Wednesday video.
Check out the full update video from September 13, 2021:
Axolotl Pet + Summer Sale & 2x Weekend
Coming after the long-awaited Mythic Egg drop from last week, Uplift Games is ready to continue Adopt Me updates. On August 23, Uplift Games said a new premium pet would be announced soon. The pet was revealed on August 25, 2021 to be the Axolotl Pet.
🌸 Summer Sale update video! 🐽

🦎 New pet Axolotl! 2x Weekend! BIG SALE!! coming to Adopt Me TOMORROW at:
🕗 8AM PT
🕚 11AM ET
🕓 4PM BST (search '4PM BST local time' to find out what time it'll be for you!) - or check the in-game countdown! pic.twitter.com/EEhkc4yB4b

— Adopt Me! (@PlayAdoptMe) August 25, 2021
The update video also revealed that this weekend will bring two events. The first will be a summer sale, meaning items in Adopt Me will be at a reduced price. There will also be a 2x weekend, which means that players can earn 2x the bucks and age their pets at twice the rate. The weekend will run from August 27 to August 30.
The Summer sale will start on August 26 and end on September 9. Items will be marked down at a variety of rates, with some items being up to 80% off. The sale will also include premium pets, with all except the Axolotl being 30% off. The Axolotl will be 50% off during the sale period.
Check out the full update videos for August 23, 2021 and August 25, 2021 below:
Journal Update + Mythic Egg
A surprise update has dropped on August 16, 2021. The game has a new journal that keeps your organized and informed about your pets, vehicles, toys, and more! The Mythic Egg will be launching on Thursday, August 19, 2021. Throughout this week, Adopt Me creators are expected to announce more of the pets that will come from the Mythic Egg.
Happy update day!! Today we're releasing the Journal update!! 📔 pic.twitter.com/DYhkHovN0N

— Adopt Me! (@PlayAdoptMe) August 16, 2021
Uplift Games announced they will have a livestream, on their YouTube channel, leading up to the last 15 minutes before the egg is released. They will also send out a reminder for the egg's drop 24 hours beforehand.
Check out the full update video for August 16, 2021 below:
Kirin Confirmed + Speedboat Vehicle & Cars
The mythic egg countdown has been teased to start soon, though no hard date has been set. The Kirin has been confirmed as another pet that will come from the mythic egg. New cars will be added to the game this week. One of the most exciting editions will be the speedboat, which is a completely new vehicle type. Check out a preview for the speedboat below.
BOATS!!!!!!! ⛵ pic.twitter.com/SizEcHwNza

— Adopt Me! (@PlayAdoptMe) July 28, 2021
Adopt Me clarified that existing cars and vehicle will have no alterations. There will only be additions, which is greats news for those who will get to keep their favorite vehicles.
Check out the full update video for August 2, 2021 below:
Candy Cannon Update + Wyvern Pet Revealed
The in-game countdown to the new Mythic Egg still hasn't started and Uplift Games is hard at work perfecting the egg's launch. For now, the studio teased the Wyvern, a new miniature dragon with a barbed tail. This pet will launch exclusively with the Mythic Egg amongst the rest of the new pets. Check out the tweet below for the Wyvern animations.
who is this.... green creature 🐲💚 pic.twitter.com/A9BeTyBxwg

— Adopt Me! (@PlayAdoptMe) July 21, 2021
Last week Uplift Games made some changes to the Candy Cannon. But upon listening to player feedback, the studio tweaked some of the initial updates to the cannon. All established changes to the Candy Cannon are:
Fix made to cannon shooting backwards
Fix made to other players' pets claiming your candy
Candy is tradeable between players
Candy is limited to 5 pieces in player inventory
Rate of cannon fire has been lowered
Amount of candy on the ground has been limited to reduce server loading issues
Check out the full update video for July 26, 2021 below:
New Voting Paddle Furniture
This Tuesday, July 20, Uplift Games is adding new furniture to the Fashion category. Additional voting furniture such as the Judges Chair, Judges Table, and Voting Paddle will allow for your own competitions held inside your home. You can even input your own score on the Voting Paddle to simulate your own vote in-game.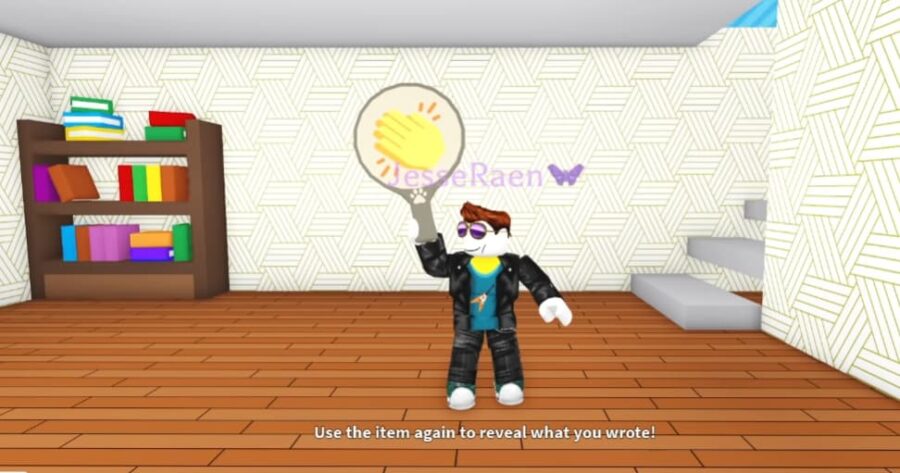 The Mythic Egg in-game timer has not started its countdown yet, so we still don't know the exact release date of the new egg. We'll be sure to keep an eye out on the timer and report back as soon as the countdown starts ticking away.
Check out the full Adopt Me weekly news update for July 19 below:
New Butterfly Pet & Friday Surprise
To celebrate Adopt Me's fourth birthday on Wed. July 14, Uplift Games plans to release a new Butterfly pet this week. This pet won't require Robux, but the Butterfly will only be available for a limited-time so be sure to save up your Bucks! More details, along with how to get the Butterfly pet and its price will be revealed on Tuesday.
In Monday's news video, Jesse teased a surprise coming to Adopt Me this Friday, July 16. It seems like something will go live in the game on Friday, with a video also premiering on the PlayAdoptMe YouTube channel alongside the launch. Who knows, could this surprise be the long-anticipated Mythical Egg?
New House and Wall Art
This week's Adopt Me update focuses on a new house coming to the game. All we know at the moment is that the house will allow players to implement wall art. So what exactly does this mean?
Update July 7, 2021: The Crooked House was shown off in the Wednesday video. It's got a fantasy aesthetic and a jagged, wobbly shape to the entire exterior. It can be purchased for 2,000 Bucks.
Wall art was also shown off in the Wednesday video, and players will be able to decorate their homes with some sweet Adopt Me artwork. In addition to the wall art, new furniture pieces will be available for purchase.
The Artsy Update goes live this Thursday, July 8 at 8am PT / 11am ET / 4pm BST. Check out the video below for more details.
More Mythic Egg Mysteries
Last week, Uplifted Games recently tweeted a picture of the rumored Mythic Egg and Jesse fueled more speculation in the most recent update video. Jesse isn't sure how the new egg found its way inside of last week's video, but rest assured he is investigating!
The egg is covered in dragon scales, perhaps indicating the new pets will be inspired by fantasy elements similar to the Sky Castle. We're still waiting to learn more about this egg, but until then, Uplift Games will be stoking our excitement.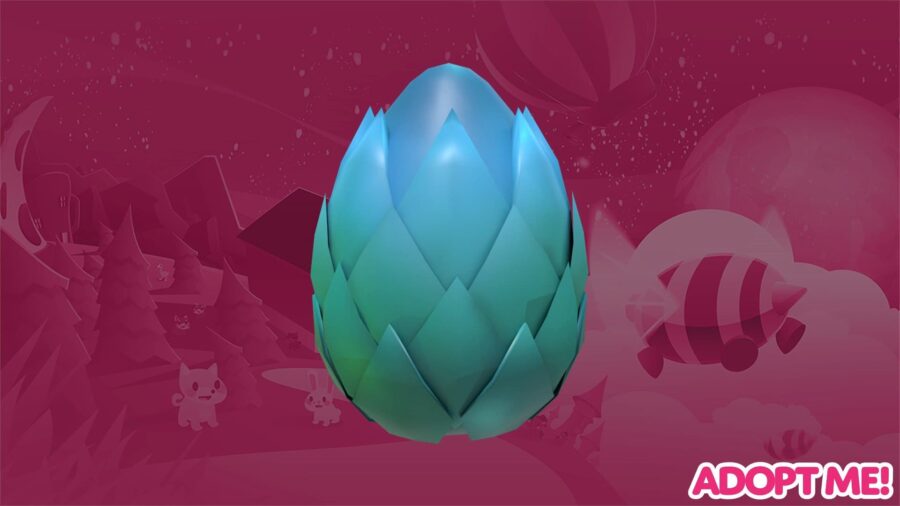 This Wednesday, Uplift Games will host another livestream: a space-themed Build Battle! The gang will stream the competition over on YouTube, so be sure to tune in.
Check out the video below for this week's news.
Baby Shop Update, Cobra Pet Out Now
The Baby Shop is the next building in Adopt Me to receive a full makeover. More details about the new Baby Shop will become available during this Wednesday's premiere video. The Baby Shop update will go live this Thursday.
The delayed Cobra pet is also out now! Players can find the Cobra in the Sky Castle surrounded by the potions and is available for 500 Robux.
World Oceans Day, Sky Castle Update
Thursday, June 10: Sky Castle Update
The Sky Castle is the next building on Adoption Island to get a full remodel. This Thursday, June 10, the Sky Castle update goes live with an updated building and a potions changeup. All potions will be moved to the Sky Castle and the Potions Shop will be removed from the game.
To celebrate Pride month, Uplift Games is also adding more Pride pins and decorative flags in this Thursday's Sky Castle Update.
Update June 9: Uplift Games has delayed the Premium Pet to a later update. A brief glimpse of the upcoming Cobra can be seen below.
Pals! We messed up! We need more time on the Cobra pet, so it won't be coming in the update tomorrow 😔

BUT we don't want to delay the new Pride pins and decorative flags, so they are still coming tomorrow along with the new Sky Castle!! Update vid coming soon 🏳️‍🌈💕 pic.twitter.com/qbyXCNDnvN

— Adopt Me! (@PlayAdoptMe) June 9, 2021
Tuesday, June 8: World Oceans Day event
Uplift Games recently partnered with the Whale and Dolphin Conservation (WDC), a charity foundation that works worldwide to protect whales and dolphins. To celebrate World Oceans Day in Adopt Me , players can visit the Ocean Stand starting this Tuesday, June 8. New pin badges, a musical conch shell, a clam stroller, and more will be available at the stand.
Huge Spring Sale
A huge spring sale is coming to Adopt Me this week! Players can expect discounts on Bucks, Pets, Vehicle Gamepasses and more popular items. This upcoming weekend is also billed as a "huge Double-Bucks weekend" according to Jesse from Uplift Games, where players can earn up to 2x the amount of Bucks normally received in-game.
Many pets are 25% off during the Spring Sale. The pets displayed in the Adopt Me Spring Sale video are:
Cerberus (375 Robux)
Eagle (450 Robux)
Horse (225 Robux)
Kitsune (450 Robux)
Lion (375 Robux)
Panda (185 Robux)
Robo Dog (375 Robux)
Sloth (150 Robux)
Double Bucks Weekend lasts until May 31, and the Spring Sale ends on June 3. Both events go live on May 27 at 11am ET, 8am PT, and 4pm BST. Are you planning on picking up a new pet during this Roblox Adopt Me sale?
New Toy Shop and Red Squirrel Pet!
The Toy Shop was redesigned from the ground up in the New Toy Shop update. The new building's exterior is gift/present-themed and the interior is a wonderland of toys! Inside the Toy Shop appears to be a fun obby that is vertically designed where players can hop along clouds and shelves.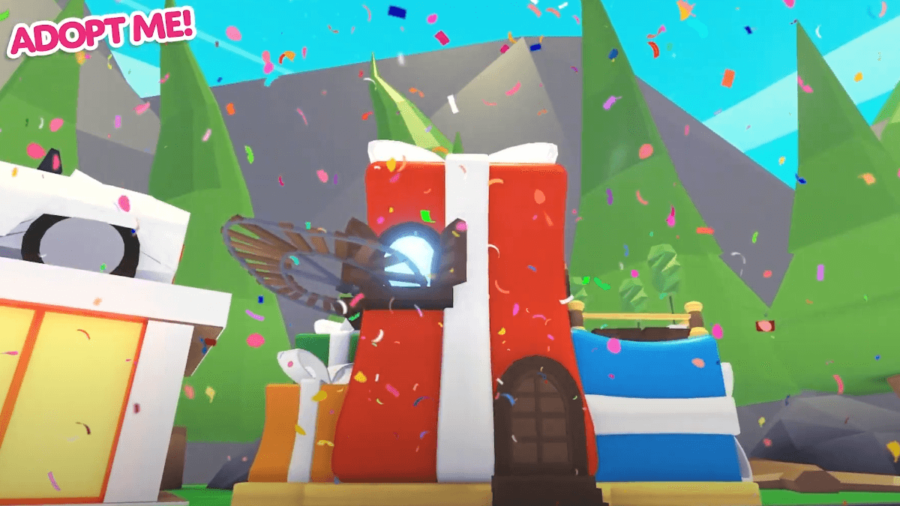 The Red Squirrel pet was showcased as a Premium Pet in this new update. We assume this means the Red Squirrel will cost Robux to purchase and will not be obtainable through in-game Bucks.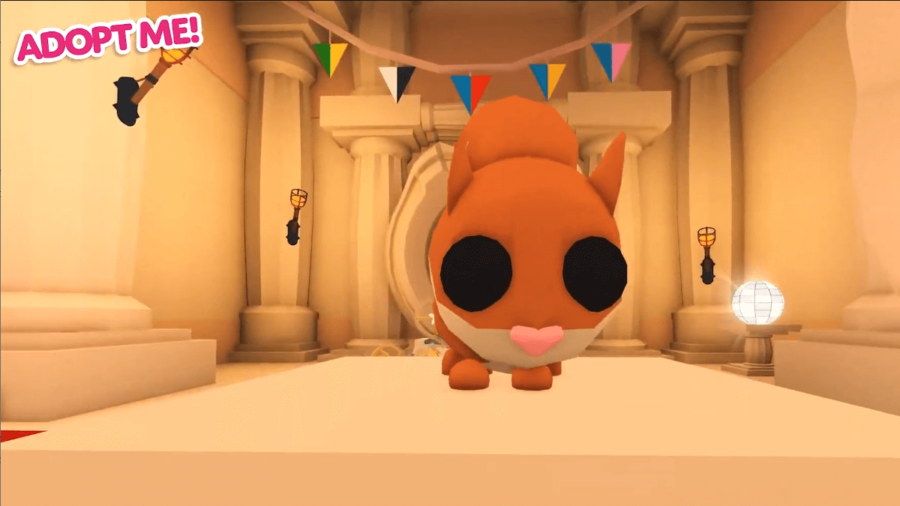 Additionally, the Toy Shop update promises improved standed toys Some items teased in the premiere video were Pogo Sticks, Umbrellas, and Unicycles.
The New Toy Shop update goes live Thursday, May 13 at 8am PT, 11am ET, 4pm BST. To find your local time, search "4pm BST local time" in Google.
Check out the New Toy Shop update premiere video below.
New Lamb Pet and Egg Hunt in Easter Update!
Adopt Me players are treated to a late Easter update with a new pet, accessories, and furniture set. The Lamb is the new pet in this week's update. Additional accessories include Easter Egg glasses, bunny ears, and what looks to be a chick pet hat accessory!
There will also be an Easter Egg Hunt minigame where players collect eggs. These eggs can be used at the Easter Stand to purchase accessories.
The Easter Egg Update will go live April 29, at 8am PT / 11am ET / 4pm BST. The update will only be available for two weeks, so collect as much as you can while this event is available!
Better Backpack Update
Some quality-of-life features have come to the Backpack in this week's Adopt Me update. Item stacking and favorites are new Backpack additions to ensure better organization, less time scrolling, and more time playing.
Item Stacking: Duplicate items will no longer take up separate slots in the Backpack. Going forward, multiples of the same item will all stack in the same slot.
Favorites: Set up as a new category, you can add your favorite pets, items, food, and additional items to the Favorites section for even easier access in the backpack. Press the Star button on one of your pets or items to add to the Favorites section.
New mini update coming tomorrow: Better Backpack!! 🎒

⭐️Favorites!
🍎Item stacking!
❔ New tooltip! pic.twitter.com/kN2QYZaLbj

— Adopt Me! (@PlayAdoptMe) April 19, 2021
For a full list of changes in the Better Packpack update, including the Tooltip explained, check out the official Adopt Me Patch Notes from DreamCraft. The Better Backpack Update is live right now.
Ocean Egg Update
Say goodbye to the Fossil Egg and hello to the Ocean Egg! At long last, the Ocean Egg is coming to Adopt Me. Eggs will be available to purchase for Bucks from the Gumball Machine in the Nursery. Brand new aquatic-themed pets will be added to the Adopt Me roster, like the Shark, Seahorse, and Crab.
The Adopt Me Team will be hosting a livestream on YouTube to celebrate the release of the Ocean Egg Update. Help the team set a new record by joining the game to watch the countdown reach zero.
The Ocean Update goes live April 16 at 3:30pm BST / 10:30am ET / 7:30am PT.
Retro Furniture & Peacock Update
A brand new, vibrant Peacock pet will be available to purchase from the Pet Shop in the latest Adopt Me update. This natural performer promises to show off its nine beautiful and, we imagine, display real emotion as a result of the recent Playful Pets Update!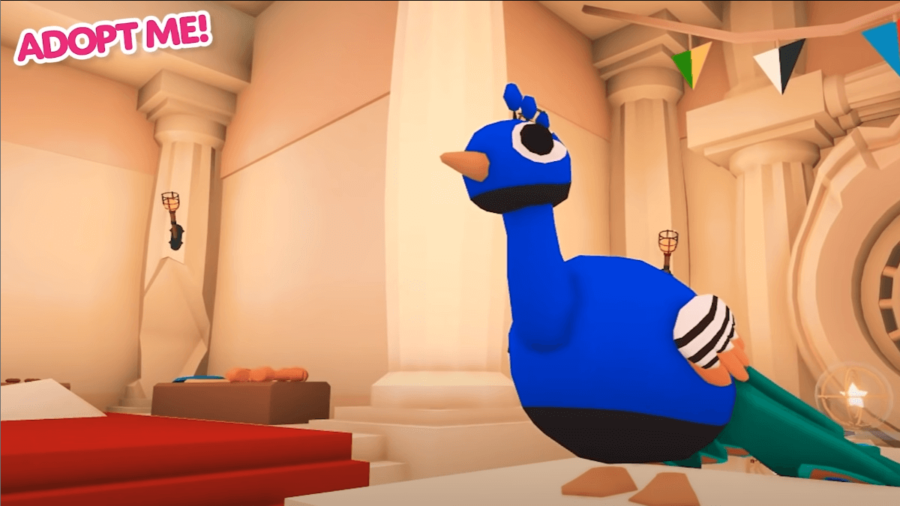 Additionally, a new Sustainable Container House will also be available. This eco-friendly house boasts solar panels, string lights, and a garden on the roof!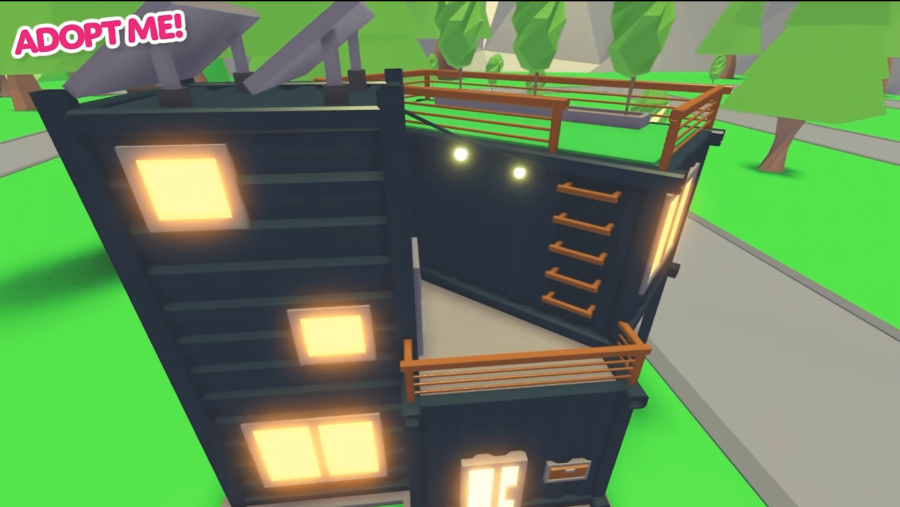 Lastly, the Retro Aquatic Furniture Set will add some lively underwater creature décor to your home interior. The Retro Furniture & Peacock Update goes live on April 2 at 8am PT / 11am ET / 4pm BST
Check out the video below for more details on the Retro Furniture & Peacock Update.
Gift Shop Update
Nineteen items will be added to the Gift items rotation, granting Adopt Me players more chances to open brand new gifts. Hovercraft and Boxcar vehicles feature as two exciting new items in the Gift Refresh Update, amongst much more. The Gift Refresh Update goes live March 18 at:
Four new legendary vehicles (including the Hovercar, Boxcar) are planned to replace current items in the rotation. As teased in the Gift Refresh Update video premiere, the other two vehicles look like a menacing bone-crusher vehicle and a squirrel-themed vehicle. We'll have official names for all four vehicles once they release in the game.
The video also depicted some space-themed items. A ray gun and rocket ship-themed pogo stick were briefly shown. Could this mean a special space update planned for 2021? Whether or not these items are teasing something greater is unknown, so we'll just have to take that as speculation and rumor for now.
For a sneap peak at the next update, check out the Adopt Me Gift Refresh Update video below.
Spring Festival Pet Wear Update coming this Thursday!
The Spring Festival Pet Wear Update is planned to launch Thursday, March 4. The Adopt Me Team teased 28 new Spring accessories coming to the Hat Shop throughout March. The Hat Shop will operate on a weekly rotation, with new accessories refreshing every Tuesday and Saturday.
The first rotation will be available Thursday, March 4 at these times:
For a sneak peak at the Spring Festival Pet Wear accessories, check out everything from Beehive Hats to Kangaroo Sneakers in the Adopt Me video below.
Farm Shop Update
Have you noticed any small changes to Adoption Island over the past couple of weeks? It's all been leading to the new Farm Shop Update, launching this Thursday, Feb. 18! Expect permanent map changes, a new area, a brand new mystery building, and new pets like the Queen Bee! The update launches this Thursday at:
The Adopt Me team launched a new video on Wednesday that provided a more detailed look at the Farm Shop Update.
Here's a brief look at the new building:
map changes with a new building (and new friends) coming Thursday! 💐 pic.twitter.com/0w4kfhIR8F

— Adopt Me! (@PlayAdoptMe) February 16, 2021
Check out this look at the Queen Bee pet:
February 12, 2021
Keep checking back to this page as we will be updating it all throughout this week with more information!
Lunar New Year Event
Update 1/27/2021, 11:20am CT: It's official: The Lunar New Year Event 2021 officially starts Tuesday, Feb. 2! Check out the brief clip below.
Lunar New Year in Adopt Me starts Tuesday!!! 🏮💕 pic.twitter.com/RN8PZ2dyWf

— Adopt Me! (@PlayAdoptMe) January 27, 2021
The Adopt Me team have not released specific details about the event beyond the date, but we expect more information to arrive soon.
Original:
The Lunar Year Event is the next major event and the first Adopt Me update in 2021. This follows the Winter Holiday Event, which concluded on Jan. 19.
Here's a first look at the Lunar Event:
get ready to decorate 🌸 pic.twitter.com/zqUemurGPb

— Adopt Me! (@PlayAdoptMe) January 21, 2021
The video in the Tweet doesn't reveal all that's in store, but we do get a brief glimpse of a new Chinese aesthetic that will be added to Adopt Me. The Tweet also intends to prepare us for decoration, so we expect that to be a major feature in the Lunar New Year update.
We'll update this page as more information is announced.
Winter Holiday (December 15th, 2020)
The winter season continues in Adopt Me! with brand new pets accesories, minigames, and new places to explore. Present piles and melted snowmen can be found all throughout the map. If you help the snowman, you might even get a reward. Find the missing Frost Fury in a brand new icy mini-game!
The Adopt Me! Winter Holiday update goes live on December 15, 2020 at:
The Winter Holiday is coming to Adopt Me tomorrow!! ☃️

🕗 8AM PT
🕚 11AM ET
🕓 4PM GMT

Watch the full video on YT: https://t.co/wgAP0zHy7Y pic.twitter.com/79SbBwzS3F

— Adopt Me! (@PlayAdoptMe) December 14, 2020
Winter Update (December 1st, 2020)
The start of the winter season in Adopt Me! has started and brought the ability to ice skate on the water surrounding the city. There's also some more Christmas themed stuff scattered around the map. There will be additional updates to the map and game coming soon!
❄️ Winter magic loading...
🎁 Wrapping up toys...
☃️ It's getting Frosty, keep your cool https://t.co/uWWmLTnG8y pic.twitter.com/zBJaoJbhSd

— Adopt Me! (@PlayAdoptMe) December 1, 2020
Robo Dog/Cyber Sale (November 24th, 2020)
Robo Dog was added to the game, and a Cyber Sale that knocked the price up to 75% on certain items and pets was added temporarily.
Trading Update (November 5th, 2020)
The new Trading Update in Adopt Me! is focused on making it safer for players so they will no longer get scammed. They have added additional trading slots, so double trades won't need to happen as often. You also get a trading history, which shows what trades you've made in the past month, so if you get scammed you can report them from your history page. Trading will also be a 2-step process, where you will be alerted if the game thinks you could possibly be getting scammed or not doing a trade that makes sense.
Halloween Update 2020 (October 28th, 2020)
The Halloween update launched on October 28th, 2020. With it came five brand new pets, 2 minigames, and a bunch of items that you can purchase. Most of the available things you could buy were via Candy that could be obtained by participating in minigames, buying it with Robux, or getting it from the Headless Horseman.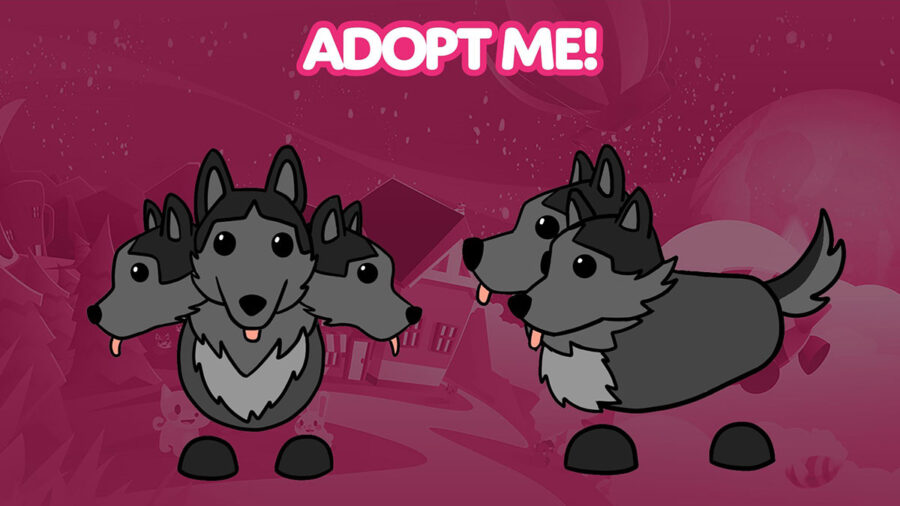 Fossil Egg Update (October 10th, 2020)
The Fossil Egg in Adopt Me will be released on October 10th, 2020 at 10am PST. This has been officially announced via the Adopt Me Twitter, and includes details on an event that you can take part in to help bring back the egg from the past! The Fossil Isle event starts on October 2nd, 2020 at 10am PST. We have some additional details here. and will have patch notes once they are available.
Pet Wear Update (July 31st, 2020)
A new Pet Wear update is going to be released on July 31st, 2020 at 9AM PT/12pm ET for Adopt Me that will bring 50 new accessories to the Hat Shop rotation, along with new shoes, wings, and earrings. Here's a look at the details, the official notes can be found here.
Over 50 accessories added to the Hat Shop rotation, including brand new accessory types: shoes, wings, earrings!
The new accessories will be rolled out over the next two weeks, so make sure to check the Hat Shop every Tuesday and Saturday! With the update launching on a Friday, the next change will be on Tuesday. After two weeks of only new accessories, it'll go back to a random rotation, with remaining new accessories being added randomly over the upcoming weeks.
Free pet Pride pins available in the Hat Shop! Be proud all year round with the Lesbian, Gay, Bisexual, Trans, Pan, Enby and Ace pins You can get as many pins as you want, but there is a 1h cooldown so you don't clutter your inventories!
New Pet Wear Gamepass (80 Robux) - Royal Butterfly! Includes Pink Butterfly Wings, Gold Tiara, Pink Hightops, and Gold Circle Glasses for a fresh unique outfit
EXTRA: From now on, all VIP Adopt Me servers are free! You can now play together with friends/within communities on your own Private free server! All existing subscriptions will be cancelled but continue working.
Kitsune Update (July 10th, 2020)
Kitsune is the new Robux pet that's being added to the game. This update was released on July 10th, 2020 at 9AM PT/12pm ET. With the addition of the Kitsune, there's going to be a 50% sale on all of the animals in the pet shop including the Kitsune. That means you'll be able to purchase it for 300 Robux. This will last for two weeks, so if you plan on purchasing it, make sure to do it before the sale is up. Once the sale has ended, the price will be back to normal and it will cost 600 Robux.
Monkey Fairground Update
The Monkey Fairground update was added on May 28th, 2020. This included the Monkey Fairground tent, with six new Monkey pets that were available via Monkey Boxes. If you collected three of a certain item, you could combine that with a Monkey and transform it into a special version of the monkey! These included the Ninja, Toy, Business, and King Monkeys. You could also obtain items like the Clown Car, Monkey Pogo Stick, and much more.
You can take a look at the entire update right here.
Mega Neons Update
On April 17th, 2020, Adopt Me was updated with the Mega Neon patch! This gave you the ability to combine four fully-aged Neon pets into one Mega Neon pet. This was a pretty large update at the time, because just getting a single Neon pet was a big deal. Now you could combine four of them to create the ultimate in Neon!
Dress Your Pets
April 10th, 2020 brought in the ability to dress up your pets with accessories! This gave you ways to customize your pet to your liking and really let them stand out from the crowd. You can attach hats, backpacks, glasses, headphones, ties, and a whole lot more!
Spring Festival Update
The Spring Festival update, that was released on March 27th 2020, brought in a bunch of spring influenced items to the game. There was also a 2x pet aging and bucks weekend, and some additional seats for your pets were added to the Ice Cream Truck and Witch's Caravan.