Our Roblox Adopt Me money guide will teach you exactly what you need to do to compile enough cash to purchase some pretty sweet items for your home and some brand new clothes for your character! There are some pretty basic things you can do to collect cash so you don't have to spend your hard-earned Robux.
Related: Take our test to find out which animal you are from Roblox Adopt Me: Which pet are you from Roblox Adopt Me
Login & Play Each Day

You get a login bonus every single day if you open up the game. You might want to set an alert on your phone for this to remind you to just hop on and get the free money. Even if you don't necessarily plan on playing the game anytime soon, you might just want to grab the free money just in case you ever go back to the game.
Each day you login you continue the streak up to five days where you receive a Mystery Gift. The fourth day is the most important because you get $200 bucks for logging in. Once you get to the sixth day, the streak starts over again. If you've already got the mystery gift, you can trade it to someone else!
Playing the game will also get you a bonus $20.00 check periodically! Make sure to try and play for about thirty minutes every day to ensure you get this extra money.
Be a Baby & Equip a Pet
Money can be earned by taking care of yourself as a baby and taking care of your pet. You will get objectives you'll need to complete that show up at the top of your screen. Heading over to the school is safe bet to complete the majority of these small quests because there's a sleep, food, and drink area. There's also an apple you can swipe off of the teacher's desk that is free and will feed you or your pet! Being both the baby and pet essentially doubles the amount of money you can earn!
If you do not want to be a baby, you can still make money by taking care of your pet as an adult. It will just take a bit longer to make money.
Objectives
Bored: Go to the park, you don't have to do anything just idle there.
Dirty: Both you and your pet can take a shower in your house. You can also go in someone else's house if it's closer and use their shower (they probably won't mind)!
Hungry: Pets can be fed at School and you can take an Apple from the teacher's desk! Grab a lot of the apples, so that you can feed yourself and your pet on the go!
Sleepy: Pets can sleep at the School, and you both can sleep at the campsite or wherever there's an available bed (you'll need a crib as a baby).
Thirsty: Your pet can drink at the School, you will need to purchase something to drink. The cheapest way to do this is to look for a Lemonade Stand that's selling for a dollar! Your pet can also use a water bowl at home.
Sick: Go to the doctor's office and talk to the doctor. You can also grab golden apples from there for free and eat them on the go.
There are also orange objectives, these require you to go over to a certain area but they give you additional money! These are the ones you want to make sure to complete right away before they disappear.
Camping: Head over to the campsite and hang out! If you don't know where it is you can click on the objective and it will show you how to get there.
Pool Party: Go to the pool and make some pretty good money!
School: Hang out at the school and learn a thing or two.
Money Trees
Something you'll want to save up your cash for is to purchase a Money Tree or two. These can be purchased as furniture for your house for $1450 bucks in the Stuff - Rare category. You will be able to periodically grab cash from the trees throughout the day. Each time you harvest you get 8 dollars. You don't need too many of them though, because you can max collect $100 per day, no matter how many trees you own.
Get a Lemonade Stand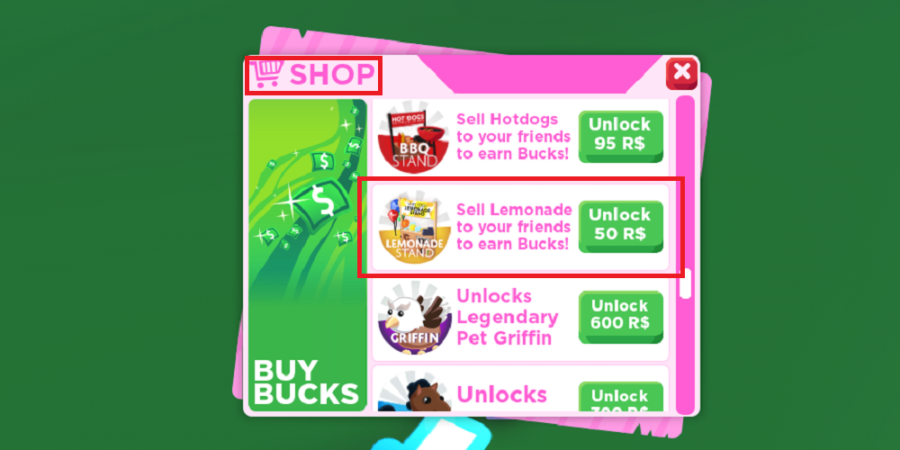 You can purchase a Lemonade Stand for 50 Robux. Once you have this you are able to place it wherever you want on the map and other players can purchase from it. You also get to set the price of the Lemonade, so base it on whether or not there are other stands around. We recommend 1 - 3 Bucks as a good option. The best way to utilize this is to look for the areas where players are hanging out currently and place it there!
Hotdog stands in the game work about the same, though the stand costs more Robux. The return could be higher because people are likely to need food for themselves or their pet as they roam the town. While it could earn you more money, we recommend using less Robux and sticking with the lemonade stand.
Purchase Bucks with Robux
If you really want to accelerate your cash flow, then obviously purchasing Bucks with Robux is the way to go. This is the easiest, but also a more expensive option. Here's a breakout of how much it will cost you:
50 Bucks: 24 Robux
200 Bucks: 95 Robux
600 Bucks: 280 Robux
1400 Bucks: 650 Robux
3000 Bucks: 1385 Robux
10,000 Bucks: 4600 Robux
Want to read more about Adopt Me? Check out How to Start a Lemonade Stand in Roblox Adopt Me on Pro Game Guides.