The new Halloween update for Roblox's popular game Arsenal has been released! With this new patch comes a new game mode called that brings random temporary status effects, like Slow Motion, Mystery Weapons, Infinite Ammo, Extra Bucks, Double Damage and more. At the end of one of these rounds, you will team up with everyone in the game to go against Hackula. This is a boss fight where you will need to dodge his attacks while dishing out damage with your weaponry!
Update: Free skin should be fixed!
Now when you login to the game, you should get greeted with a menu that will allow you to pick a Halloween themed skin for free!
While that's all well and good, what about the free stuff? Well, if you were logged in during the event you were supposed to get yourself a choice of a free Halloween skin. You will also get an option for a free Unusual as well. This is kind of bugged at the moment, so if you didn't get it upon logging in, you might want to wait for Rolve to figure things out on their end. Here's the official word from Arsenal's Discord:
There's a couple things that went rather rough, such as the skin UI not popping up for people who participated in the event and for that I'm sorry that happened.

We've tested this many times and something like that did not happen during our testing. We will be looking for a way to compensate people for that, our idea for this event was much large than you had seen and within the short time we had we attempted a rather ambitious project.

This was a learning experience for us and if we ever decide to do it once more we have the knowledge from this event to make the next time (if any) we attempt this as best as it can be.

Sorry for any inconvenience, Happy Halloween, and please stay well.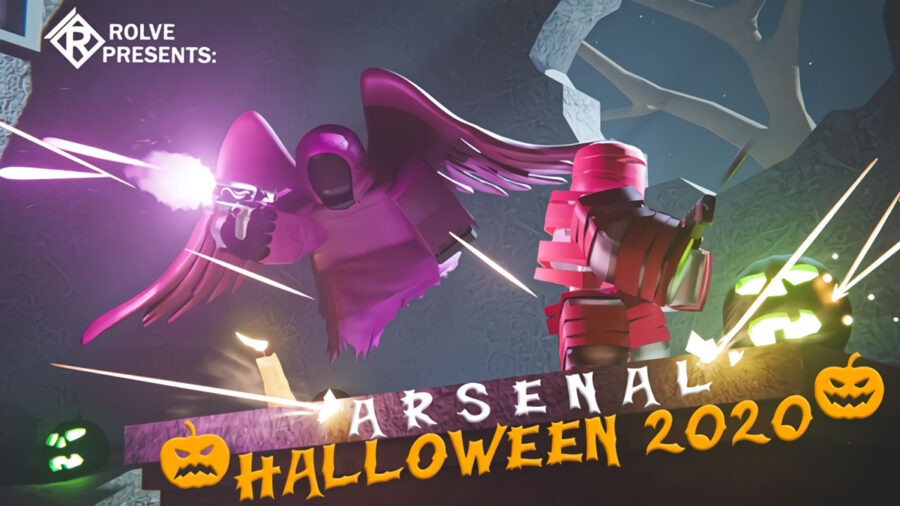 As for additional updates, there was a whole lot of new stuff added to the game. There are 28 new characters:
Agetha, Alchemist Plauge Doctor, Beckoned Pirate, Day of the Dead: Skullbetro & Skullrita, Fallen Veteran, Frank, Gaslight Detective, Ghastelle, Ghost of Developing, Gnome, Grug, Hackula, Hazmat, Marionette, Molten Slasher, Mummy, Phanitina, Pumpking, Reaper, RottingRouser, Skullmander, Tetra, Vahn, Witch, Zombella, Zombert
There are 12 new weapons, four primary and eight melees:
Primary weapons: Acid Spitter, Dispenser, Soul Pistol, & TP Launcher
Melees: Balloon Sword, Candleabra, Electronic Stake, Fire Poker, Garlic Kebab, Handy Candy, Pumpkin Bucket, & Pumpkin Staff
You will also find five new emotes that are Halloween themed: Brew, Crazy Chainsaw, Headtrick, Startle, and the Witches' Broom. There's three new maps as well with the Chaoticrypt, Hackula's Castle, and Monastery joining the rotation. There's even more stuff coming soon, and some additional things added that we didn't cover! Check out everything that was added in the patch in Rolve's Halloween Blog.