Updated September 30, 2023

Added a new code!
Ballroom Dance lets you get creative with your wardrobe and your dance moves. Take to the dance floor and dance to various tracks. Show off your dance moves as you make your way across the dance floor. You can even dance with other players and learn new moves.
Using codes in Ballroom Dance will give you various rewards, such as gems, so keep an eye on them. These also have expiration dates, so you must use the codes before they expire. We have compiled a list of available codes so you can earn gear and more in Ballroom Dance.
If you're looking for more Roblox codes and content, check out Club Roblox Codes, Berry Avenue RP Codes, NARS Color Quest Codes, Color Block Codes, Roblox Water Park Codes, and more on Pro Game Guides. Use our various Roblox code guides to get loads of free stuff.
All Ballroom Dance Codes List
Working Ballroom Dance Codes List (Active)
PETS2023—Redeem for 300 Gems (New)
CINCODEMAYO2023—Redeem for 300 Gems
FOOD—Redeem for 200 Gems
10MILLION—Redeem for 200 Gems
DANCE—Redeem for 100 Gems (Must be in Group)
Expired Ballroom Dance Codes List
There are no expired codes.
Roblox Ballroom Dance Codes FAQ
Here's everything you need to know about Roblox Ballroom Dance codes.
How to redeem codes in Ballroom Dance
Codes can be used in Ballroom Dance to get resources and rewards quickly. Codes are a great way to get free coins and progress faster in the game. Here is how to redeem codes in Ballroom Dance.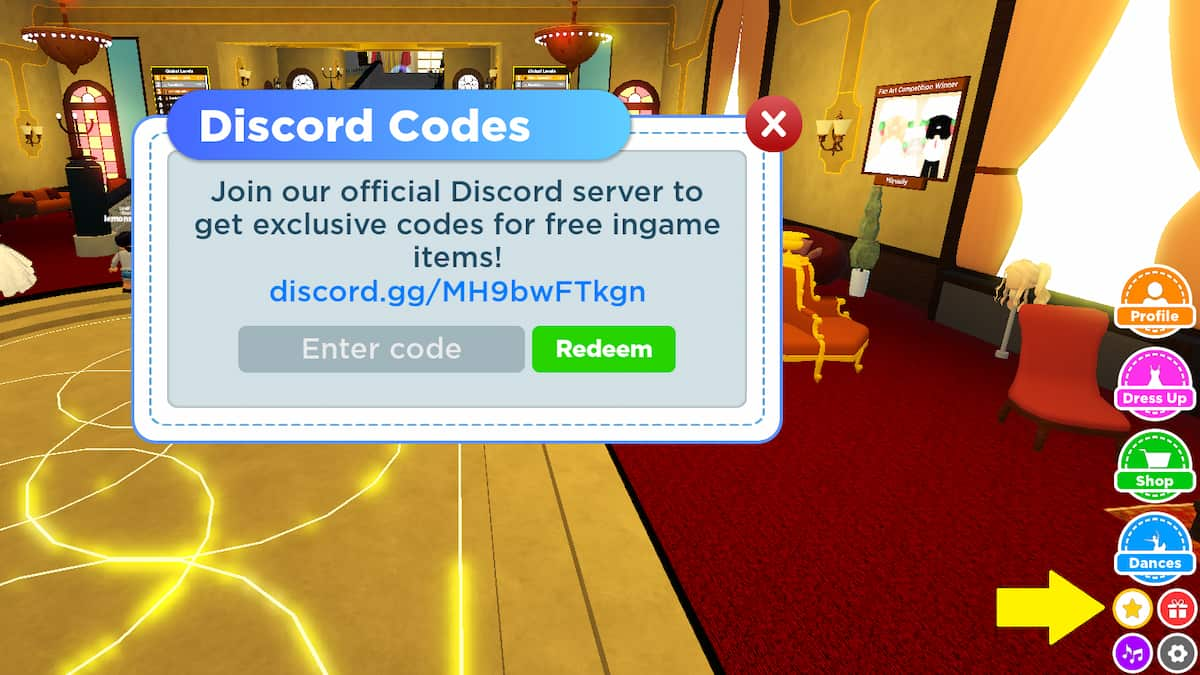 Click on the Star button on the right of the screen.
Select the Enter Code box.
Input the code and hit Redeem.
How to get more Ballroom Dance Codes
For more codes, join the Twitter @chriscerie, Ballroom Dance Discord, and Ballroom Dance Community Group. You can also bookmark this page, as we will update this list once new codes are released. So, check back often to see if there are new codes for Ballroom Dance.
Why aren't my Ballroom Dance Codes working?
Codes for Ballroom Dance are created and controlled by the developer. This is also who determines how long they are active. Some codes may expire quicker than others, and some may not work with others. If a code does not work for you, double-check if there is a spelling error, if the code is active yet, or if it has already expired. To help solve that issue, bookmark this page and come back often to see if Ballroom Dance has added new codes or if some are expired.
How to get gems in Ballroom Dance
Gems are the primary currency in Ballroom Dance, and there are several ways to get them. You can use codes for free gems or Robux to purchase them from the in-game store. Alternatively, if you log on each day for 20 minutes, you can receive free gems this way.
What is Ballroom Dance?
This Roblox title is all about looking glamorous and hitting the dance floor. Wear adorable outfits and showcase your dancing skills in Ballroom Dance. Interact with other players in the main ballroom and dance your heart to a wide selection of music.
For more information on Roblox, check out Roblox Horse Valley Codes and Roblox My Farm Codes on Pro Game Guides.