Adopt Me is all about collecting pets, and one of the ways you can get pets is by obtaining eggs! If you've got an egg, you undoubtedly want to know exactly what you need to do to pop it open. We're going to take you through a step-by-step process on how to hatch eggs in Adopt Me!
How to Hatch Eggs
To hatch an egg in Adopt Me, you just need to complete objectives/chores to fill up the egg's experience bar fully. Once it has completed, your egg will hatch and you will receive a random pet from that particular egg's pool of options!
Step 1: Equip Your Egg
The first thing you need to do is bring the egg out that you want to hatch! To do this, you will need to open up your Backpack. You should find this icon at the bottom of your screen. Go to the pets window, and find the egg and click on it. This will bring it out of your inventory and it will follow you around!
Step 2: Head to Adoption Island
You initially spawn into the game at your house, but you won't start getting chores until you head to Adoption Island. Exit your house and look for the big sign that says "Tunnel to Adoption Island" on it. You will then see a big tunnel with blue arrows pointing at it. Run through there and you will end up on the island. Wait a bit and you should start receiving chores you can complete at the top of your screen.
Step 3: Complete Chores/Objectives
You will start to see the little chore icons pop up at the top of your screen. Each of these objectives requires you to do something with your Egg.

The blue ones are faster options that give you a small amount of money and experience towards hatching your egg. The orange ones are more lucrative and give you additional experience, so make sure to complete those each time they are available. If you aren't sure where to go for one of these, just click or tap on the icon and you will be given arrows directing you to where you need to go. Here's a list of these objectives and what you can do to complete them:
Dirty: You need to put your egg in a bath tub or shower. This can be purchased and placed at your house, or you can just enter someone else's house and use their tub or shower! Some players leave their houses open, you just need to run up to the door and see if it opens!
Hungry: You can bring your pet to the school and feed them in the nursery area, or you can just give them food from your backpack/food inventory. You can pick up a bunch of apples from the teacher's desk at the school to feed your pet on the go!
Sleepy: Bring your egg to the school, campsite, or any other available bed.
Thirsty: Another thing you can do at the school is allow your egg/pet to drink some water when they are thirsty. If you want to quench their thirst on the go, you can purchase drinks from the coffee shop or you can purchase lemonade from a player's stand. Lemonade can usually be purchased for 1 dollar, but the price will vary depending on the players.
Orange Objectives
These are mostly just idling in a particular place, so make sure to tap on the objective and it will guide you to where you need to go!
Bored: Go to the playground!
Camping: Head on over to the campsite!
Pool Party: Jump into the pool and splash around.
School: Go get your learn on at the school. You can usually combine this one with some of the blue objectives.
Sick: This one's a bit different, you need to go to the doctor and talk to them to cure your egg/pet's sickness.
Step 4: Hatch the Egg
Once you've completed enough objectives to fill up your egg's experience bar the egg will hatch automatically! You can now continue on with that pet out to age it up which allows it to learn new tricks, and also can get you the possibility of turning it into a neon pet!
Instantly Hatch an Egg
If you don't want to go through all those steps, then you can pay some Robux to hatch it instantly! Tap or click on the egg when you have it out as your selected pet, and you will find the Hatch Now! option: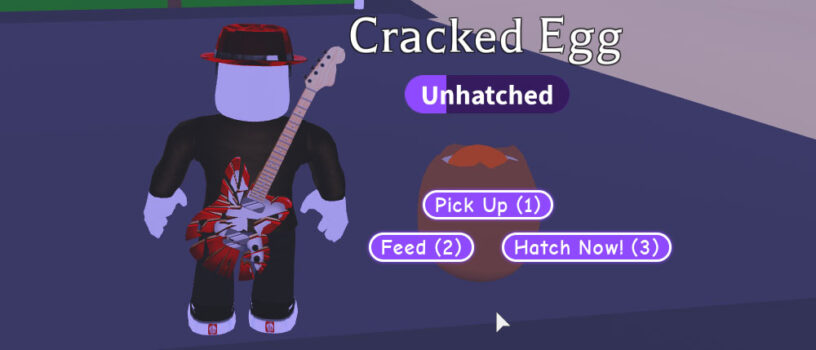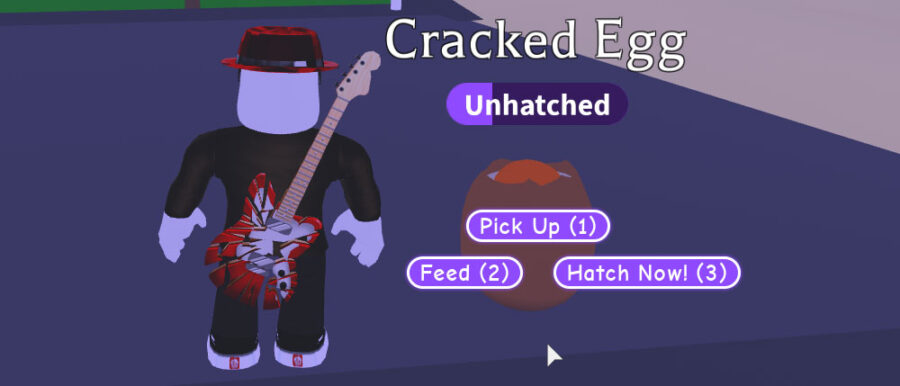 If you interact with that option, you will be given the ability to pay 45 Robux to hatch the egg instantly.