Updated August 24, 2023

Added a new code!
Pet Rift is a pet collection game. You start with a single pet, who you can take out into the rift to collect Gold and Diamonds. As you collect more treasure, you can buy more pets, who will all help you collect Gold and Diamonds faster. But you will also level up, opening new ways to improve your character. As you continue, new areas and secrets will open up to you and your friends. Can you get to the top of the leaderboards?
Using Pet Rift codes can get you several rewards, including free Diamonds and Damage Potions that can help you speed up your treasure collection.
If you like Roblox pet collection treasure collecting games, check out some of our other Roblox codes pages, such as Timber Champions Codes, Treasure Quest Codes, Treasure Lake Simulator Codes, Tree Planting Simulator Codes, and Treasure Hunt Simulator Codes.
All Pet Rift Codes List
Pet Rift Codes (Working)
RiftStudio—Redeem for free Diamonds (New)
10M—Redeem for a Huge (New)
35KLIKES—Redeem for Potions
XBOX—Redeem for Luck Potions
LUCKEVENT—Redeem for 20 Luck Potions
CHOCOLATE—Redeem for a Bunny Pet
APRILFOOLS—Redeem for 500 Gems and 30 of each Potion
20KTWITTER—Redeem for All Boosts and a Pet
25KLIKES—Redeem for All Boosts and Emeralds
MonkeyLuck—Reward for 20 Lucks Potions
15KLIKES—Redeem for 1k Emeralds and 50 of each Potion
10KLIKES—Redeem for 750 Emeralds and 25 of each Boost

7500LIKES—Redeem for All Boosts
1MILLION—Redeem for All Boosts
5000LIKES—Redeem for All Boosts
4000LIKES—Redeem for a Damage Boost
3500Likes—Redeem for 50 Luck and a Damage Boost
3000LIKES—Redeem for 2k Diamonds and a Boost
SecretModelCode—Redeem for 10 Luck, Damage, XP Potions, and and 20k Diamonds
2500LIKES—Redeem for 2k Diamonds and a Boost
HYPE—Redeem for 2k Diamonds
RELEASE—Redeem for 2.5K Diamonds.
1KLIKES—Earn 30K Diamonds and two Damage Potions.
Pet Rift Codes (Expired)
500LIKES—Code has expired.
Pet Rift FAQ
Here's everything you need to know regarding Pet Rift codes.
How to redeem Pet Rift codes
Redeeming codes for free rewards in Pet Rift is easy.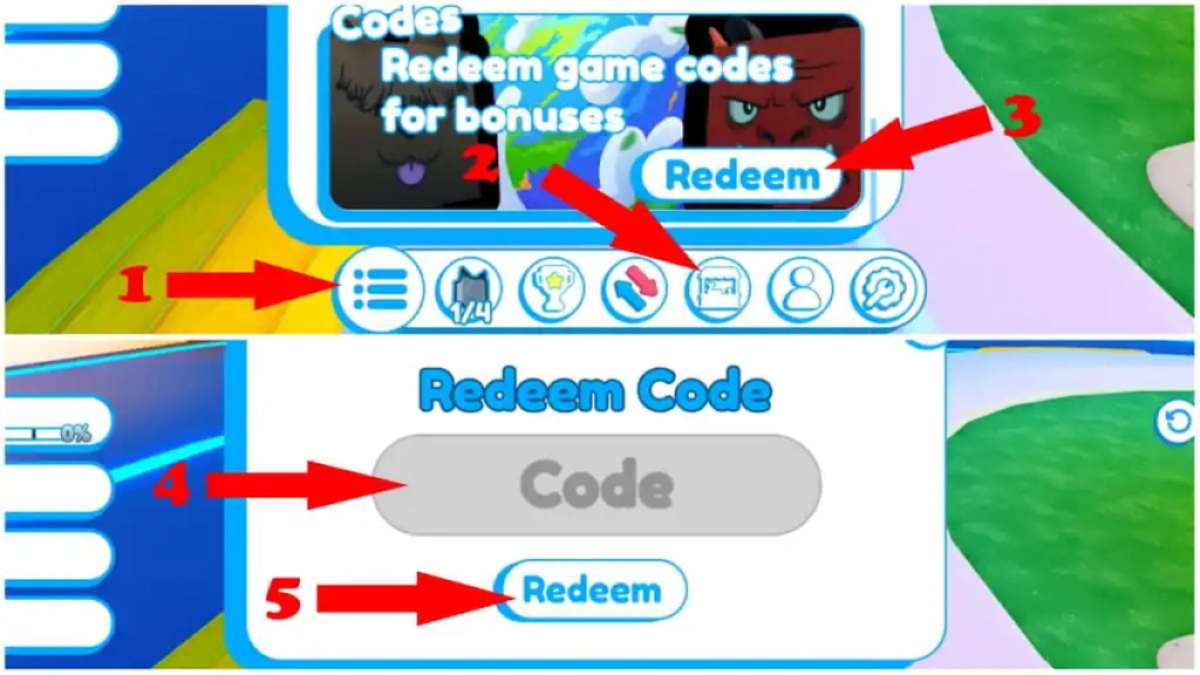 In the game, press the Burger Menu at the bottom of the screen to expand the Options.
Click the Stall button on the menu bar to open the Shop.
Scroll to the bottom of the Shop. Underneath where it says Codes, click the Redeem button.
In the new Codes box that opens, type your code into the grey box that says Codes.
Click the Redeem button underneath the Codes box to get your rewards!
How can you get more Pet Rift codes?
Our team is out looking for new Pet Rift codes every week. But if you want to explore, we suggest you follow @PetRiftGame on Twitter. There is also the Rift Studio Discord Server and the Rift Studio Roblox Group to join. And don't forget the Pet Rift YouTube channel.
Why aren't my Pet Rift codes working?
If a particular Pet Rift code is giving you trouble, it may be because of a typo. It's very easy to miss a capital letter or mistake a number for a letter; a single mistake will mean the code won't work. Try cutting and pasting the code directly from here. If it still isn't working, it may have expired. In this case, there is nothing to be done except to let us know (so we can update this guide, thank you) and check back soon for updated codes.
What are Pet Rift pet powers?
Unlike many pet games, Pet Rift allows you to send each of your pets off to collect treasure from a different node. So, get up to your maximum of four pets as quickly as possible. This takes careful management if you want to get the most out of your pets, as you'll find they keep coming back for fresh instructions. Try to send one or two of your pets off to the bigger treasure chests to keep them occupied, so you can micromanage the other two. And zoom out far to see when your pets are returning to you for a new target.
What is Pet Rift?
Pet Rift is a pet game with a difference. Each of your pets (up to four) can be sent out individually to gather treasure, including Gold and Diamonds. Level up yourself and your favorite pets as you unlock new zones, cool items to equip, and the amazing secrets of the rifts.
If you're looking for codes for other games, we have a ton of them in our Roblox Game Codes post! You can also get a bunch of free stuff via our Roblox Promo Codes page.