This guide features a list of all the available and not expired Roblox Promo Codes! If you're looking to get yourself some free accessories and items for your avatar, then we've got some easy to use codes that will have you looking stylish in no time. This list is currently up-to-date with working codes for January 2020!
One of the really fun parts of Roblox is getting to customize your character! Unfortunately, some of the customization is going to set you back quite a bit of Robux. That's the great part about promo codes, because they will give you some fun looking cosmetics for your avatar and they are completely free!
Free Happy New Year Rat!
To celebrate Lunar New Year in 2020, you can get the Happy New Year Rat shoulder accessory for free! Head over to this link and add it to your collection.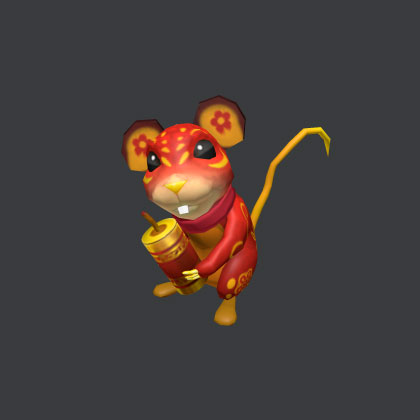 Star Wars Creator Challenge
You can now earn some cosmetics by completing the Star Wars Creator Challenge. Join up to this game: Roblox Creator Challenge. You will then have to answer some questions based on these tutorials. These questions are pretty simple and you can pretty much guess your way through them without too much issue. Here are the rewards you can earn for reach chapter:
Chapter One: Get Off The Ground
Chapter Two: Adding Wings
Reward: Accessory > Hat > Stormtrooper Helmet
Chapter Three: Customize and Share
Reward: Accessory > Back > Rey's Staff
Chapter Four: Adding New Models
Reward: Accessory > Hat > Star Wars: The Rise of Skywalker Cap
Chapter Five: Colors and Textures
Chapter Six: Design the World (Added on December 30th, 2019)
Reward: Accessory > Back > Hyperspace Jetpack
Star Wars Rewards Gallery
How-to Redeem Your Codes
This is a simple process, but they do a pretty good job of hiding it! All you'll need to do is be logged into your Roblox account and visit the following website:
Once you are there, just copy one of the codes below and paste it into the text field! Here's how it should look:

If you did it right you will see a green thumbs up icon and the text, "Promo code successfully redeemed!"
Roblox Promo Code List
Once you enter the code, you will need to go into your Inventory and go to the exact area of where the item will be equipped. If it says "Accessory > Shoulder" you will need to go to Inventory > Accessories > Shoulder to view your newly acquired item! The information for these will be listed in the parenthesis below.
Be sure to check out our Best Roblox Games post!
Golden Football (Gear): 100YEARSOFNFL

"Celebrate NFL's centennial season with a 24-karat pigskin, perfect for completing your winning ensemble."

Spider Cola (Accessory > Shoulder): SPIDERCOLA

"Look out! Here comes the spider can."

The Bird Says____. (Accessory > Shoulder): TWEETROBLOX

"A little bird told me if you follow ROBLOX on twitter you might receive a special code for this exclusive item."
Expired Codes
Spiky Creepy Shades (Accessory > Face): SMYTHSSHADES2019

"Modern, stylish...Halloween is here!"

Coffin BatPack (Accessory > Back): GAMESTOPBATPACK2019

"It's never a Vlad time with this guy hanging around."

Fall Shoulder Owl Pal (Accessory > Shoulder): TARGETOWLPAL2019

"Hoot! Hoot! Celebrate Fall with your Owl Pal."
Cosmetic Images
Roblox Creator Challenges
Want to earn yourself some free new cosmetics without having to do much other than answer some questions? Well, that's where Roblox Creator Challenges come in! You'll just need to start up each of the following games, wade your way through some questions to complete the challenges, and you will then gain some pretty sweet rewards!
It's important to make sure that you only play challenges that are created by "Roblox Creator Challenge" because there's a lot of fakes out there trying to waste your time! These are official challenges that will be sure to gain you some loot after you complete them.
These just test your knowledge of the basic programming in Roblox. You can pretty much fumble through the quiz even if you've never coded before in your life. You aren't penalized for wrong answers! However, if you want to go in prepared, make sure to run through a tutorial prior to attempting the challenges.
Jurassic World Creator Challenge

Jurassic World Cap (Accessory > Hat)
Jurassic World Headphones (Accessory > Hat)
Jurassic World Backpack (Accessory > Back)

Godzilla Creator Challenge

Ghidorah's Wings (Accessory > Back)
Godzilla Spine (Accessory >Back)
Rodan's Head (Accessory >Hat)

PC Creator Challenge

Book Wings (Accessory > Back)
Classic PC Hat (Accessory > Hat)
Motherboard Visor (Accessory > Face)
Kylo Ren's Helmet (Expired)
You can get Kylo Ren's Helmet for free in-game by going to the following page: Kylo Ren's Helmet. This was a limited time offer and expired on January 6th, 2020!
Free Items
If you're looking to nab some free stuff, there's quite a few cosmetics you can find in the catalog that can be had for free! Here's a list of some of the stuff you can get for your character.
Shirts
Hats