Updated: September 21, 2023
We checked for new codes!
Do you have dreams of owning the coolest, fastest, and most unique cars on the block? Then Car Dealership Tycoon is right up your alley—pun intended! Build your own car dealership from the ground up, earn money, purchase whatever cars you'd like, and drive in style as you climb the ranks to have the best dealership of them all. For those looking for a head start on this process, check out the OP codes below that you can redeem for some hefty stacks of cash!
As mentioned above, every single code for Car Dealership Tycoon can be used to add cash straight to your Robloxian's pocket! It's unknown if the developers plan to add any car-specific codes in the future, but if that happens you'll hear from us first so be sure to check back with this article regularly—we update this list as soon as new codes come out!
All Car Dealership Tycoon Codes List
Car Dealership Tycoon Codes (Working)
Motos—Redeem for 75k Cash (New)
September2023—Redeem for 75k Cash (New)
BackToSchool—Redeem for 75k Cash (New)
TURBOZ—Redeem for 70k Cash (New)
HelloAugust—Redeem for 70k Cash (New)
SEASON6—Redeem for 70k Cash (New)
CAMBER—Redeem for 70k Cash
July2023—Redeem for 70k Cash
Towing—Redeem for 70k Cash
1MilLikes—Redeem for 70k Cash
CHALLENGE—Redeem for 70k Cash
Customers—Redeem for 70k Cash

Season5—Redeem for 70k Cash
5thBday—Redeem for 70k Cash
Upgrades—Redeem for 70k Cash
OmgImPoor—Redeem for 70k Cash
CriminalVan—Redeem for 70k Cash
Helicopter—Redeem for 75k Cash
Drifting—Redeem for 70k Cash
FOXZIE—Redeem this code for 15k Cash
Tstingray—Redeem for 25k Cash
Car Dealership Tycoon Codes (Expired)
200Trophies—Redeem for 50k Cash
7Quests—Redeem for 50k Cash
Season3Soon—Redeem for 60k Cash

Hey2023—Redeem for 75k Cash
7Quests—Redeem for 50k Cash
XmasIncoming—Redeem for 50k Cash
HyperDealer—Redeem for 50k Cash
CarFactory—Redeem for 50k Cash
IWaitLong—Redeem for 100k Cash
FreeTruck—Redeem for a Lucas Stabilizer Truck
Pumpkins—Redeem for 50k Cash
Season2—Redeem for 50k Cash
MoreKits—Redeem for 50k Cash
Bodykits—Redeem for 50k Cash
Season1—Redeem for 50k Cash

ATV—Redeem for 50k Cash
1Billion—Redeem for 100k Cash
825KVotes—Redeem for 50k Cash
NewBarn—Redeem for 50k Cash
Twitter50K—Redeem for 50k Cash
Interiors—Redeem for 50k Cash
Crimes—Redeem for 50k Cash
4Years—Redeem for 50k Cash
BarnFind—Redeem for 50k Cash
900MVisits—Redeem for 90k Cash
If you're looking for more Roblox content to browse while you wait for new Car Dealership Tycoon codes, check out some of our other tycoon code lists including Roblox Military Tycoon Codes, Roblox Penguin Tycoon Codes or Roblox Lost Kingdom Tycoon Codes!
How to Redeem Codes in Car Dealership Tycoon
Redeeming codes for free cash in Car Dealership Tycoon is easy! Simply follow the steps below.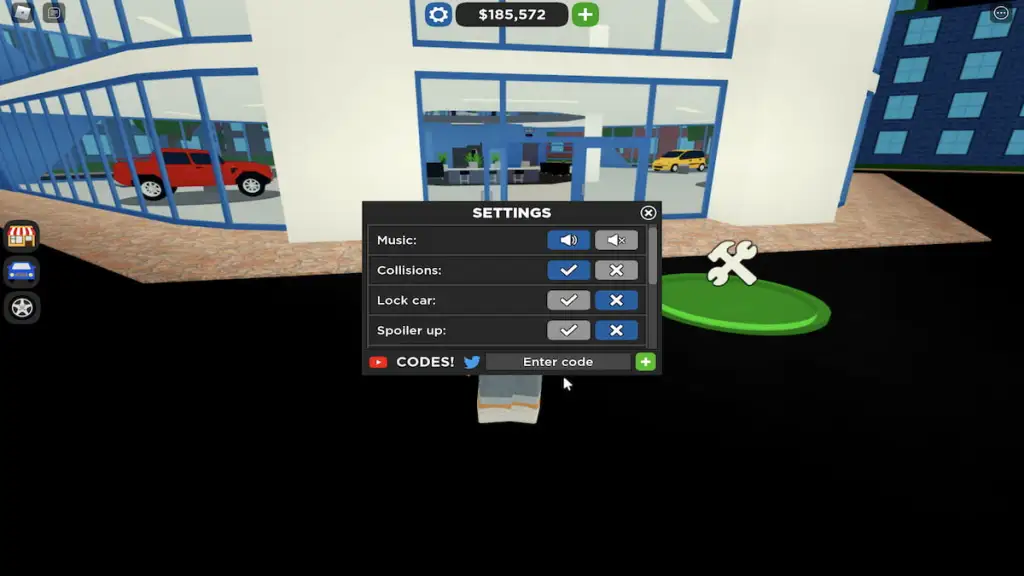 To start, launch Car Dealership Tycoon
Locate and select the Settings button (cog icon) at the top of the screen
In the new window that appears, enter each working code into the text box
Once you've typed in the code, press the green + button to receive your free reward!
How do I get more Car Dealership Tycoon codes?
Though Car Dealership Tycoon does have a more regulated update schedule than most other experiences, they still aren't released at specific times, meaning that there's unfortunately no way to know exactly when or where more codes will be released. The best way to stay up-to-date on codes is by checking back with this article, following Foxzie, the creator of Car Dealership Tycoon, on Twitter, and subscribing to his YouTube channel, Foxzie. Each time that an update goes live, Foxzie posts a video with a code inside of it to his channel! Codes typically aren't released there, but you could also join the Car Dealership Tycoon Discord server for more behind-the-scenes info and sneak peeks!
Why aren't my Car Dealership Tycoon codes working?
Not all Roblox codes are active for the same amount of time, meaning some expire exceptionally quickly and may even become inactive after 24 hours or less! If you attempt to enter a code and it says Code Expired, that code is no longer active and, unfortunately, can no longer be redeemed. There's nothing that you can do to fix this issue, the code is simply unobtainable. If you attempt to type in a code and it says Invalid Code, however, this means that you've likely mistyped the code or neglected to use the correct capitalization. If this happens, try to retype and re-enter the code once more, being sure to copy it exactly as it's written!
What is Car Dealership Tycoon?
Car Dealership Tycoon, as the name implies, is a tycoon Roblox experience that allows players to build and customize their own car dealership through the addition of various cars, design choices, and more. When you're not at your dealership raking in the cash, head out on the town, role play, and explore the world with your friends—you can also earn money simply by driving and racing. The way in which you play is totally up to you!
If you're looking for codes for other games, we have a ton of them in our Roblox Game Codes post! You can also get a bunch of free stuff via our Roblox Promo Codes page.