Military Tycoon is all about having the biggest and best fortress in the war, so upgrading it to its full potential is more than important! This means earning credits, rebirthing, capturing fortresses and oil rigs, taking down other players, and more, all while defending your own country's turf! But what do you do when you run out of credits? How am I supposed to keep upgrading my vehicles, weapons, and base?! The answer: with codes!
PGG knows credits come and go faster than anyone would like to admit, so we've compiled the list below that provides all the currently active Military Tycoon codes and a brief description of what each code offers! These codes can give players a hefty amount of credits, but they don't stick around forever, so be sure to check back with this article regularly—we update this list as soon as new codes come out! If you find a code in the Working Codes section that seems expired, please let us know so we can remove it as soon as possible. Keep in mind, also, that you'll need to enter each code exactly as it's written or the experience won't accept it!
If you're looking for more Military Tycoon content to read while you wait for new codes, check out some of our recent articles including our picks for the Best vehicles in Roblox Military Tycoon, or our tips and tricks guides on How to capture Fortresses easily in Roblox Military Tycoon or How to capture Oil Rigs easily in Roblox Military Tycoon!
All Military Tycoon Codes List
Updated February 1, 2023

Added a new code!
Military Tycoon Codes (Working)
Here's a look at all the working Military Tycoon codes.
900klikes—Redeem for 150k Cash (New)
t90—Redeem for 50 Diamonds
10k—Redeem for 150k Cash
terbyte—Redeem for 200k Cash
1day—Redeem for 150k Cash
2days—Redeem for 150k Cash
3days—Redeem for 150k Cash
4days—Redeem for 150k Cash
Military Tycoon Codes (Expired)
These Military Tycoon codes no longer work.
LT01—Redeem for 250k Cash
PL01—Redeem for Cash
patch22—Redeem for 150k Cash
freecash—Redeem for 250k Cash
skins—Redeem for 500k Cash
weekday—Redeem for 500k Cash
goldcar—Redeem for 500k Cash
780k—Redeem for 500k Cash
happysaturday—Redeem for 35 Gems
Hooray50k—Redeem for 300k Cash
ghostship—Redeem for 25 Diamonds
bugs—Redeem for 500k Credits
followers5k—Redeem for 100k Cash
600klikes—Redeem for 50k Credits
550klikes—Redeem for 50k Credits
newplane—Redeem for 50k Credits
f16—Redeem for 50k Credits
hollidayu—Redeem for 50k Credits
lagfixed—Redeem for 150k Cash
heist—Redeem for 50k Credits
450klikes—Redeem for 50k Credits
400klikes—Redeem for 50k Credits
badegghunt—Redeem for 50k Credits
Outage—Redeem for 750k Cash
freecash—Redeem for 750k Cash
24ktank—Redeem for 50k Credits
battlecruiser—Redeem for 50k Credits
missiletruck—Redeem for 150k Credits
300klikes—Redeem for 75k Credits
weakupdate—Redeem for 250k Credits
110mvis—Redeem for 50k Credits
island—Redeem for 50k Credits
ilovebugs—Redeem for Credits
battleship—Redeem for 150k Credits
100mvis—Redeem for 350k Credits
flyingfortress—Redeem for 150k Credits
1mmembers—Redeem for 30k Credits
90mvis—Redeem for 50k Credits
250klikes—Redeem for 50k Credits
500kfavs—Redeem for rewards
80mvis—Redeem for 10k Credits
CREDITS—Redeem code for 10KCredits
200klikes—Redeem code for a reward
Halloween—Redeem code for 30K Credits
military2022!—Redeem code for a reward.
70mvis—Redeem code for a reward.
WorldWar—Redeem code for a reward.
ARTILLERY—Redeem code for 50K Credits
How to Redeem Military Tycoon Codes
It's easy to redeem codes for free rewards in Military Tycoon!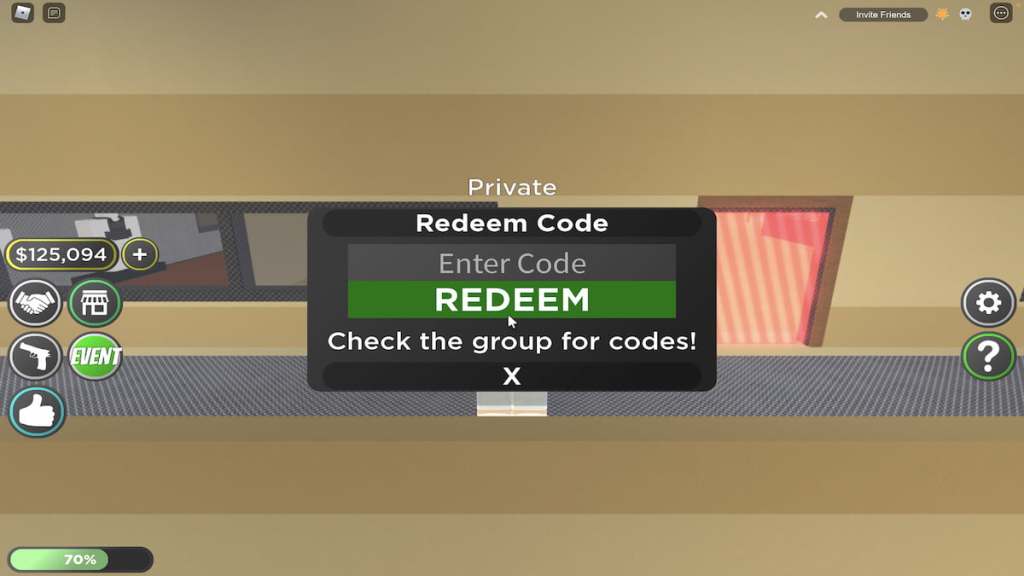 To start, launch Roblox and join the experience
Next, locate and click on the Thumbs Up Code button on the left side of the screen
In the new window that appears, enter each working code into the text box
Press confirm to receive your free reward
How do I get more Military Tycoon codes?
As with most Roblox experiences, codes for Military Tycoon aren't released on a certain schedule, so there's unfortunately no way to know exactly when or where they will be released.
The best way to stay up-to-date on codes is by checking back with this article, following the official Military Tycoon Twitter account, joining the Military Tycoon Discord server, and joining the InfinityInteractive Roblox group. This group is where a majority of the news regarding Military Tycoon is released, so make sure to keep an eye on it every once in a while!
Why aren't my Military Tycoon codes working?
There are several reasons why one of the working codes we have listed above might not work. The most common cause of this problem is that players are not entering the code exactly as it appears above. To fix this, try to copy and paste the code rather than enter it in manually.
If a code from the working section isn't working, let us know so we can remove it and place it in expired!
What is Military Tycoon?
In the popular tycoon-style experience Military Tycoon, players choose a country to represent, build and upgrade a military base to protect themselves and their soldiers, and take down other players to conquer the world! This experience offers an entire arsenal of unique weapons, base upgrades, vehicles, and equipment for players to collect and use as they defeat anyone and everyone in their way! On top of invading other country's bases, players can also capture oil rigs and control points to increase their nation's earnings, make it easier to rebirth, and continue growing as the strongest fortress in the world!
If you're looking for codes for other games, we have a ton of them in our Roblox Game Codes post! You can also get a bunch of free stuff via our Roblox Promo Codes page.