Updated: September 21, 2023

We looked for new codes today!
We all love penguins and their little butler outfits! Now we can dress up and be our very own penguin in Roblox Penguin Tycoon, and we are so excited that there are new codes that will make our penguin island better than ever. Build your island and explore the deep waters to create the perfect island for your penguin. Play with friends and join in on fishing trips! This game has our feet moving as we slide into some penguin fun!
You will need these codes to get important gems in this game. Gems will help you unlock the cutest outfits and cosmetics for your penguin and your dream island. Claim these codes, and don't let them slip like a freshly caught fish!
If you love games where you play as the cutest animal, check out these Roblox titles that'll leave you wanting to dress up your pet at home: Roblox Adopt Pets Codes, Collect All Pets Codes, Roblox Pet Legends Codes, Roblox Unboxing Simulator Codes, and Roblox Strong Pet Simulator Codes.
Roblox Penguin Tycoon Codes (Working)
150KLIKES—Claim for a New Hat
100keyes—Claim for the 100k Eyes cosmetic
Fishing—Claim for 200 Gems
MinerHat—Claim for Miner Hat
Roblox Penguin Tycoon Codes (Expired)
TWITTER50K—Claim for 50 Gems
50kheart—Claim for the Heart Eyes cosmetic
Roblox Penguin Tycoon FAQ, Answered
Here is everything you need to know about Roblox Penguin Tycoon codes.
How to Redeem Penguin Tycoon Codes
It's easy to redeem codes for free rewards in Roblox Penguin Tycoon. To do so, follow the instructions below.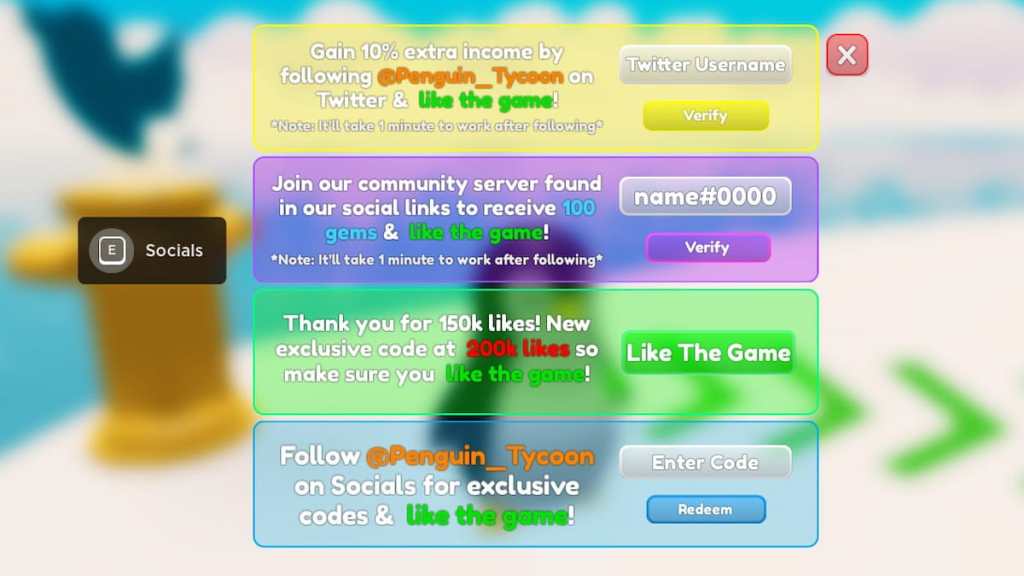 Launch the game.
Run forward to the Twitter bird on the podium.
Hold the E key to bring up the menu.
Type the code into the text box at the bottom of the screen.
Click the Redeem button to claim your codes.
How to get more Roblox Penguin Tycoon Codes
To get more Roblox Penguin Tycoon codes, you can follow the developer Penguin Tycoon by Voldex to see what new codes are released across all their social media platforms. Follow them on Twitter @Penguin_Tycoon, and you can follow them on their Penguin Tycoon Discord Server. Alternatively, you can always follow us here at Pro Game Guides so that you can get the latest in all your Penguin Tycoon codes, save our page and visit us often!
Why aren't my Roblox Penguin Tycoon codes working?
Your Roblox Tycoon codes aren't working because they could already be expired. You have to claim the codes that the developer releases as soon as possible so that you don't miss the rewards that the code can give you. The code could also be mistyped into the text box. Make sure your grammar and spelling are correct when you claim the code.
What is a Roblox Penguin Tycoon game?
Roblox Penguin Tycoon allows you to build your very own unique island for your penguin to live on. You can explore the waters around your island to get materials and rewards to upgrade it and make it better for your penguin. There are mini-games that you can play on the island, and you can play online with other players in the game.
If you're looking for codes for other games, we have a ton of them in our Roblox Game Codes post! You can also get a bunch of free stuff via our Roblox Promo Codes page.