The second installment of the NFL x Roblox collaboration, NFL Tycoon, allows players to build their own stadium, manage their dream team, and grow their franchise dynasty. To many player's delight, this experience also offers a handful of NFL-themed avatar items that can be claimed for free by completing a few short quests. For a closer look at these items and a rundown on how to unlock them, continue reading below!
How to unlock all free items in NFL Tycoon
UPDATE: This experience has been closed due to the release of Super NFL Tycoon
Throughout NFL Tycoon's time on Roblox, the experience has debuted over ten unique avatar items for players to collect, with the newest item being the NFL Shield Backpack. All of these items, including ones that can no longer be obtained, are listed below. For a more detailed walkthrough on how each item can/could be earned, continue reading past the list.
Double Decker Bus Football
Similar to the NFL Shield Backpack, you must have a decent chunk of your stadium built in order to obtain this item. When you're ready, walk inside of your stadium's first room and select the hammer icon. Then, click Decorations and look for the Big Ben item. In order to purchase it, you'll need $3,000 in-game Cash.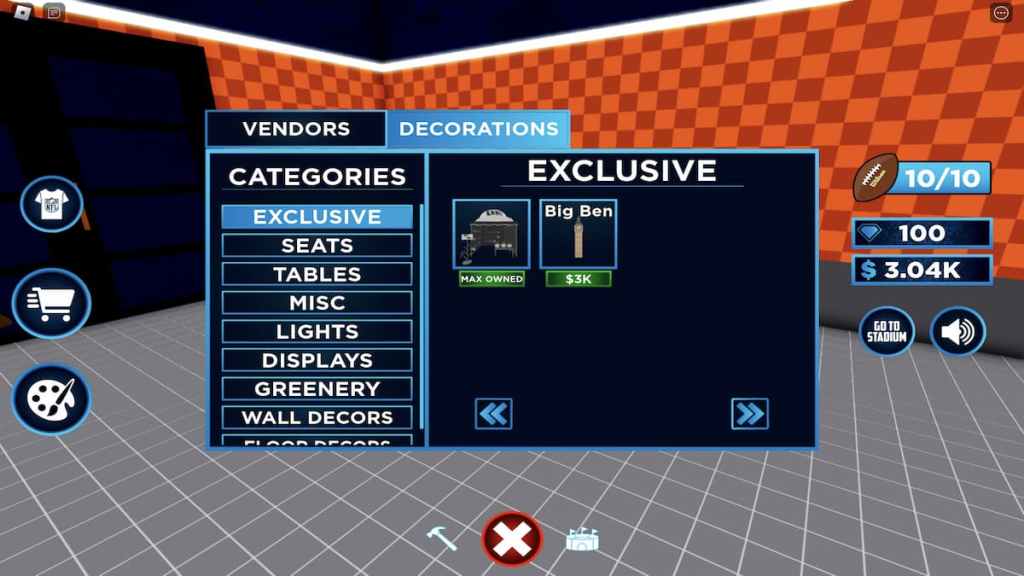 After purchasing the item and placing it in this room, you should automatically receive the Double Decker Bus Football item and its corresponding badge.
NFL Shield Backpack
Before we begin explaining how to earn this item, it's important to mention that, in order to obtain it, you must have the foundation of your stadium build. If you're unsure how to do this, check out the graphs underneath the NFL Draft Hat heading, the NFL Tycoon building process is explained there.
Once you've ensured that your stadium is build, and you've loaded into NFL Tycoon, look for the icon of the artist palette on the left-hand side of your screen and click on it.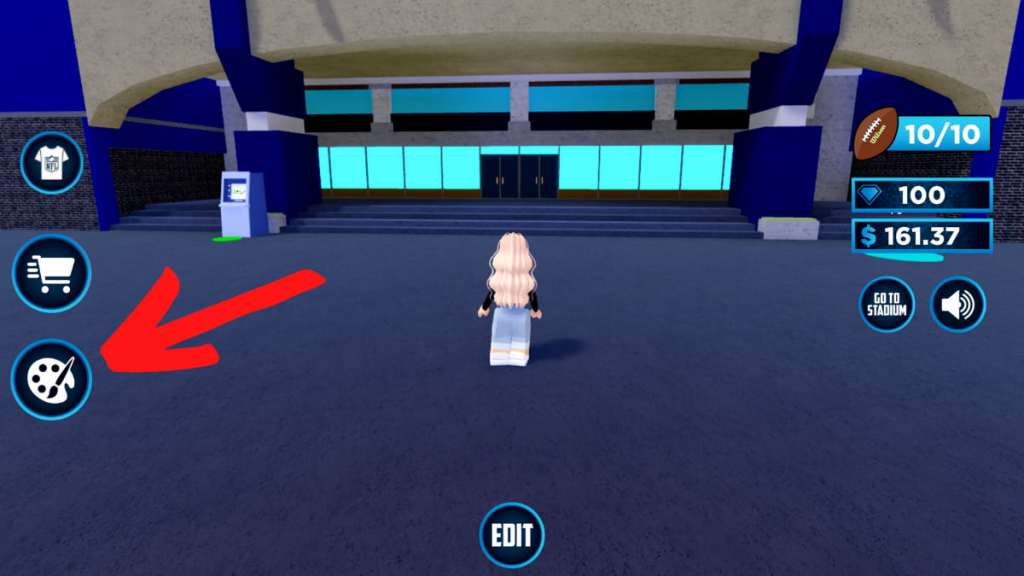 Clicking on this button will open the customization menu for your stadium, where you can choose an aesthetic for your stadium's exterior based on any of the 32 NFL football teams. Upon selecting one of these design changes, you will automatically earn the NFL Backpack Shield.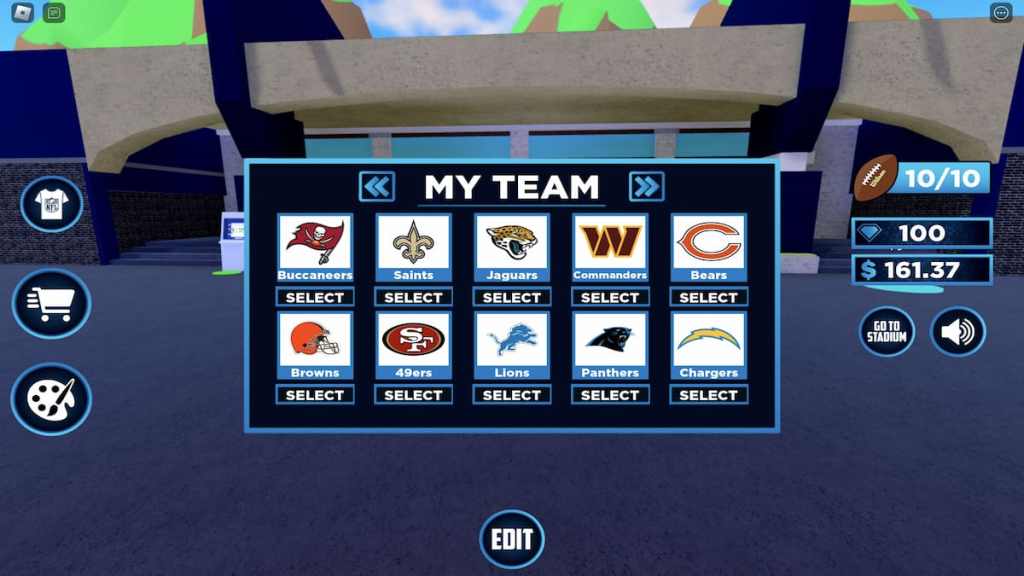 NFL Draft Red Jacket
As mentioned above, earning the NFL Red Jacket is as simple as logging onto Roblox and joining NFL Tycoon. Upon doing so, you should receive the NFL Draft Red Jacket badge and matching item.
NFL Draft Hat
In order to earn the NFL Draft Hat, you'll need to have a foundation built for your stadium and place the New Era concession stand inside of it. To do this from scratch, approach the Lobby Upgrade button and step onto it—doing so will build your stadium's lobby area. You'll need to purchase the next six upgrades as well before you can enter the lobby.
If you run out of money while purchasing upgrades, don't worry! More money can be obtained at any time by withdrawing from any of the ATMs in the vicinity.
Once your lobby is unlocked, enter it by walking up and touching the front doors pictured below. Upon doing so, you will automatically be teleported inside.
Once inside the lobby, you should see an Edit button at the bottom of your screen—click this button to open the Edit menu.
From here, select the Decorations tab and locate the New Era concession stand under Exclusives. Click on this stand and place it anywhere in your lobby to earn the Tip of the Cap badge and NFL Draft Hat item.
NFL Draft Black Jacket
In order to earn the NFL Draft Black Jacket, you'll need to purchase Interior Upgrade 1. To do this, enter your stadium by walking through the double doors inside of the lobby and approach the blue button directly in front of you—this is the Interior Upgrade 1 button.
To purchase this upgrade, step onto its button. Upon doing so, you will earn the NFL Draft Black Jacket badge and item.
NFL Draft Headphones
From the Interior Upgrade 1 button, turn left and walk around around the corner. Against the leftmost wall, you should see another blue button—this time one that says Room 1. Step onto this button to unlock the next room of your stadium, the NFL Draft Headphones badge, and NFL Draft Headphones item.
Wilson Super Bowl LVI Commemorative Football
Hidden within the nooks and crannies of the NFL Tycoon map are 56 sparkling Wilson Footballs—in order to unlock the Wilson Super Bowl LVI Commemorative Football item, you'll need to collect all 56 of these. To do this, enter Central City through the NFL portal and explore every corner of its large map, keeping an eye out for golden sparkles.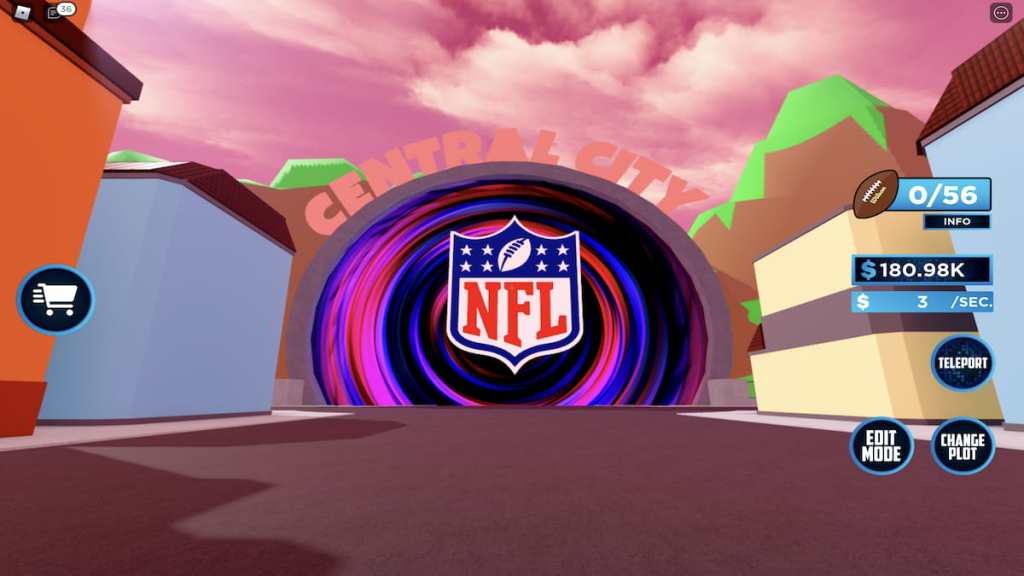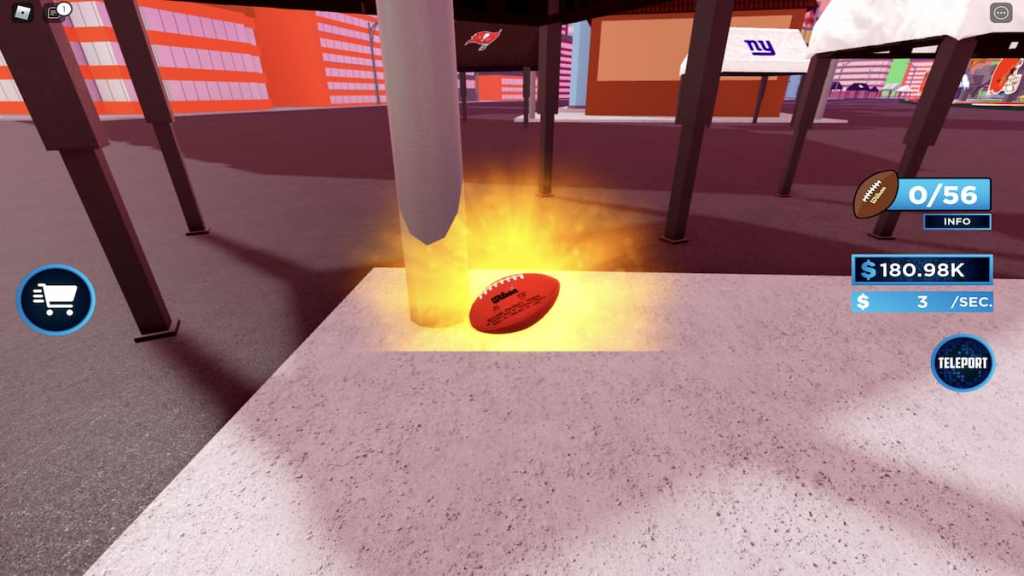 A few of these footballs are well hidden, so make sure to check everywhere. The one that gave us the most trouble was hidden inside of the Fanletics Store behind the Miami Dolphins display.
Related: Roblox Promo Codes List (February 2022) – Free Clothes & Items!
Once you've collected all 56, you will receive the Football Fantasy badge and corresponding item.
Cincinnati Bengals Who Dey Backpack, Los Angeles Rams Melon Head, and Super Bowl LVI Cap
To earn the other three free items in this experience, look for the Destruction House portal in Central City and walk through it—in just a few a seconds, you will be teleported to a new area.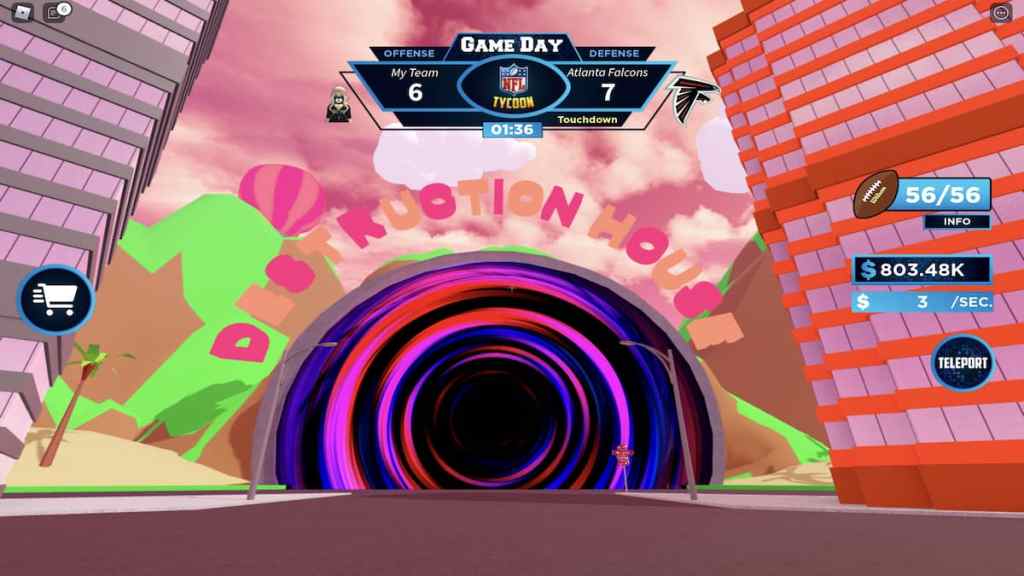 Once here, head toward the house that's labeled Destruction House with a large, metal sign.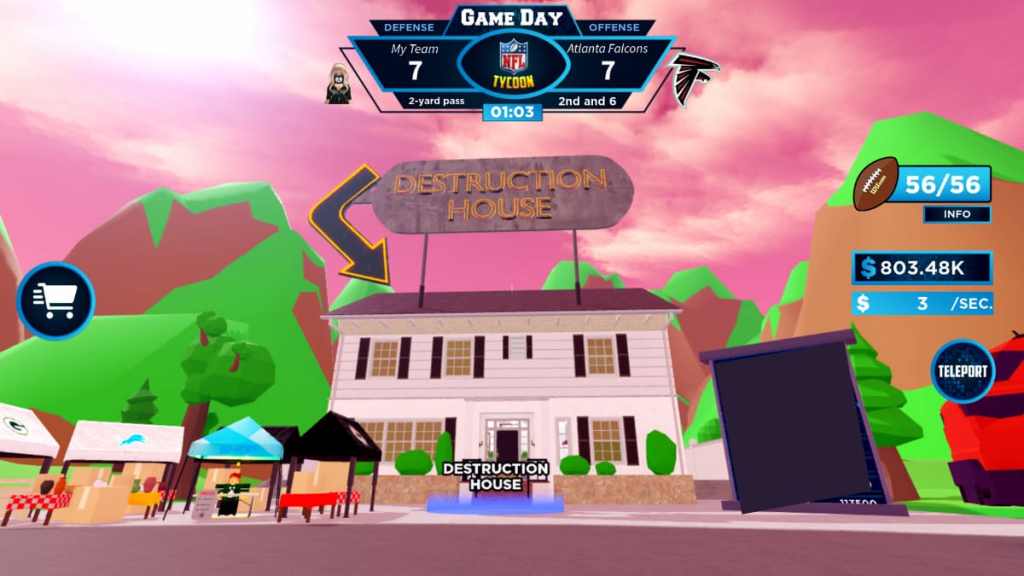 To begin this minigame and earn the items inside, step into the purple circle in front of the house. Doing so will trigger a menu that asks if you want to play solo or party. Either option is ok. After selecting your play method, the minigame will begin. To earn all three avatar items, you'll need to complete the requirements below.
Play the Destruction House minigame
Find and activate all Destruction House interactions in one match

Flip the living room chairs
Flip the sofa
Sit on the toilet
Dance in front of the camera
Light the stove
Swing from the chandeliers
Run on the treadmill
Knock down the kids' block towers
Smash vases
Throw footballs/eggs

Get a score over 30,000
After completing these requirements, you will be awarded with the Cincinnati Bengals Who Dey Backpack, the Los Angeles Rams Melon Head, and the Super Bowl LVI Cap.
I completed everything, where are my items?
If you follow this guide, completing all of the steps above, and don't immediately see your rewards, don't be discouraged! Event badges and their corresponding items can take hours, days, or even weeks to appear in player inventories, so it's likely not a "you" issue, but rather a glitch in Roblox's process. These items should appear in your avatar inventory within the next week, if not sooner.
Looking for more free Roblox items? Check out our recent guides on How to get all free items in the Roblox David Guetta DJ Party event or How to get all free items in the Roblox Brits VIP Party event!