As of Nov. 24, 2021, the Nation Football League (NFL) is the most recent company to step foot into the world of Roblox. With an entire avatar collection and experience in continued development, it's clear that the NFL has big plans in terms of its future with the platform. Until those plans can come to fruition, however, the NFL has released a free, branded helmet to help tide players over and build up excitement for their 56th annual Super Bowl happening in February of 2022.
Free helmet
The free NFL Helmet can be claimed by simply joining the NFL Shop experience. Upon loading in for the first time, you should see a badge appear in the bottom right-hand corner that says NFL Helmet: Thank you for visiting the NFL Shop!. After receiving this badge, you can leave the experience and find the helmet in your avatar's general Roblox inventory.
Some players have reported a bug in receiving the helmet, however, where the badge appears but they are never awarded the helmet itself. In this case, follow the steps below.
Head to your profile
Click on the NFL Helmet badge from your list of acquired badges
Locate the three option dots near the item's name and click them
Press Delete from Inventory
Wait 15 minutes or so and then rejoin the NFL Shop experience
Receive the badge again and recheck your avatar's inventory
After completing these steps, the NFL Helmet should appear.
Related: When is the 2021 Christmas update coming to Roblox Welcome to Bloxburg?
NFL Shop experience
At the moment, the NFL Shop experience is limited to a parking lot tailgate and large Fanatics store, which sells avatar items for your player to collect and equip. There are numerous NPCs dressed in the merchandise of their favorite football teams that run around the experience and even say hello to you, but other than that, the experience doesn't offer much. There is, however, a likelihood that this experience will be expanding in the near future.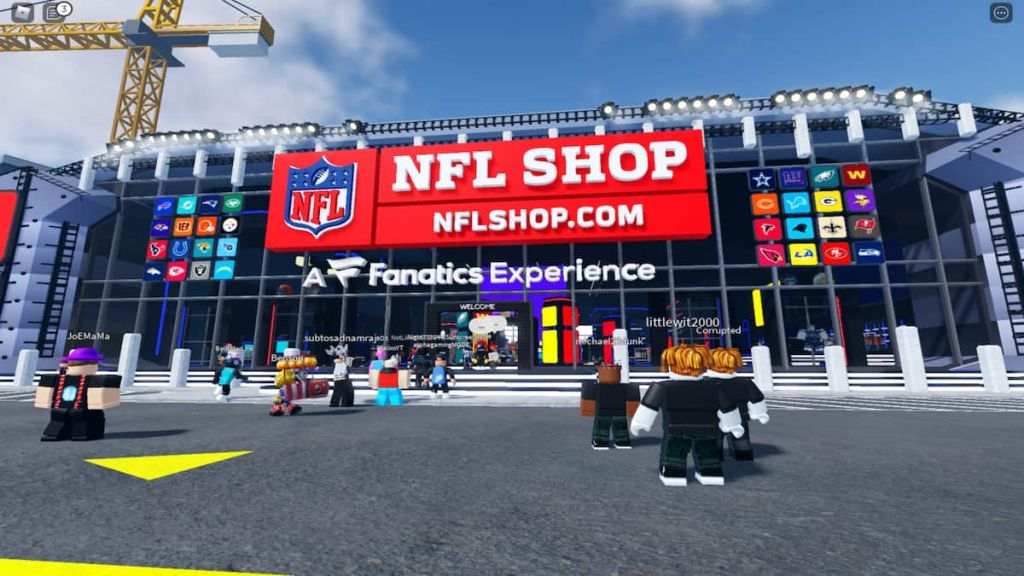 The NFL Shop's description states a disclaimer that this is not an event or full-game experience, though it does offer a preview of what's coming in the future. Inside of this experience, just past the tailgates tents, a large crane and construction site can be seen building something nearby that resembles a stadium. Perhaps a full NFL x Roblox Super Bowl collab could be coming in just a few months, or even weeks.
Merchandise
There are two merch drops set for the current NFL collaboration—one that released on Nov. 23, 2021, and one coming on Dec. 1, 2021. The first drop released all of the American Football Conference (AFC) merch, which includes the teams listed below.
Baltimore Raven
Cincinnati Bengals
Cleveland Brows
Pittsburgh Steelers
Houston Texans
Indianapolis Colts

Jacksonville Jaguars
Tennessee Titans
Buffalo Bills
Miami Dolphins
New England Patriots
New York Jets
Denver Broncos
Kansas City Chiefs
Oakland Raiders
San Diego Chargers
The second drop will feature merch from all of the National Football Conference (NFC) teams, which are listed below.
Chicago Bears
Detroit Lions
Green Bay Packers
Minnesota Vikings
Atlanta Falcons
New Orleans Saints
Tampa Bay Buccaneers
Dallas Cowboys
New York Giants
Philedelphia Eagles
Washington Football Team
Arizona Cardinals

St. Louis Rams
San Francisco 49ers
Seattle Seahawks
The prices for these items range, as each shirt is six Robux, each pair of pants is six Robux, and each helmet is 50 Robux.
End
If more information is released regarding the possible new addition to the NFL Shop experience, Pro Game Guides will post an article, or update this one, accordingly.
Looking for more free Roblox items? Check out our guide on how to get all free items in Roblox NIKELAND or our massive Roblox Promo Codes List (November 2021) – Free Clothes & Items!