The latest Roblox China event Luobu Transformation Night has officially entered its second Phase as of November 16, 2021, and with this change has come 16 new minigame quests for players to complete. Unfortunately, no new items have been added with Phase B, though the previous Phase A items can still be obtained by collecting Shining Balls. In this brief article, we'll be re-going over how to obtain these items and listing all of the new minigame quests.
Free rewards
As you first load into this experience, you will be greeted with a pop-up window explaining how to earn currency and use it in exchange for free items. The currency in Transformation Night is Shining Balls, which you can earn by dancing on the multi-colored dance floor and completing missions across various Roblox experiences. Located just across from the dance floor is a teleportation device that will transport you to the experience of your choice.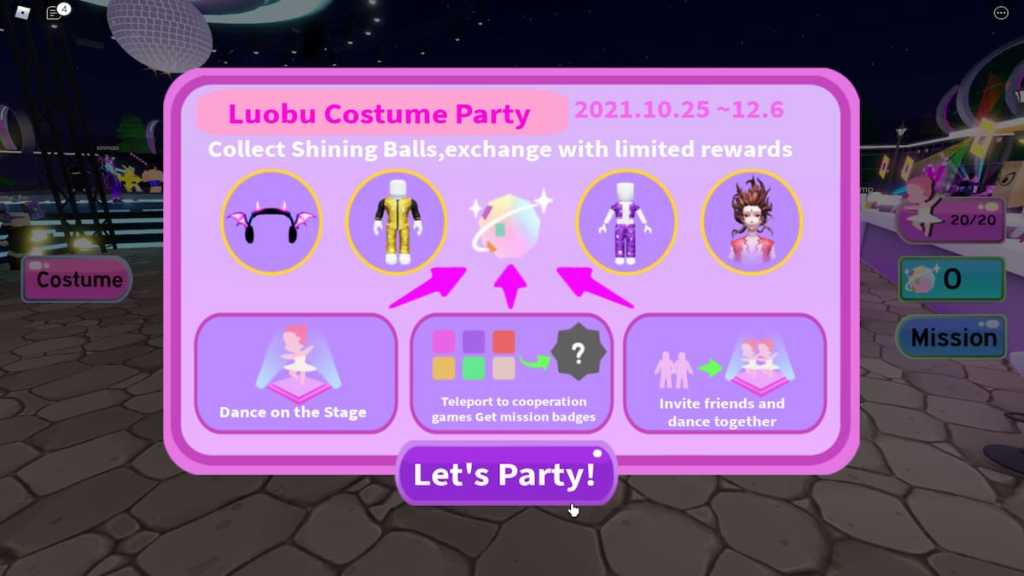 Dance floor
Directly in the center of the Transformation Night experience is a color-changing dance floor. As you step onto the floor, press E, and your character will begin to dance. You'll notice a bar at the bottom of the screen filling up slowly as you break out your favorite moves.
Each time that this bar fills up, you will be awarded five Shining Balls. Dancing with friends will increase the number of Shining Balls that you earn up to 15, so don't be surprised if you receive 20 new friend requests as soon as you join the experience! Ensuring that you have even just one friend dancing with you will keep that Shining Ball pay-out high, so be sure to invite as many friends as possible or try making some new ones!
Related: All Roblox Adopt Me Updates | Winter Update + Advent Calendar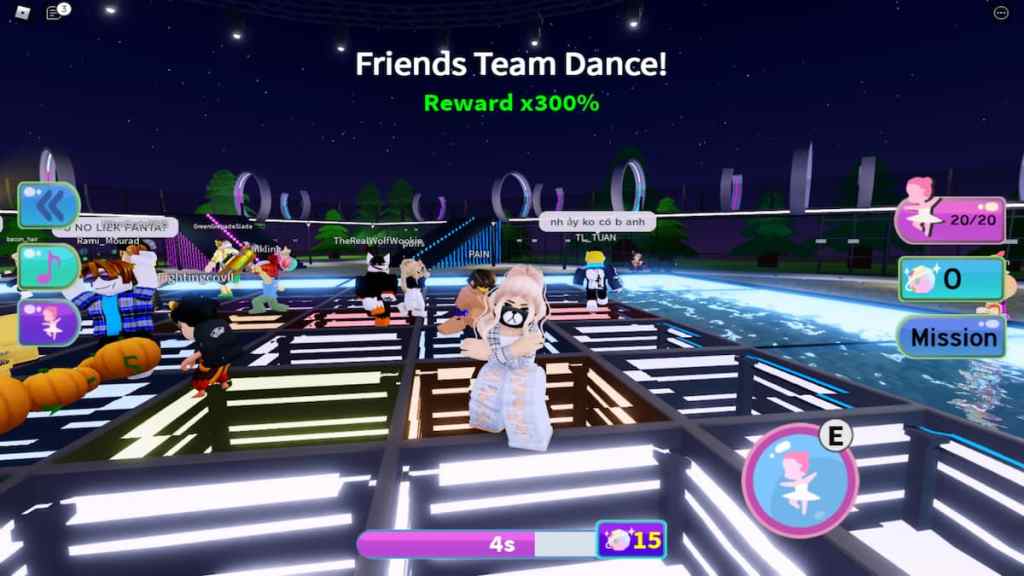 Missions
Another way to earn Shining Balls is by completing missions. There are 20 missions in total, with each one awarding 100 Shining Balls for completion. Accessing the Mission button on the right side of the screen will bring up the Shining Mission B menu, where you can keep track of which missions you have completed.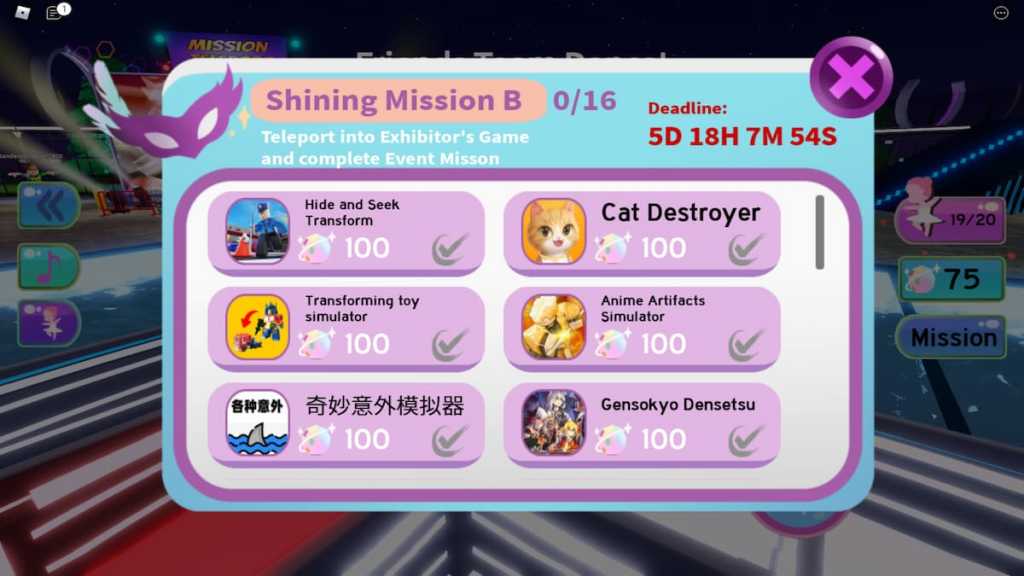 To complete these missions, you'll need to enter the corresponding experiences. To do this, find the Mission Teleport billboard and approach the DDR (Dance Dance Revolution) looking tiles on the floor. Stepping on these tiles will prompt the teleportation selection menu.
From the menu pictured below, select any mission to begin. This will teleport you to the corresponding experience and allow you to get started.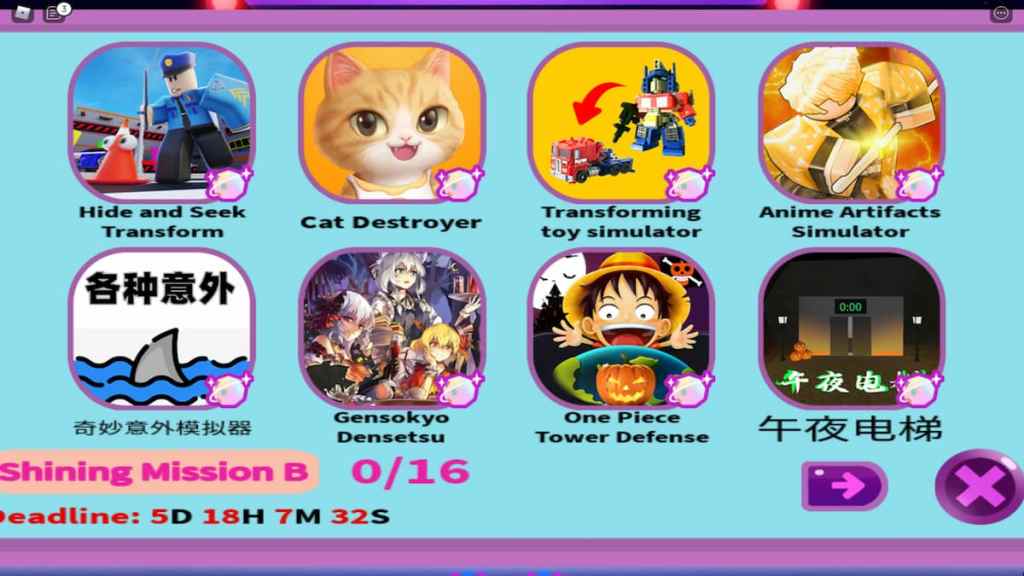 A list of each experience and the mission it requires can be found below.
Hide and Seek Transform - Collect 10 pieces of candy
Cat Destroyer - Find and destroy the small scarecrow in the living room
Transforming Toy Simulator - Find and touch the pumpkin standing atop the large, red pipe
Anime Artifacts Simulator - Open eggs until you receive the Halloween scepter
Fantastic Accident Simulation - Defeat the pumpkin boss
Gensokyo Densetsu - Speak to the clown NPC located in a small cave and collect five presents for her
One Piece Tower Defense - Speak to the NPC in front of the fountain, follow the rainbow road, and complete the obby to obtain three treasure chests
Midnight Elevator - Enter the elevator and be transported to three different Halloween themed rooms
Cut Grass Legends - Collect 10 pumpkins
Anime Ninja War Tycoon - Find and collect at least one piece of candy
Bloxfarm Tycoon - Find and collect the 10 hidden pumpkins
Building Destroyer - Be the last person to damage the dancing pumpkin man

Ninja Blade - Find and enter the Pumpkin Festival house located behind the spawn point and attack the pumpkin that appears outside
Falling Color Block - Collect 100 pumpkins
Color Block - Find the short obby outside of the main area and follow it to collect all of the hidden pumpkins
One Click Upgrade System - Open 10 treasure chests, then click the jack-o-lantern on the right and claim your pumpkin prize
Rewards
As mentioned before, Shining Balls that you obtain through completing missions and dancing can be exchanged for numerous prizes at the Rewards Exchange counter. You can find the prizes and their prices in the images and list below.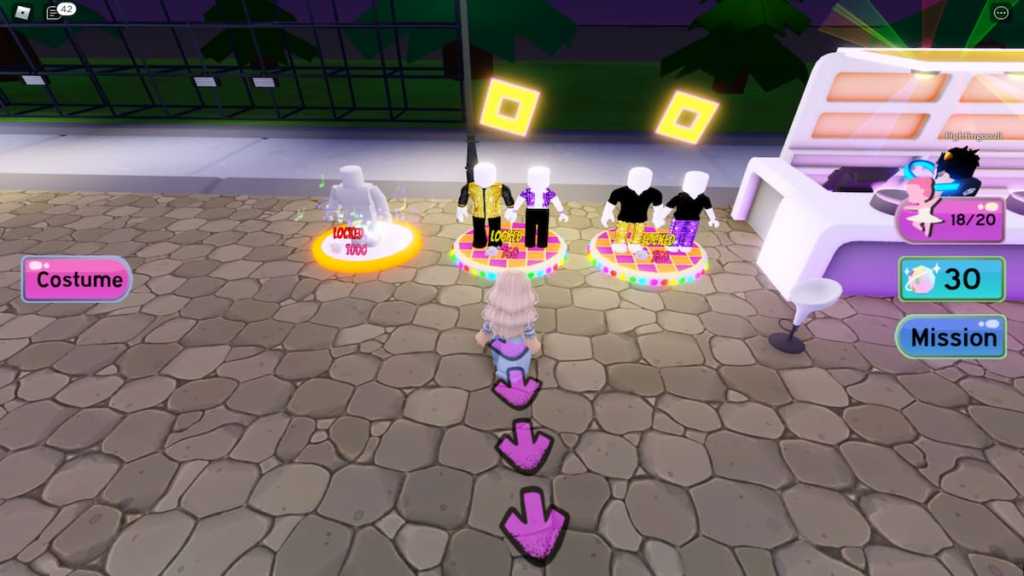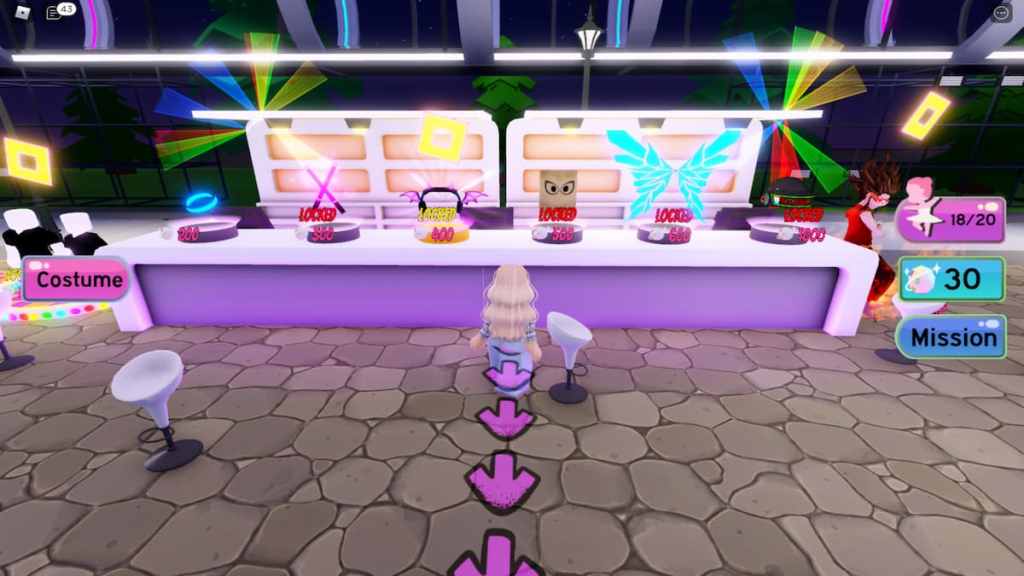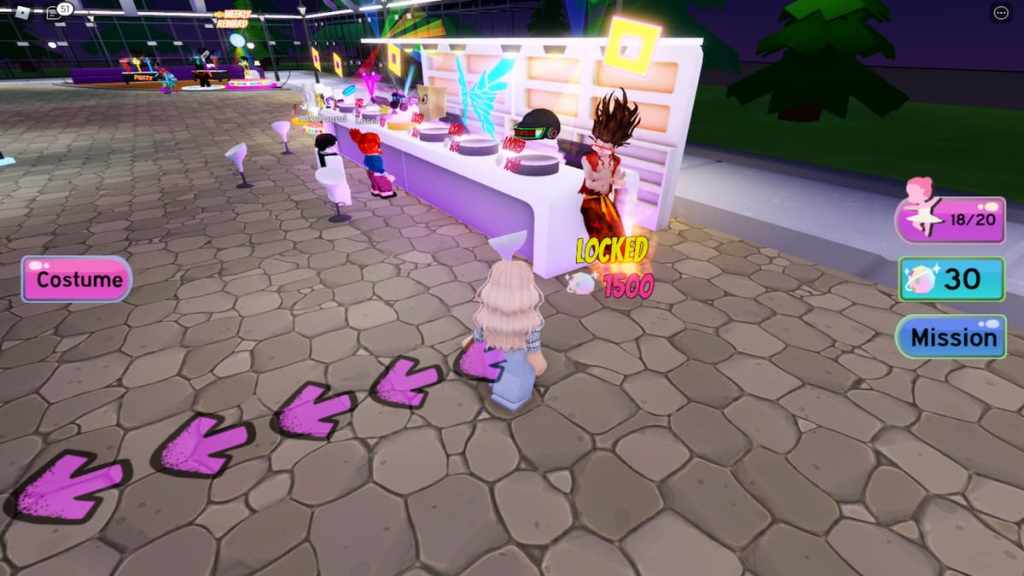 When looking through the list of items below, keep in mind that you'll need to unlock these items in the order. Meaning, before you can unlock the blue wings, you'll need to unlock the paper bag; before you can unlock the paper bag, you'll need to unlock the headphones, etc., etc.
Music Trail - 1000 Shining Balls
Disco Shirts - 750 Shining Balls (Wearable outside of Transformation Night)
Disco Pants - 750 Shining Balls (Wearable outside of Transformation Night)
Light-up Necklace - 200 Shining Balls
Glow Sticks - 300 Shining Balls
Headphones - 400 Shining Balls (Wearable outside of Transformation Night)
Paper Bag - 500 Shining Balls
Wings - 600 Shining Balls
Helmet - 1000 Shining Balls
Avatar Set - 1500 Shining Balls (Wearable outside of Transformation Night)
The final phase of this event, Phase B, will end on Dec. 6, 2021, so grab those prizes while you can!
Looking for more Roblox content? Check out the Roblox section of Pro Game Guides often to stay up to date with our code lists, guides, event coverage, and more!