The long-rumored Luobu costume party is here! Transformation Night is the newest addition to the line of Roblox China celebration experiences and it didn't disappoint. With 10 free items, four of which can be worn outside of the experience, tons of side missions, exclusive music, and a dance floor big enough for you and 19 friends, Transformation Night has become one of the most popular Luobu events yet.
Though the rewards within this experience are technically free, they will require a great deal of time to obtain—you know the saying, time is money! To see each unlockable reward and learn the fastest ways to earn them, continue reading below.
Free rewards
As you first load into this experience you will be greeted with a pop-up window explaining how to earn currency and use it in exchange for free items. The currency in Transformation Night is Shining Balls, which can be earned by dancing on the multi-colored dance floor and completing mission across various Roblox experiences. Located just across from the dance floor is a teleportation device that will transport you to the experience of your choice.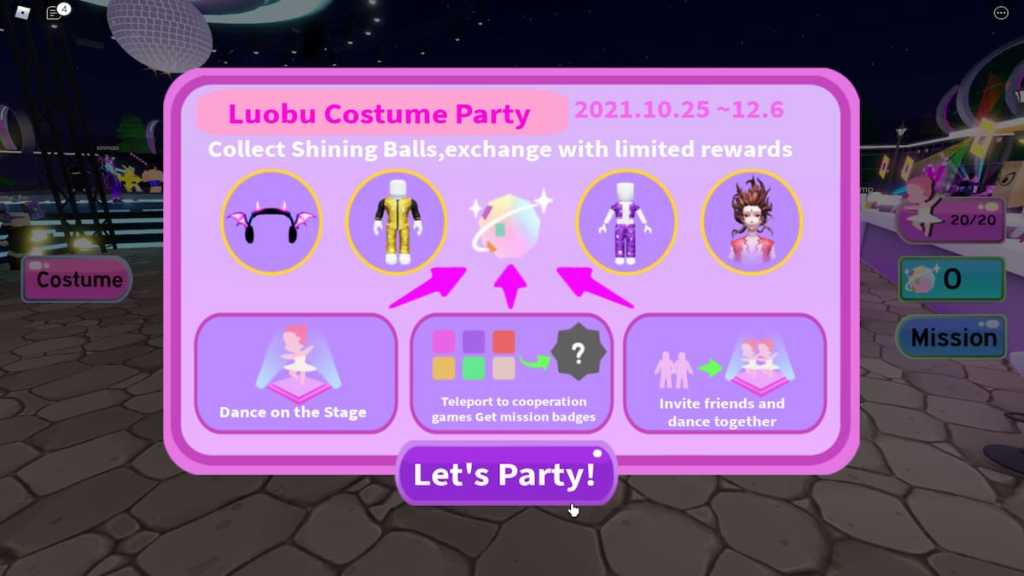 Dance floor
Directly in the center of the Transformation Night experience is a color-changing dance floor. As you step onto the floor, press E and your character will begin to dance. You'll notice a bar at the bottom of the screen filling up slowly as you break out your favorite moves.
Each time that this bar fills up you will be awarded with five Shining Balls. Dancing together with friends will increase the amount of Shining Balls that you earn up to 15, so don't be surprised if you receive 20 new friend requests as soon as you join the experience! Ensuring that you have even just one friend dancing with you will keep that Shining Ball pay-out high, so be sure to invite as many friends as possible or try making some new ones!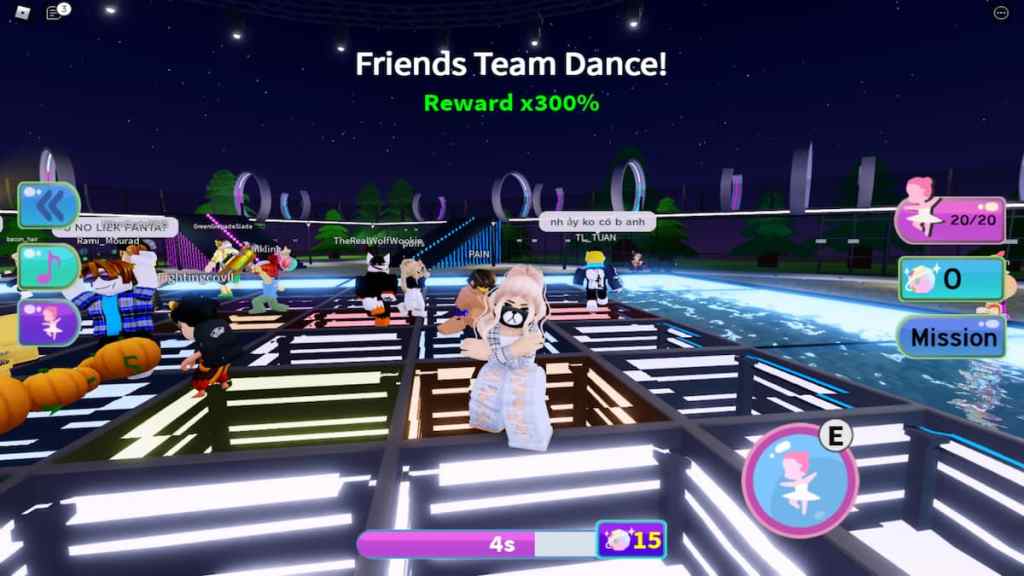 Missions
Another way to earn Shining Balls is by completing missions. There are 20 missions in total with each one awarding 100 Shining Balls for completion. Accessing the Mission button on the right side of the screen will bring up the Shining Mission A menu where you can keep track of which missions you have completed.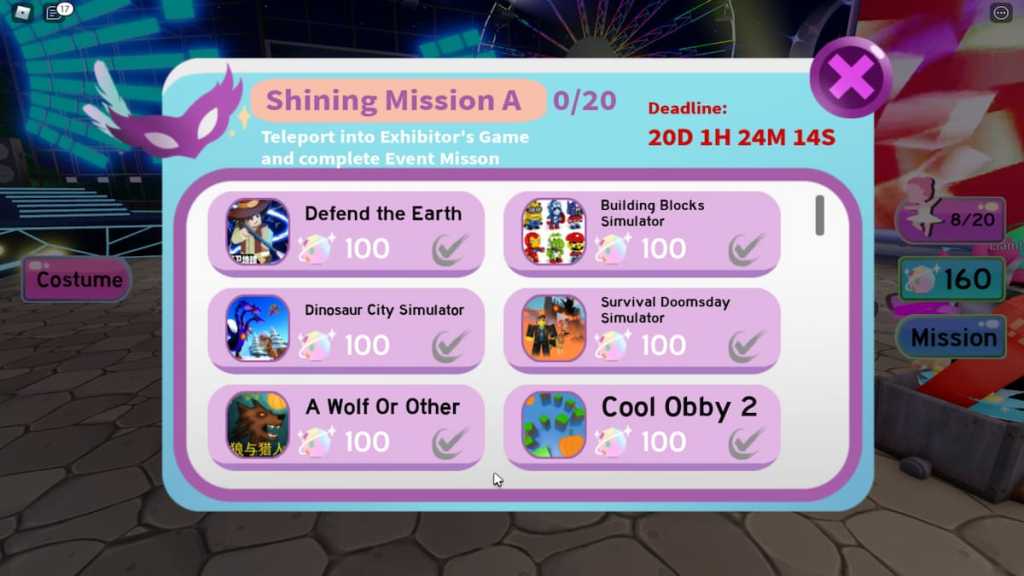 To complete these missions you'll need to enter the corresponding experiences. To do this, find the Mission Teleport billboard and approach the DDR, Dance Dance Revolution, looking tiles on the floor. Stepping on these tiles will prompt the teleportation selection menu.
From the menu pictured below, select any mission to begin. This will teleport you to the corresponding experience and allow you to get started.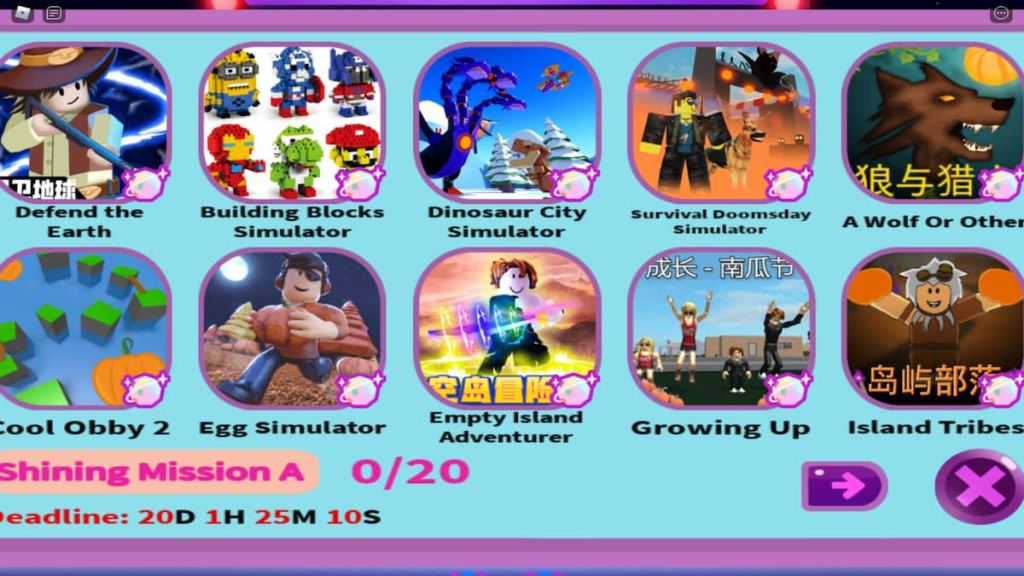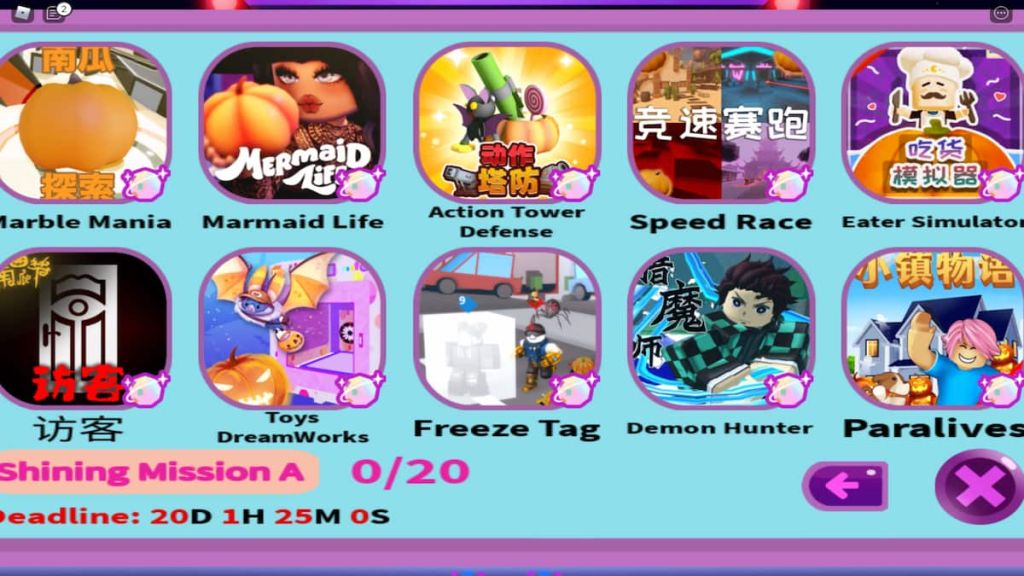 A list of each experience and the mission it requires can be found below.
Defend the Earth - Kill enemies until you earn 10 pumpkins
Building Blocks Simulator - Build any single building
Dinosaur City Simulator - Transform into the Halloween Dinosaur
Survival Doomsday Simulator - Collect 5 candies hidden around the camp
A Wolf or Other - Find and collect 12 pumpkins
Cool Obby 2 - Find and collect 15 pumpkins
Egg Simulator - Complete 10 quests
Empty Island Adventurer - Find and collect 50 candies
Growing Up - Find 6 Witch Brooms
Island Tribes - Find and collect 15 pumpkins
Marble Mania - Find and collect 15 pumpkins
Mermaid Life - Speak to Duke Bratwurst and collect all of his missing items

Action Tower Defense - Find and collect 15 candies
Speed Race - Find and collect 5 pumpkins
Eater Simulator - Find and collect candies and exchange it for the pumpkin head
Visitor - Find and collect 5 candies
Toys DreamWorks - Wait for pumpkin candy to spawn on the conveyer belt, collect it, and feed 100 pieces to the giant jack-o-lantern.
Freeze Tag - Find and collect 3 pumpkins
Demon Hunter - Find and collect 10 candies for Mr. Pumpkin
Paralives - Create your own jack-o-lantern at the pumpkin booth near town square
Rewards
As mentioned before, Shining Balls that you obtain through completing missions and dancing can be exchanged for numerous prizes at the Rewards Exchange counter. The prizes and their prices can be found in the images and list below.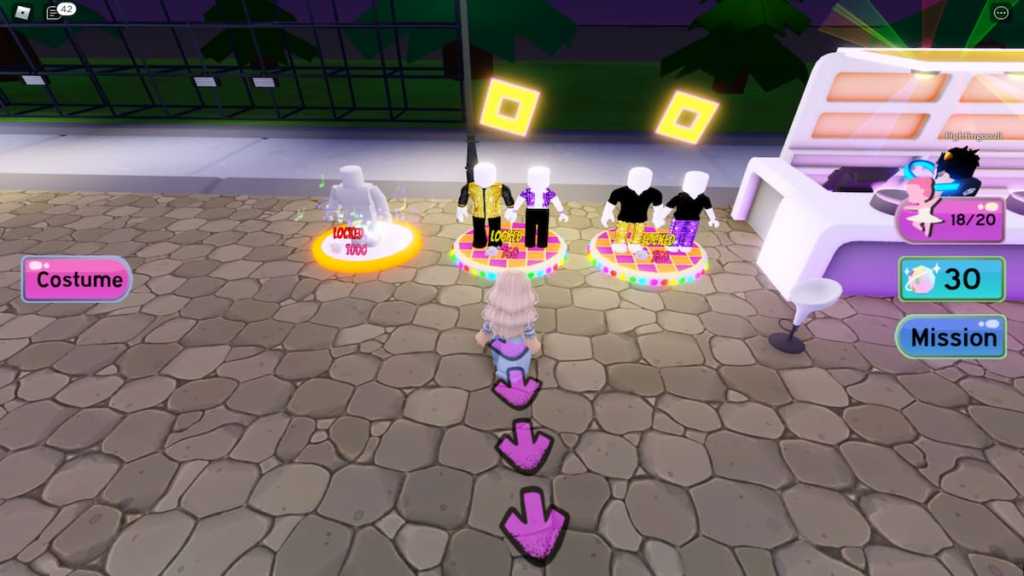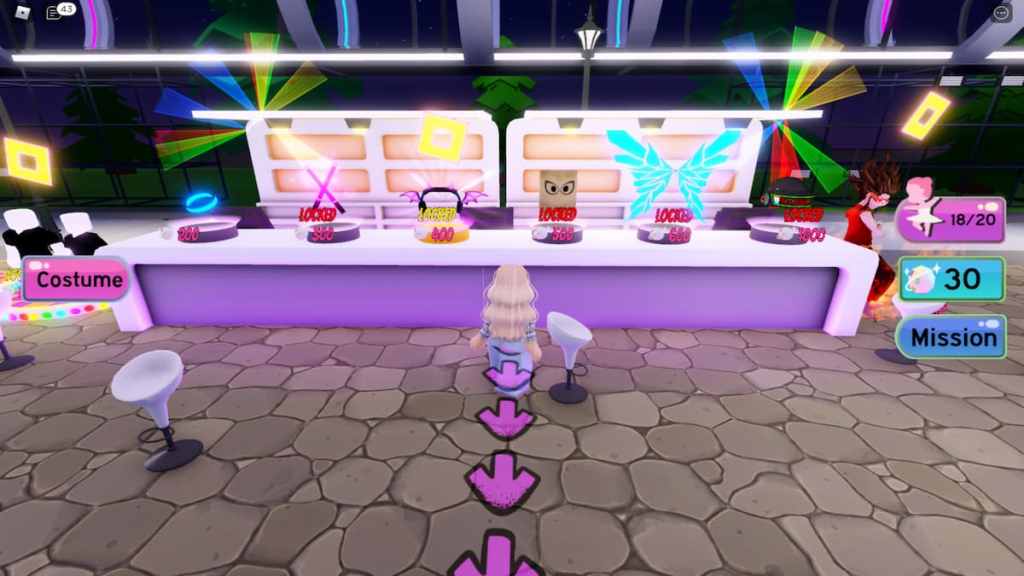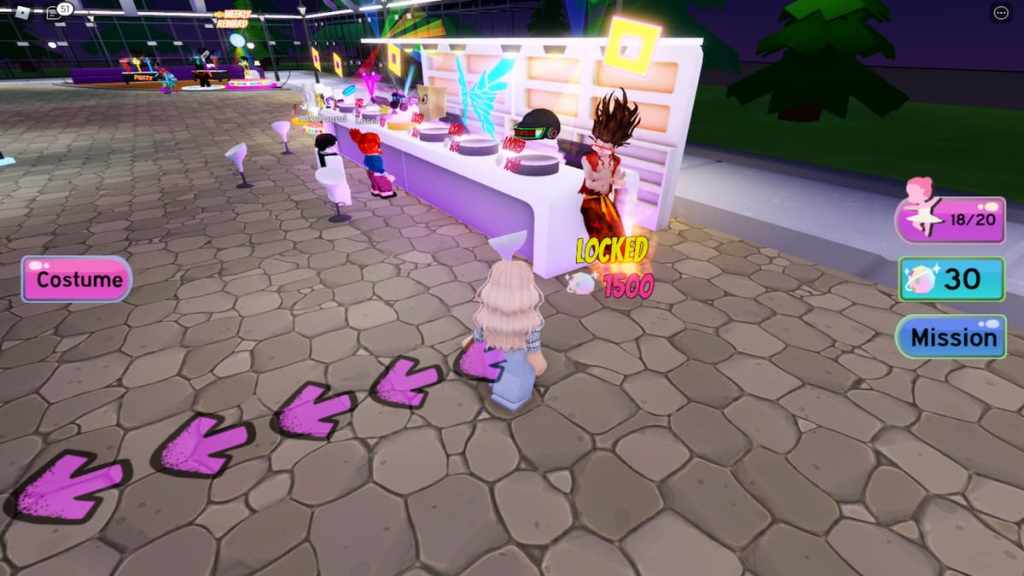 Music Trail - 1000 Shining Balls
Disco Shirts - 750 Shining Balls (Wearable outside of Transformation Night)
Disco Pants - 750 Shining Balls (Wearable outside of Transformation Night)
Light-up Necklace - 200 Shining Balls
Glow Sticks -300 Shining Balls
Headphones - 400 Shining Balls (Wearable outside of Transformation Night)
Paper Bag - 500 Shining Balls
Wings - 600 Shining Balls
Helmet - 1000 Shining Balls
Avatar Set - 1500 Shining Balls (Wearable outside of Transformation Night)
Phase A of this event will be ending on Nov. 15, 2021 so be sure to hop in and complete those missions before the experience resets!
Looking for more Roblox content? Check out the Roblox section of Pro Game Guides to see new code lists, guides, event coverage, and more!