Developer Team Rudimentary frequently updates the FPS Roblox game Bad Business to improve the combat experience. Whether you're brand new to the game or just need somewhere to to stay up-to-date with the most recent updates, tweaks, and features, you've found the right place.
What is Bad Business?
Bad Business is a fast and fluid first-person shooter on the Roblox platform and was created by Team Rudimentary. Two teams play against each other across multiple game modes and various maps. There are tons of new weapons, attachments, and outfits available to tweak your FPS experience exactly to your preference.
Roblox Bad Business Updates and Patch Notes
Even more updates were added from Team Rudimentary this week. The G36C received a total redesign with new models, animations, and sounds, along with additional barrel options, scopes, and mags. Snipers also received a deadly mechanic where any sniper rifle can collat enemies. So if you happen to behind a team player who just got sniped, you might fall down with your ally. The outfits this week are the Cursed Doctor and Basics V2 Reeds, both available for 2000 CR.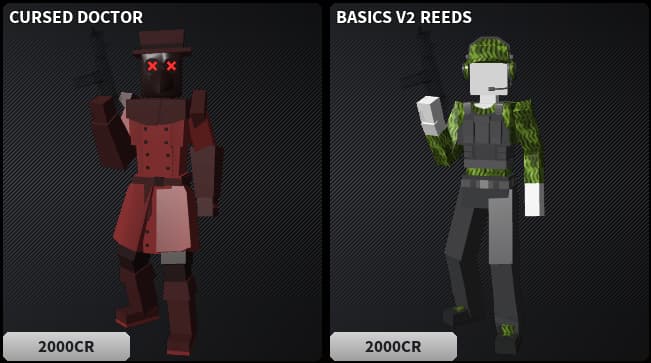 You can check out the Bad Business G36C Update patch notes in more detail below.
G36C UPDATE
New model, animations, and sounds
Includes one exclusive 2.5x "ZF SCOPE" in the optic category
Introduces marksman barrel, heavy barrel, and viper barrel options
Includes a 45 round mag and a 100 round mag, as well as a .300 Blackout conversion mag
NOTE: Blackout mag now triples recoil compared to base to offset the recoil-reducing attachments people will use. This is to make sure we do not just have a pre-nerf G36C in the game.
Includes a folded stock and a padded stock
COLLATERALS
Snipers can now collat enemies and there is a special icon in the killfeed when this occurs. Proper stat-display and FMJ perk will be coming next week.
For the time being, here is the collateral depth numbers for each sniper, which means the max amount of people able to die by one bullet:
DSR-50 - 5
SL7 - 5
AWP - 4
Mosin - 3
Dragunov - 3
Sako - 3
Model 1873 - 2
MAC-10 NERFS
Blackout barrel decreases handling speed by 20% instead of 10%
.45 ACP rounds increase camera shake more
Base headshot damage nerfed from 34 to 32
Vertical recoil increased
SKORPION NERF
Range adjusted from 100-150 studs to 75-125 studs
Looking for free Roblox rewards? We have a ton of them in our Roblox Game Codes post! You can also get a bunch of free stuff via our Roblox Promo Codes page.