Our favorite miniature cars and tracks have come to life in Roblox Hot Wheels Racing! Spin around the track as you make the hugest loops in an open world. With new cars to collect and better parts of the course to race, nothing stops you from going full speed towards claiming the hottest new wheels in the game. Wind up. It's time for some serious speed!
Coins in Roblox Hot Wheels Racing will give you access to limited-time rewards, including Limited Edition cars and the in-game currency Coins. Claim these Coins to purchase that new Hot Wheel you have been dying to get!
Racing games in Roblox are very popular, and there is always a desire to master a track and beat your personal best time! These Roblox games and their codes will give you in-game currency to get faster cars and better upgrades for them. The race is on in Roblox Southwest Florida Codes, Roblox Midnight Racing Tokyo Codes, Roblox Drift Paradise Codes, Roblox Ultimate Driving Codes, and Roblox Vehicle Tycoon Codes.
All Roblox Hot Wheels Racing Codes List
Updated July 22, 2022

Added new info
Roblox Hot Wheels Racing Codes (Working)
loot—Redeem for 50k Coins (New)
Roblox Hot Wheels Racing Codes (Expired)
PRESTUNTS—Redeem for a paint
25K—Redeem for a Hi-Tech Missile
35K—Redeem for a 5 Alarm Monster Truck
Monster—Redeem for Monster Truck
Roblox Hot Wheels Racing Frequently asked questions
Here's everything you need to know regarding Roblox Hot Wheels Racing codes.
How to Redeem Roblox Hot Wheels Racing Codes
It's easy to redeem codes for free rewards in Roblox Hot Wheels Racing. Follow our guide below.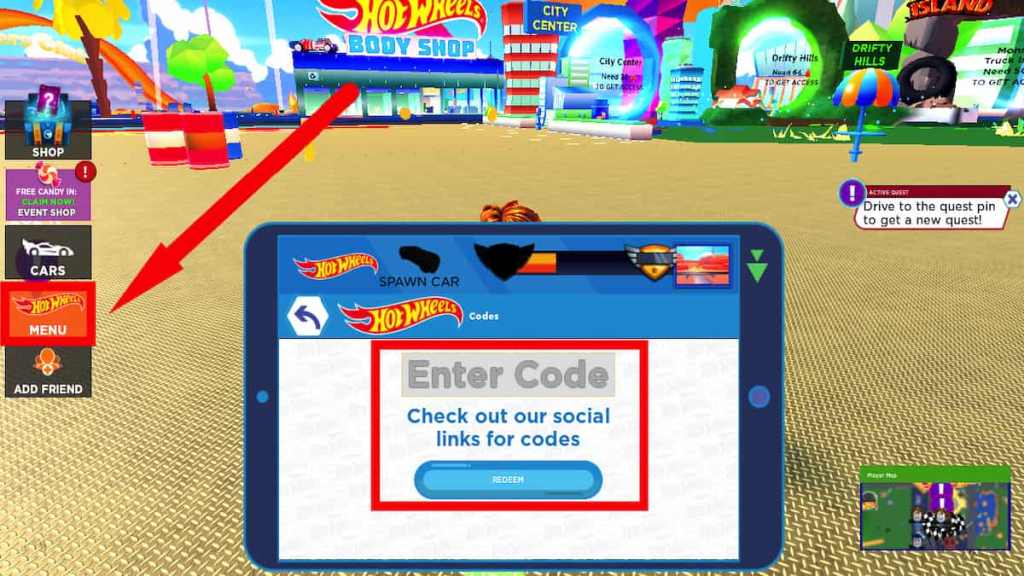 Launch the game.
Press the Menu button on the left side of the screen.
A new window will appear where you can enter each working code into the text box.
Press Redeem to receive your free reward.
How can you get more Roblox Hot Wheels Racing codes
It's easy to stay in the know with all Roblox Hot Wheels Racing codes. Follow the developer Hot Wheels Official by Gamefam on their YouTube channel Hot Wheels Gaming, Twitter @RobloxHotWheels, and their Hot Wheels Open World Community Chat Discord Server. We here at Pro Game Guides have the latest codes, so return to this page for all your free rewards!
Why aren't my Roblox Hot Wheels Racing codes working?
There could be several reasons your Roblox Hot Wheels Racing codes aren't working. We can help you fix those issues. Firstly, ensure that when you are typing the code in to the box, you type it exactly as you see it in our list. Secondly, the codes are expired. Codes have an expiration date according to the developer. If you see an expired or invalid code, let us know in the comments below so we can update our list.
What are the controls in Roblox Hot Wheels Racing?
First-time players might not know what to do when they enter the world for the first time. The controls are simple, and our guide will have you driving like a pro in Roblox Hot Wheels Racing in no time.
"A" Key—Steer left
"D" Key—Steer right
"F" Key—Get in/out of the car
"Shift" Key—Turbo boost
"Space" Key—Drive or accelerate
"X" Key—Jump or Hop
"V" Key—Flip
What is a Roblox Hot Wheels Racing game?
Roblox Hot Wheels Racing is a racing game with a twist. You can play with your favorite Hot Wheel ride in an open world full of crazy loops and challenges. The more challenges you complete, the more cars you can collect and unlock. Do the craziest stunts to get you on top of that leaderboard!
If you're looking for codes for other games, we have a ton of them in our Roblox Game Codes post! You can also get a bunch of free stuff via our Roblox Promo Codes page.