Roblox is working to improve the platform's Search and Discovery features to attract more adult gamers. Detailed during the Roblox Investor Day, the company has already seen the age demographic expanding beyond the core children's audience.
Explained by chief business officer Craig Donato, Roblox is working to strengthen their content ratings to better match the age demographic of each individual user. By strengthening the game's content ratings, players should discover more suitable games through the Roblox client's search feature, along with the client's recommendations.
Improvements to search and discovery are not only intended to match all players with more entertaining games. The Roblox company also hopes to entice developers to create more mature content. The end result? A larger adult audience.
"As more aged-up content appears, it will attract older users," says Donato. "Those older users invite friends their own age onto our platform. And as more older users come to our platform, it becomes even more attractive for developers to produce aged-up content."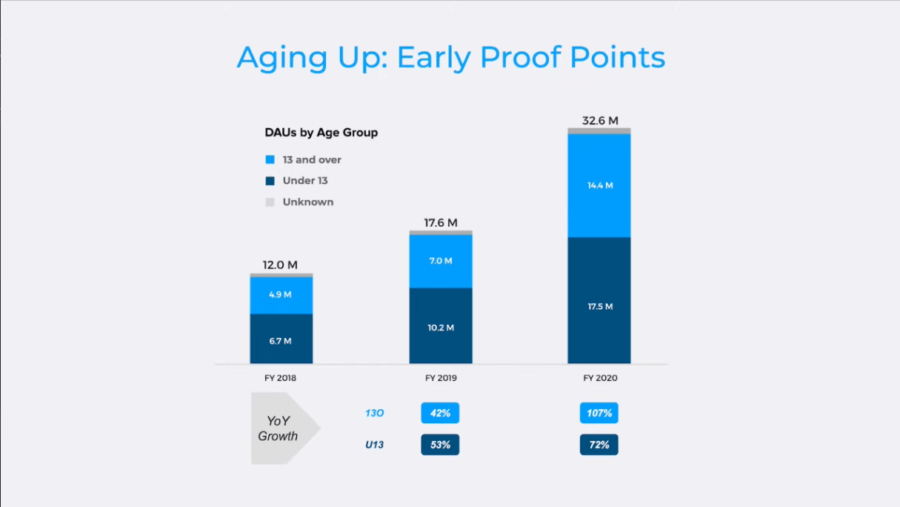 The Roblox company has already demonstrated success in expanding the game's audience. In 2020, 44% of daily active users (DAUs) are now from users over the age of 13, who have remained on the platform for years. Additionally, the 17-24 age group grew faster than the core under-13 age group in 2020.
As Roblox continues to expand the audience toward multiple gaming demographics, the platform's future should see even more creative and unique games that appeal to all ages.
Looking for free rewards in Roblox? We've got tons of freebies in our Roblox Game Codes post! You can also get a bunch of free stuff via our Roblox Promo Codes page.