Our Roblox Minion Simulator Codes List has the most up-to-date list of codes that you can redeem for free minions and coins. These codes will get you a head start in the game and will hopefully get you moving towards becoming the best you can be!
Minion Simulator Codes List
Here's a look at all of the currently available codes in Minion Simulator. Make sure to check back often because we'll be updating this post whenever there's more codes!
Minion Simulator Codes (Active)
Exclusive Hat (NEW): hats
Free Gold: update3
YTSnuglife Minion: YTSnuglife
Cookie Minion: cookie
Bakon Minion: bakon
Minion & Wooden Sword: minions
100 Gold: gold
100 Gold: power
100 Gold: release
The game is relatively new, so there isn't too many codes at the moment. There should be more soon, we'll be keeping an eye out for any others that are released.
How-to Redeem Codes in Minion Simulator
It's very easy to redeem your codes in Minion Simulator! Look for the Twitter button on the screen, then hit that button and you will get the following pop-up: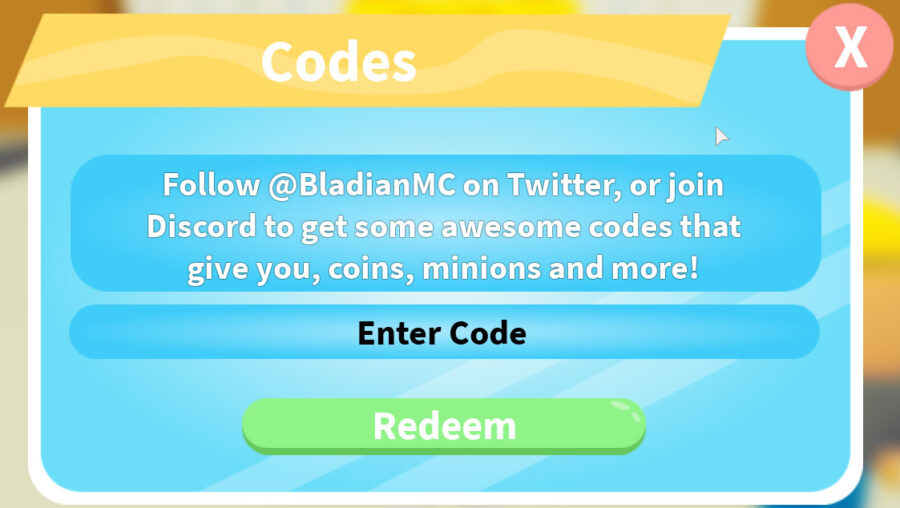 Click on the "Enter Code" and input one of the codes from below. Once you've got it entered in correctly, you'll just need to hit the Redeem button and you will be given the reward!